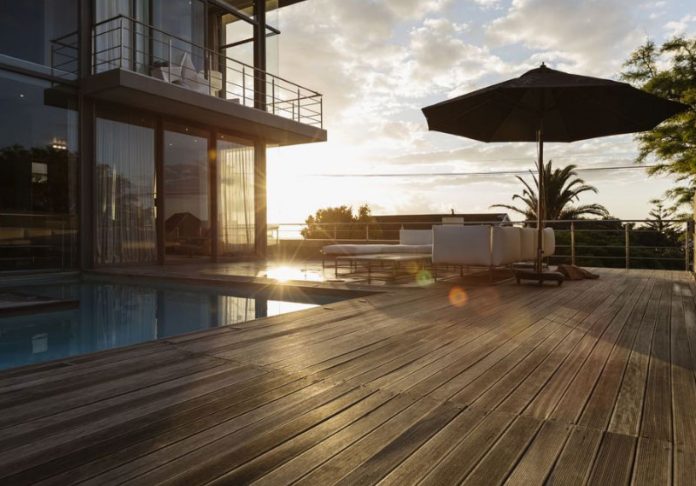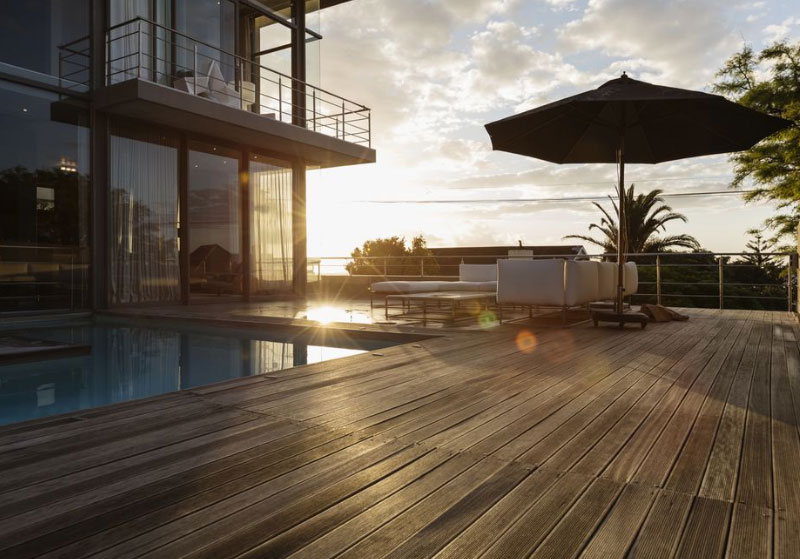 Are you thinking of adding a decked area to your yard, or do you already have one that needs a revamp?  Perhaps you're thinking about selling and want the right look for the right buyer or want to add value to your house by 5 to 20 percent?  Whatever your needs are it is a great way to turn part of your garden into a fantastic space for your family and friends to enjoy.
We understand that making a decision on what decking material is right for you is not the easiest, with so many choices it can be difficult to determine what is environmentally friendly, what is the cheapest, or the easiest to install.  We have used our expert knowledge to share with you the best materials to consider when building or repairing your new deck.
Composite Decking
Composite decking can be the most sustainable choice for your project.  It is extremely low maintenance and easy to clean with just soapy water a couple of times a year.
This material is made out of cast-offs of timber and plastic from recycled bottles.  While it takes the worry away of deforestation that other products might concern you, some people worry about the chemicals that are used in the process of making it.
Many buyers of composite decking like that it is safe for their families and pets because it doesn't splinter or fade, meaning bare feet and small fingers are safe.  If it's a wooden look you are after but don't want to compromise on sustainability, composite decking does come in a wooden finish that will give you that natural organic look.  Otherwise you can choose from a variety of colours to match the colour of your home and garden.
It is slightly higher in cost on outset to install composite decking, however because it doesn't require regular maintenance it becomes a good option as a long-term financial choice and makes it an enjoyable option all year round. Find out more about composite decking at this Melbourne composite deck supplier Superdeck.
Hardwood
If you are looking for a stylish finish then hardwood is the right choice for you.  Apart from looking great hardwood also weathers well, especially if you stain it. However, it does have its pitfalls because in a dry climate you will need to regularly oil a wooden deck so it doesn't split and its high-quality finish can be maintained.
While hardwood is better long-term than softwood, the cost of maintenance is ongoing because they can decay over time.
If this is an option that you think is right for you be sure your supplier sources sustainable hardwood.
Timber
Traditional timber, also known as pressure-treated softwood, is one of the most popular options because it is considerably cheaper to buy than other materials.  Timber comes from fast-growing trees which means it is a more sustainable choice than hardwood.
While slightly easier to maintain than hardwood, you will still need to seal the wood for it to keep its colour and blend in nicely with your outdoor spaces.  This is the product of choice if you wish to have a natural looking deck.
Timber is also easier to install than hardwood, but we advise you to consult a builder on the type of wood that would be right for your job.
Synthetic Decking
Synthetic Decking is made out of PVC which is a lightweight material and has the density of softwood.
Like other non-timber decking materials, some synthetic decking products come with a protective layer so that it gives a wooden look.
However, it isn't great cost wise or if you are after a natural look.  Just like the composite decking, it requires little maintenance and won't rot, faring well in the unpredictable Melbourne weather.
Best Decking Material
There really is no right or wrong answer when it comes to the best material for decking, because the best is what is right for you and your family and the look that best suits your garden.
If you want low maintenance then composite decking and PVC are your best choice.  But if the natural look is a must for you then wood is your only choice.
It's all determined by which material will best suit your lifestyle and space in your Melbourne garden.
Then you can enjoy your new decking area.