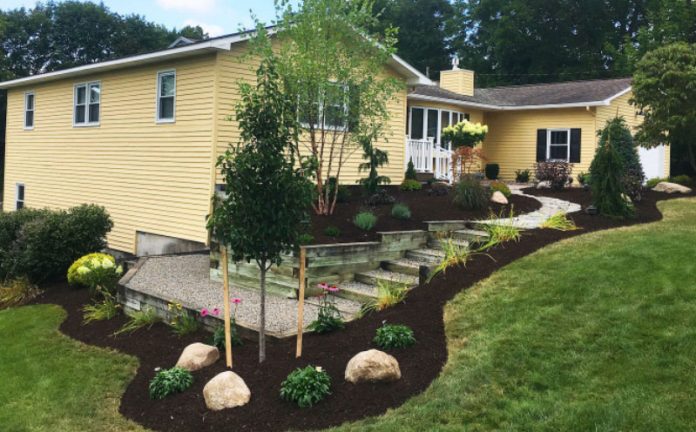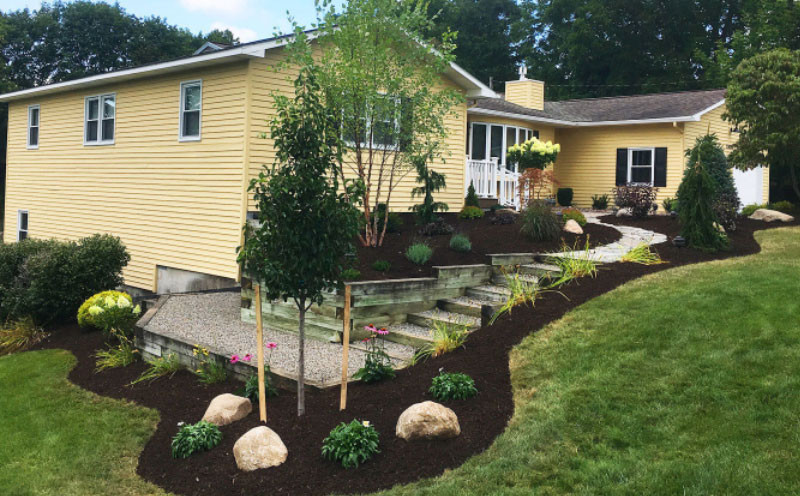 When considering a landscape refresh or new design plan, there are specific features that you want to work together seamlessly in your yard. A trained, professional landscape designer can help you select the best element for all of the ways you want to use and enjoy your outdoor space.
A patio is one landscape element that most every house has as part of the original home plan, but too often the patios that are installed are not truly useful. They tend to be small squares of concrete tacked onto the backdoor of the house, only large enough to hold a grill and maybe a lawn chair to watch the grill as you cook.
A true patio can bring versatility and fun to your outdoor space through a blending of the indoor living room with the outdoor patio that can function as an outdoor living space. Connected by large windows or sliding glass doors, a patio of beautiful paving stones can completely change the dynamic of your home. No longer is the patio a drab concrete square, but it can boast wide and deep stone steps that provide access from the interior to the exterior space. With paving stones that complement your architecture and exterior colors, a fresh patio can have a contrasting banding around the edges to define the entire space.
You might even choose to create certain areas within the patio by using different stones to set off a dining area or a relaxing spot with a pergola and handing swing. Because the paving stones are manufactured to be the highest quality, resistant to stains, cracking, and color fade, you can enjoy your patio for years to come.
A landscape design should not be complete without the thriving, green plants and the blooming, colorful flowers that soften the edges of the patio and give the entire space vibrant life. A landscape professional can assist you with the best plants for your climate and region so that you have to do little maintenance as they bloom and grow to make your yard full of delightful surprises.
Whether it is a special tree that anchors the edge of your patio or an existing tree that has grown to a majestic size, a landscape expert has the knowledge to layer the plants so that the tallest ones are still visible even when the lower, front plants are in full bloom.
These gorgeous plants are an ideal way to introduce color into your landscape as there are varieties for each season. Some plants return year after year to grow more vibrant and beautiful, while others must be planted each year. But that is great, too, because it can give you an opportunity to try new flowers that catch your eye and bring a special look to your landscape.
Large, colorful pots can also serve to bring a pop of color into your outdoor space, both in the form of flowers and grasses planted in them but also when the pots are colorful themselves. In this way you can move the pots around to keep them in a prominent spot to be enjoyed by everyone who visits.
Every landscape design is unique to the homeowner and the property, too. When you consult with a landscape designer on your hopes and dreams for your outdoor space, the outcome can be a dazzling space that you can use at any time of the year.