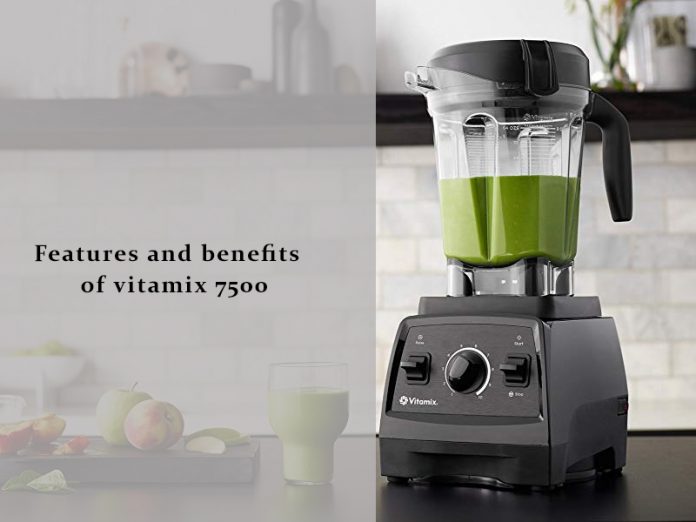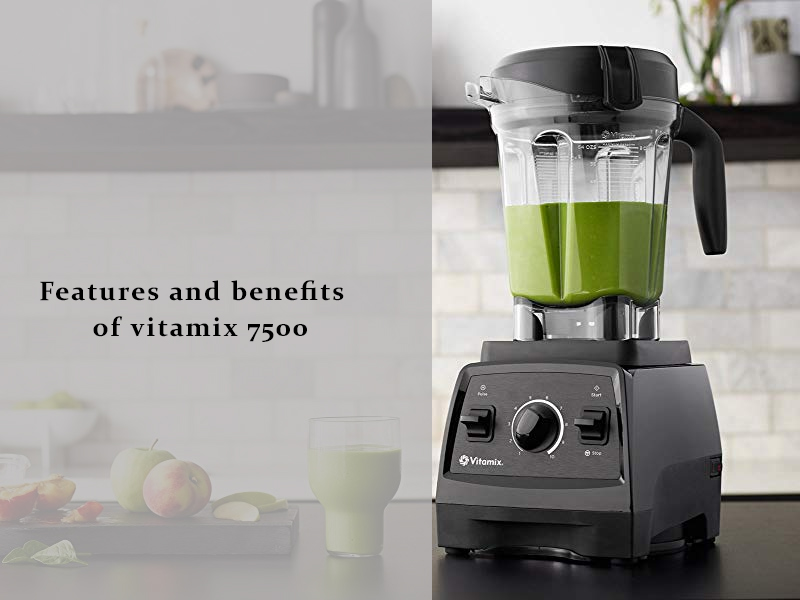 Among the wide variety of blenders on the market, Vitamix 7500 is one of the best blenders. You won't get a high-end blender rather than a Vitamix 7500. Usually, Vitamix 7500 is expensive but when you compare this blender with other then you will find this is worth buying. And you pay for quality, isn't it? When it comes to quality, price is not a big matter. However, let's see what are the features of Vitamix 7500. 
Important features of Vitamix 7500 blender
– Compared to other Vitamix models, Vitamix 7500 blenders are quiet even when you use this at a high-speed. 
– It has 2.2 powerful horsepower motor and it contains a cooling fan that protects the blender from overheating and reduces noise.
– The blades of the Vitamix 7500 are very effective to handle the toughest ingredients as they are aircraft-grade stainless steel. 
– Within 30 to 60 seconds Vitamix 7500 can clean itself as the blender has self-cleaning properties.
– It comes with a 64oz container
– There is a helpful DVD with this blender also it has a cookbook that contains many recipes. 
Performance
The Motor
Vitamix 7500 has an incredibly powerful motor that is 2.2 HP (horsepower). It is so powerful that it can blend any toughest ingredients. The motor has a cooling fan that helps to protect the blender from overheating. 
Controls
Vitamix 7500 has a 10-speed variable control dial that makes the blender very popular. And when you use the blender this helps to control the blender easily. On the right side of the blender, there is an on/off master power switch.
Blades
The blades of Vitamix 7500 is built into the container, and they are very powerful as they are made of aircraft-grade stainless steel. For grinding, kneading the dough, nut butter, soups, ice cream, smoothies, juices or chopping foods the blades is effective. 
Vitamix 64-ounce Container
It has a 64-ounce container with it that is made BPA-Free Eastman Tritan copolyester and the container is healthy for making food. While using the blender you can add ingredients by removing the lid and it is safe. There is a tamper with the blender. Under any kitchen cabinet, this blender is easy to adjust.
Vitamix 32-ounce Dry Grains Container
In the dry container, you can grind any hard ingredients such as coffee beans or whole grains or cereal. It also includes a whole grains cookbook and there are some tips on how you can use this grinder. You can make any recipes from the cookbook. 
Quiet Blending
Whenever you blend anything on a Vitamix 7500 the machine will always be quiet compared to other Vitamix models. And this is another reason why people like Vitamix 7500. In the morning when your housemates or your baby is asleep, you can make your favorite smoothie in this blender and you can enjoy this. 
Warranty
With full 7-years of warranty usually, the Vitamix 7500 blender comes. Compared to other blenders, this blender is very durable. Since the day you buy a Vitamix 7500 blender, for many years to come, you can use this blender without any issue. The user of this blender is very satisfied with this blender. 
Pros and Cons of Vitamix 7500
Long-Lasting Longevity
When you invest in Vitamix 7500 blender, as a long-time investment you will get a dependable blender as the Vitamix comes with longevity. As a quality device, Vitamix is fulfilling a passion for quality food. Compared to other types of blender on the market, usually, Vitamix is best. 
Ease of Use
When the blender is using you can control the power as it is automatic that makes the blender more convenient. And Vitamix 7500 has self-cleaning properties so you don't need to clean the machine manually. 
Great for Soup Lovers
If you have a Vitamix 7500 then it is easier for you to make soups. Vitamix 7500 will provide you hot soups within 10 minutes. You just need to add vegetables and water into the container and then turn the switch on. The blades of Vitamix 7500 are very powerful that helps to make hot soups, and in no time you can enjoy your soups!
Chopping/Grinding/Shredding
Do you ever think that in a blender you can chop vegetables or fruits? But it is true. In the Vitamix 7500, you can chop vegetables or fruits. Also, you can grind any spices, meats or other toughest ingredients in the dry container. You can shred cheese in the Vitamix. By doing these, Vitamix 7500 helps to save your time. 
Frozen desserts/ingredients and Pureeing
In just 30 seconds you can make your favorite frozen desserts in the Vitamix 7500 such as snow cones, fruit sorbet, frozen yogurt or ice-creams as this is best at crushing ice. 
You can easily puree hard veggies in the Vitamix 7500. Without water, you can puree chickpeas or dates. But for thick purees, use small batches and make this sure. 
Nut Butter
Homemade nut butter is very healthy and when you have your Vitamix 7500 you can easily make nut butter in it. Into the blender container pour the nuts and then start the blender. Slowly increase the speed of the blender. Until you get your desired texture of the butter to keep blending. You can use cashew or almonds whichever you want to make butter. Isn't it easy? 
Pricey
Compared to other Vitamix blenders models, usually, Vitamix 7500 is expensive. This is a con of this machine. But investing in this blender is worth it. As we mentioned above, you pay for the quality. If you think of the quality of the then price is not a big issue.  
Cleaning Issue
You cannot use dishwashing soap to clean the blender. You need to use detergent instead. After cleaning the machine make sure you dry it completely. Or else there will be rust on the blades. 
If you are still hungry and want to know more about vitamix 7500 you can have a look at : Vitamix 7500 review 
The Final Thoughts
Vitamix 7500 is a versatile blender that you can use for many purposes. In this blender, you can chop, grind, and make soups, frozen desserts easily. When the blender is in use it won't make any noise and this is a great plus point. So when you are buying a Vitamix 7500 for you?