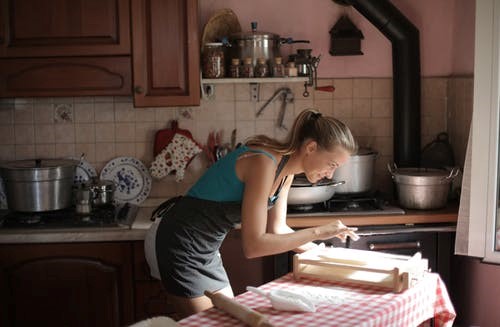 When you get a new home, you want to equip it with everything that will make your life efficient. Even if you do not change your home, you are always making sure that your beautiful place has everything it needs to be clean, organized, beautiful and relaxing for you. You can work hard to make a home sweet home but in this modern world, and with work and kids, you need some appliances to improve the quality of your life. Thus, we have come up with a list of the most necessary appliances you need for your humble abode. If you have just shifted into a new house, this list will be really handy to get every essential thing you need:
1. Refrigerator
A refrigerator is definitely a must-have for any home. You need it to keep your everyday foods like milk and eggs fresh. It eases your life like nothing else. You can pick up the size as per your family's need. There are different models now which allow you to keep your food organized and fresher for longer time periods. You can choose from among those models too. Even if you are not into the kitchen, you know the importance of a refrigerator. So, if you have moved into a new place, this should be your first priority.
2. Microwave and Baking Oven
Microwave is the basic necessity of any home. It helps you to be efficient in the kitchen and saves you a lot of time. Whenever you need to heat a thing or two, you should not be relying on your stove. Likewise, a baking oven is also an essential must-have appliance for your home. It allows you to be creative in the kitchen and you can cook different dishes for yourself and your family. The baking oven also helps you when you do not want to cook or are too busy with work as it allows you to cook many quick dishes these days. If you do not have these two appliances in your home, I can bet your kitchen time is not your favourite as you are not being efficient and having fun in the kitchen.
3. Necessary Kitchen Utensils
Necessary Kitchen appliances include your basic pots and pans, spoons and forks, plates and bowls and knives. You need to have the utensils to eat in. For that, you can opt for a beautiful Wedgwood set of plates, bowls, kettle, cups, and glass. You can also order a set of all the pots and pans and the bakeware you might need. This all sounds too expensive especially when you have shifted into a new house. However, it saves you a lot of bucks in the long run as eating out or ordering in costs more.
4. Dishwasher
A dishwasher is the solution of half of your kitchen problems. Whether you have one or you do not, you realize the importance of a dishwasher very well. Thus, if you have shifted into a new place, get a dishwasher as soon as possible. If you do not have one or your dishwasher is not working, you need to buy one or get your old one repaired. Otherwise, the kitchen would lose its charm for you. It is an expensive appliance but definitely worth each penny. It enables you to be free of worry even if your friends or family are coming over and there are myriad reasons to get one right away. It is miraculous how it generally makes your life so efficient.
5. Coffee maker and other small kitchen appliances
Coffee is an everyday necessity. If you are a coffee person like me, you probably have it more than once in a day. If that is so, Starbucks is not for you unless you want to go broke. So, get a coffee maker not just to save money but also to make good coffee for yourself and your family whenever you need it. So, next time you see a long line at Starbucks' drive-thru, you can pat yourself for saving all that time and bucks. Just like coffee maker, you need a toaster, blender, chopper, and mixer. These are the most essential kitchen items without which your time in the kitchen will be nothing more than difficult and tiring.
6. Vacuum Cleaner
You should not shy away from spending on a good vacuum cleaner because it will last you many years and save you from everyday hassle. If you are living all by yourself with just one carpet or rug, you can buy a simpler model. However, if you have a family and pets, you need to invest in a good versatile vacuum cleaner. If you are new in your home, this must be on the top of the list to buy. It is so because there is no alternative to a vacuum cleaner. If you want your abode to shine, get one already.
7. Laundry Essentials
Laundry is a big part of your life whether you are a bachelor or you have a family. You need a strong washing machine as per your need. You will also need a dryer which has the capacity to wash all your beddings too. You can buy two machines but buying one which performs both the options saves you space and allows you to forget about the laundry. Another thing you need is an iron. Irons also last many years so you should spend once on a good iron. You will need to equip yourself with an ironing board too to complete your laundry essentials.
8. Air Conditioner and Heater
Air conditioner and heater are the two main important things to save you from the harshness of changing weathers. Appliances have changed human societies and these two appliances have definitely improved our lives. Your home is the most comfortable place and if you do not have these two appliances, your home is not serving you well.
Aforementioned appliances are the must-haves for any home. So, if you are still thinking twice about any of these items, stop right away. You will not regret investing in them. Make your home a sweet one by making your life easier with these appliances.