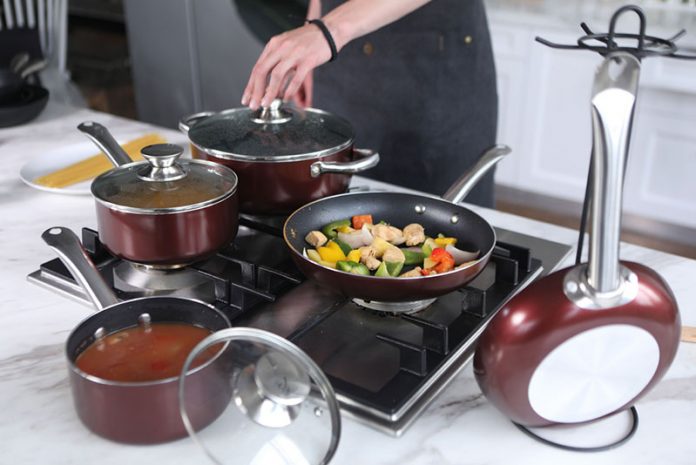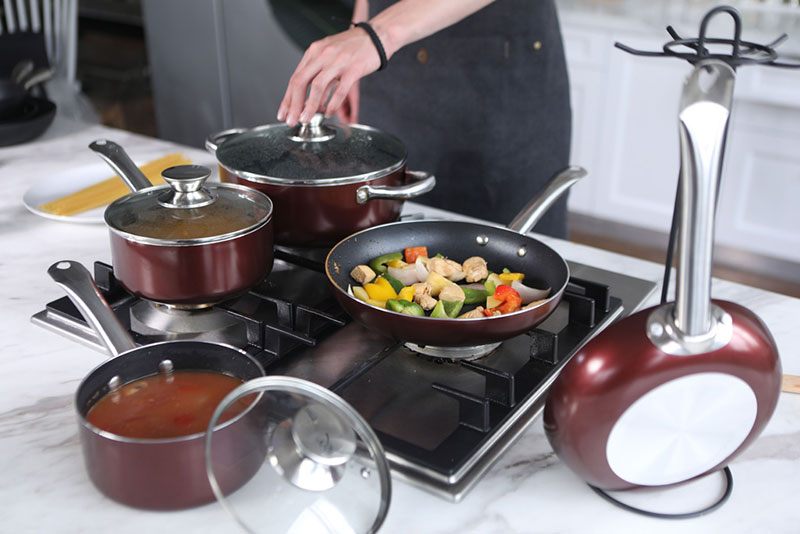 When talking about German cookware brands, there is no doubt the quality of some brands is unfavorable.  Almost all Germany made kitchen utensils are top qualified and available worldwide.  Moreover, they are known for their knives, pots and pans, toasters, coffee machines and pressure cookers.
Knives— Zwilling J.A. Henckels knives are the ones to look for. They might not be cheap, but investing in two of these knives is worth a lifetime.  Most households have at least two sets of knives in their kitchen.  They are heavily adjusted and have the best edge look.
Pots and Pans— Unlike the U.S. made cookware brands, the German cookware brands for pots and pans are beautiful and easy to clean. One famous German brand for pans is the WMF Cromargan 18/10 stainless steel that costs around $70 to $150 per piece.  This pan has a flat surface and is smooth and can be cleaned by scrubbing it.
Toasters— Toasters made in Germany have a bit of an upgrade than the ones made in the U.S. The German-made toasters have a thing they called a croissant or "Brötchen" rack located on top of the toaster.  Its function will amaze you.  It will re-warm any breakfast toasts and rolls without re-heating them in the oven.  This type of German toaster is called the DeLonghi #DTT900.
Coffee Machines— If you are a coffee lover, the automatic espresso machines are the ones you should invest in. Examples of the German-made brand for coffee machines include Bosch, Miele, Jura A.G. and Solis.
Pressure Cookers— German brands for pressure cookers such as Fissler, Silit, Kuhn-Rikon, and Tefal can be found on sale in the U.S. Their pressure cookers have two or more temperatures and a safety latch before food is done cooking.  An automatic steam release is also available on a German-made pressure cooker.
Lists of German Cookware Brands According to its Types
If the German branded cookware is what you are looking for, check out these lists below to see which one suits you.  Hence, you would have to know their functions too before buying.  Depending on what you need them for, it will give you a head start.
German Made Nonstick Cookware Brands
Woll Diamond Plus 10-Piece Cookware Set— As one of the top rated German nonstick cookware brands, the Woll Diamond Plus offers the best nonstick layer like Hard Anodized Cookware. It is built to last for a long period.  This German-made nonstick cookware is green certified and suitable for all metal kitchen utensils.  With a 10-piece set as a plus, you can get a stockpot, saucepans, saute pan and skillets.
Ozeri 10 inch Stone Earth Frying Pan— This is a top leading frying pan innovation from Germany. It is a stone extracted piece of cookware that results in the best nonstick performance.  It is also 100% free from harmful chemicals such as PFOA and APEO.  As a plus, this frying pan is super easy to clean and resistant to scratches as well.
Sushar Kitchen Cookware— This German-based saute frying pan is marble stone made especially for the nonstick coating. Designed with aluminum casting makes a complete perfection for effective heating.  It is also oven safe and 100% free of PFOA and PTFE.
Titanium Cookware Made in Germany
Woll Nowo Titanium Square 10 Inch Fry Pan— This titanium cookware made in Germany has a detachable handle. Side handles and knobs are heat resistant.  It is a titanium nonstick frying pan that is durable and excellent in performance.
First Titanium Cookware— The First Titanium Cookware is first released in late 2013. However, this titanium cookware made in Germany already built with the best technology.  It is well functioned with healthy living since cooking doesn't need oil or using less oil is preferable.  By this, the healthy components of vegetables (vitamins and enzymes) and other foods remain.
Woll Nowo Titanium Wok— The good thing about this cookware is that it is oven safe and dishwasher safe. It can be a bit pricey, but it lasts a decade and doesn't take long to cook.  Other than its durable performance, the titanium wok will not scratch or crack.
Lists of German Cast Iron Cookware
Velosan Cast Iron Cookware— The Velosan brand German cast iron cookware has a nonstick coating because of the natural adhesive component on the surface. Hence, a dish can be cooked quicker results in a fresh tasty food experience.  It is durable and resistant to high temperatures.
German Enamel Cast Iron Cookware— With an enamel coating, it is meant for a healthy and safe use for cooking. You can cook almost anything, including acidic foods that will not stick to the surface.  You can marinate, refrigerate as well as freeze food with this enamel German cast iron cookware.
Stoneline Roasting Pot 20 cm— Healthy cooking with Stoneline roasting pot allows efficient cooking for steaming, baking and roasting. With its nonstick component, food can be prepared with less oil or no oil at all.  Thus, a single dish will taste more juicy, crispy and fresh.
All the above lists of German cookware brands are to name a few based on the different types of materials.  Quality-wise, German is also a top cookware manufacturer worldwide.  German kitchen utensils can be easily found online through Amazon or eBay.
When the U.S. already excels in their quality of cookware brands, the German-made cookware, even more, excels in their overall performance.  High technology components can be included in the cookware.  Things like nonstick coating for healthy cooking and 100% free from harmful chemicals are mostly included.
Moreover, toasters, pressure cookers, coffee machines, pots and pans, and knives are well known German cookware brands.  The German-based cookware brands pretty much are versatile in terms of oven safe and microwave use.  Not a lot of cookware brands have the quality to do so.  You may want to go ahead with purchasing an item.
Anyway, if you wish to write for us. It is our pleasure to accept it. This cookware is the example. You can create an article like this and send it for us.