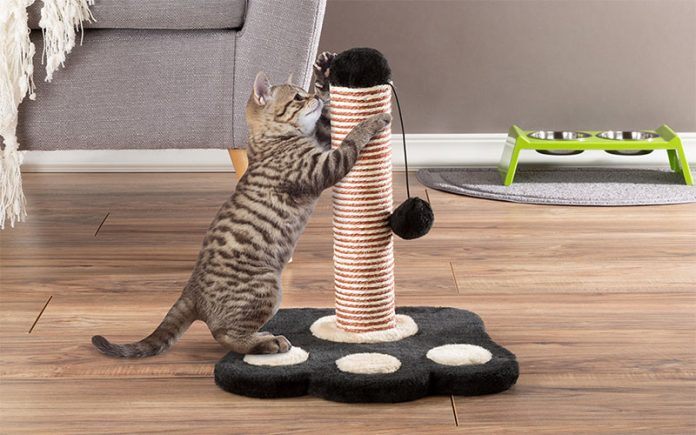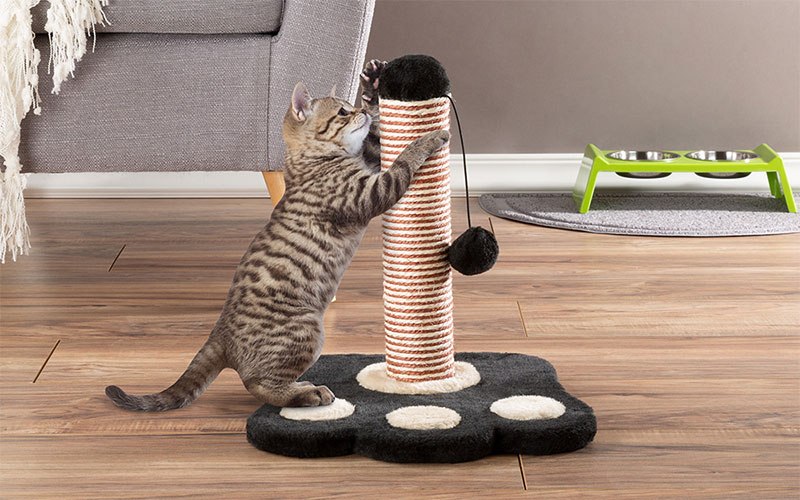 If you are reading this article, and then you might be looking for the best way that can satisfy your loving pet. There are no two opinions that the scratching behavior of your pet might annoy you and your other family members. Indeed, there are various things that can stretch your cat's bodies and also allows you to maintain their claws. But for that, you might have to spend a huge amount of bucks.
Well! No worries. This cheap cat scratching post will help you satisfy the demands of your cat. In this article, we will discuss DIY hacks or tips by considering which you can easily convert your carpets, curtains, couch.etc. into a perfect, loving, and homemade cat scratching post.
Now, without any further discussions let's discuss some of the best DIY hacks for scratching posts.
Tips for making DIY Cat Scratching Post
Let's get started…
Use carpet as scratching board for your loving pet
Look around your home and search for unused and free scratchboard. This material is easily available and has no harm in creating one. For this, you need a flat board, carpet or rug, upholstery tacks of standard size, and hammer.
Always cut the board size according to your cat's needs. You can place this item directly place it on the floor or can hang on the walls. Another thing you need to consider while making this is that always use rough fabric with loose threads on which your cat can snag on.
Cover the entire board with a rug and trim the excess maters to use the carpet scratching board for a longer time.
Use cardboard stack for cat scratching 
Another DIY hack by which you can create a scratching post for your cat is by using a stack of cardboard. The best part of this hack is that it will not take more than 10 minutes. To complete this project you need a box cutter, packing tape, and a cardboard box no matter how big or small it is. Also, you don't have to be particular while cutting the cardboard.
For making this project you need to fold the box on the floor. Cut the cardboard into 4 sticks or into four sections. Make sure you cut all the strips into the same size. Combine all the strips and cover tape around the strips so that your cat can have it without any issue.
First, create this project by using half of the box so that if you have enough resources to create another scratching post for your pet.
Use book as a scratching board 
If you don't have carpet in your house, then a book which is not into you use can help you reach your goals. This common and affordable item can help your cat from scratches.
For this, you need heavy-duty thread, large hardback book of the size coffee table, sewing needle, and large cotton bath towel.
Whenever you make this item, make sure you use plush material that does not have a loose thread. Fold the towel and place the book in the middle. Wrap the book in gift style. Make sure there are no taught on the surface. If you will perform all the steps accurately then you will be able to create a perfect scratching book board for your cat.
Always place this board flat on the surface because if you place it vertically then there are chances those heavyweights books can fall which can further harm your cat. So, be particular at the time of placement of the board.
In a Nutshell
Now that you are familiar with various ways with which you can make your cat scratcher for your pet without investing huge bucks, so get ready to offer your catty a funny way to exercise. In some situations, there are chances that your kitty might hesitate to try it out but need not fret you can sprinkle some catnip on the fabric to catch the attention of your pet.
But still, if you have any second thought or any other idea that can help the readers in making a new post for your cattle, feel free to drop a message in the comment section below.
Happy Making!!!