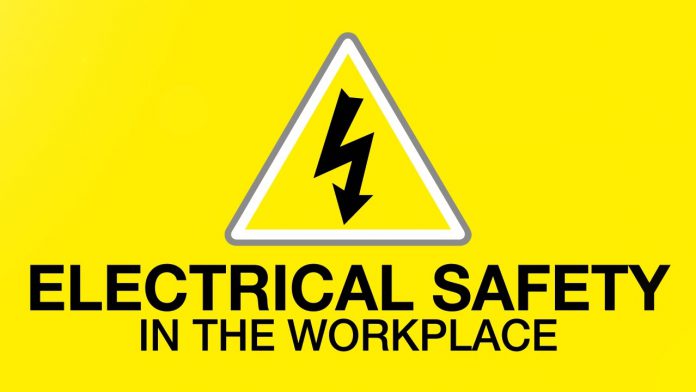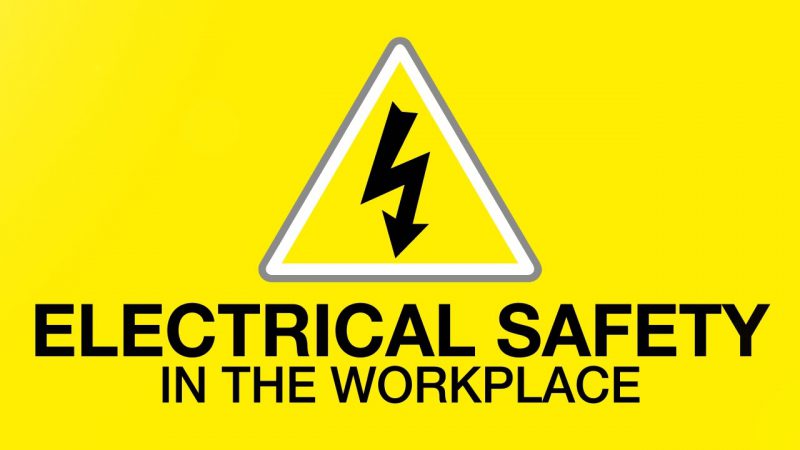 There is no better way than testing and tagging equipment at any factory, warehouse, or store, than using the testing and tagging methods, that have been implemented by the NZ legislation offices, click here to read the full version online. In most cases, it is not mandatory however if you are working with sensitive or high-risk equipment and appliances that are being handled by employers or workers, it should be the top priority.
According to the legislation, what is legally required is that the equipment that is being used is electrically safe and regularly maintained and used in a safe environment. If this is not abided there can be severe penalties applied by the authorities.
Every business must at least have the standards of revision available to them, this is the AS/NZS 3760:2003, which specifies the procedures for examination and testing of specific apparatus within the work environment.
When simplifying this code, it states that any equipment that is part of the category of polyphase or low voltage single phase types, that are connected to an electrical supply like a socket or the mains, via a cord of some kind, should be ideally tested before use. Whether it is placed in use for the first time, is new or used, or has been in operation for a while and not been tested it should be done so immediately.
Even when equipment is serviced or replaced, the first move should be to test it and tag it, and then accordingly it can be put to use. This practice does not always guarantee the future of electrical equipment safety; however, it does provide a window to how safe the appliance is once it has been tested.
The Process of Test and Tag
Sometimes businesses hire professionals who run test and tag centers to come to the site to do all the inspections for them, and other times they train up their staff to do this. When it comes to the latter, staff members must be sent to the right centers offering courses in this practice.
As per the guidelines any 'approved person section 116(3)' is one that falls under two main categories; either an accredited auditor or someone who the board is satisfied with and has the capabilities and certification of operating the systems within the business as well as the PAT device itself.
It would typically take up to one day for the completion of the course which is theory and practical training. You would learn everything from online testing and tag to on-site, how to test surge protected devices and USB chargers, reviewing of emergency equipment, and everything about how to use the Portable Appliance Tester (PAT). Further information on particular courses can be found here:  https://www2.education.vic.gov.au/pal/testing-and-tagging-electrical-equipment/policy
This training can help not just at the workplace but also within the domestic environments where testing appliances is fundamental to a safer home. According to regulations, not just anyone can do this but a certified trained professional who has the skills and knowledge about it, so watching a YouTube video won't help much with the accreditation.
The Frequency of Testing
This is an important thing to make note of. How often you test, and tag will make a big difference to the company as a whole. Depending on the nature of the business and the equipment used, it can be anything from one month to 5 years.
The NZS 3760 Standard, does give recommendations in its guidelines and should be considered as a minimum requirement. The timelines given below are all specific to the nature of business and environmental conditions within the venues:
Demolition, construction, and building environments and sectors – tested every 3 months
Warehouses or factories and production plants – once every 6 months
Workplaces where cables and cords are used prone to exposure example, office kitchens, schools, and office buildings – 12 months
Where cables are nor prone to exposure for example in server rooms that are away from the public – once every 5 years
In New Zealand, the rule of thumb is that those workplaces that are exposed to extreme or harsh environmental conditions such as the construction industry for example, which often has equipment left outside in the rain or wind, and can get damaged after frequent use, should be frequently tested than the apparatus that is used once in a while or less frequently.
The recommendation here is to do regular tests of all cables, cords, sockets, plugs, and tools yourself or assign someone to test and tag all these things for you, with or without a PAT. Mainly due to the sheer hostility of some industries, the requirement is to do this once every 3 months at least. Especially in industries where people operate machinery directly or indirectly and are exposed to wires and electricity.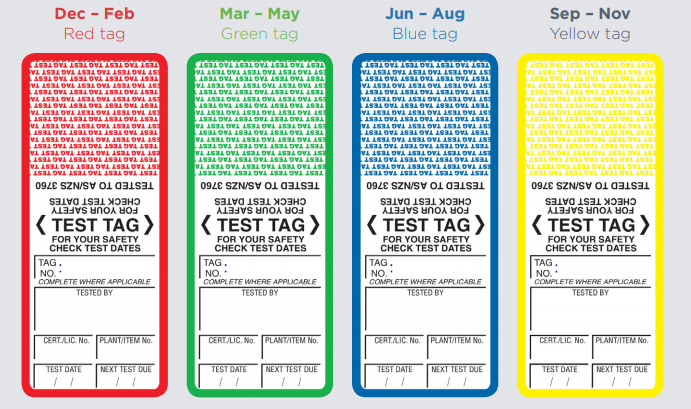 The Different Test and Tag Colors Used
The process makes use of various test and tag colors. These are used in different industries to indicate the time of the month the appliance or equipment was inspected. It is differentiated by month, and there are four in particular.
The Red Tag – December to February
The Green Tag – March to May
The Blue Tag – June to August
The Yellow one – For September to November
In New Zealand, these 4 colors are used primarily once every four months or quarterly. Besides these four, other colors are also used for instance there are grey ones, black, white, orange, and burgundy as well. These are not used as frequently as the above colors and are mostly used on equipment or workplace appliances that need to be inspected every year.
Any of the other industries that do not fall under those high-risk or frequently checked tags, can use any color. The recommendation is to keep one constant color for the inspection period and then rotate it the next time the practice is implemented. This method makes it simpler for the tester to keep track of the items that need inspection the next time around.
We hope the above information gives you a clearer idea of the main regulations surrounding this practice to better decide when your workplace equipment needs to be reviewed.