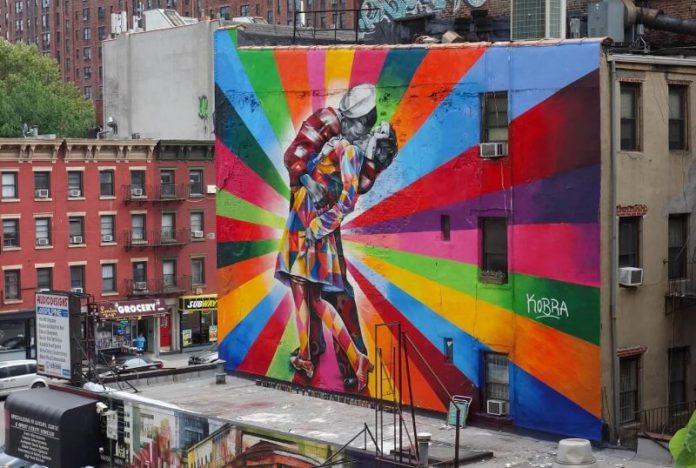 If you are searching for new decorations for your home, don't miss this.
If you are searching for new, innovative, and colorful artworks with which to decorate your home, there is one artist who is absolutely on fire at the moment: Eduardo Kobra. Eduardo's original take on painting Nelson Mandela has propelled him into the public eye, but it turns out he's been around a long time: we just haven't noticed.
In his home country of Brazil, Kobra is one of the most distinguishable and acclaimed muralists of our time, so art fans have naturally been excited to learn that he has begun to scale back his huge works – he currently holds the record for the largest graffiti mural in the world – enabling them to purchase a piece of Eduardo's unique artwork for the first time.
Eduardo's Murals
There can't be many artists who can say they have large-scale street art on display on five continents, but Eduardo has achieved much in his 46 years. His world record mural is called Ethnicities and is 190 meters long and 15.5 meters high – a total area measuring almost 3,000 square meters. Visit Rio de Janeiro and you can be sure that the locals will direct you to this, one of the main attractions of the Brazilian capital city.
Eduardo's first mural was created in Brazil but drew so much attention that he has now created similar large-format murals in France, Spain, Italy, Norway, England, Malawi, India, Japan, United Arab Emirates, and a multitude of North American cities. Kobra states that his main objective in creating these murals is to create a space where the public can interact with his art – a goal he has certainly achieved.
There are now literally thousands of Kobra's murals on walls throughout the world – some commissioned, some more… raw street art, I guess you might say. He has become so busy as a result of this talent that he is currently working with a team of other artists in order to paint between two and four murals every single month.
Eduardo's Paintings
Browsing through a selection of Kobra's paintings, I was fascinated to learn what drives and inspires him to create his pieces in the way that he does. Eduardo says that his work is highly research-driven, and influenced by a host of artists both modern and contemporary. He names the legendary Banksy, Eric Grohe, Keith Haring, and Diego Rivera as being among the biggest of these influences.
The pieces that Kobra creates on canvas are often rooted in art history and take inspiration from the designs he has created during his career painting murals. Kobra enjoys repainting famous artworks and icons in his own, unmistakable, 3-D style.
The amazing realism of his subject is such that it contrasts so sharply with the multi-colored, psychedelic backdrops he employs that it tricks the human eye, and makes the paintings appear three-dimensional. Paintings such as "Jewel in the Crown" (featuring Princess Diana), "Mother Teresa", "Gandhi", and "Einstein on the Beach" are all excellent representations of his signature style, and can only currently be purchased exclusively from Eden Gallery.
How It's Done
By recreating famous artworks in his own unique style, Kobra hoped he could insert himself into art history whilst also bringing awareness to the town of Sao Paulo, which has long suffered many societal troubles.
In order to do this, Kobra researched the science of human vision and the way our eyes interpret different textures and contrast between styles. He also taught himself about architecture, urban space, and existing tri-dimensional projects and artworks. Kobra did all this in the hope of giving the viewers of his work a specific experience.
When Kobra is asked to paint a site in a specific location, he will research the history and culture of the surrounding area and factor elements of his research into the finished product.
The exact details of his signature technique are of course well-guarded, but it is known that he uses spray paint combined with an airbrush like effect, enabling him to create immense levels of detail, a flawless aesthetic, and elements of both rich light and dark shadows to create the three-dimensional look of his objects.
Kobra decided that the public should not have to visit a museum or art gallery if they wanted to experience the magic of art – he wanted it to be accessible to everyone. Now, with the creation of his unique canvas paintings, everyone has the opportunity to see a piece of Kobra's work every day in their own home.