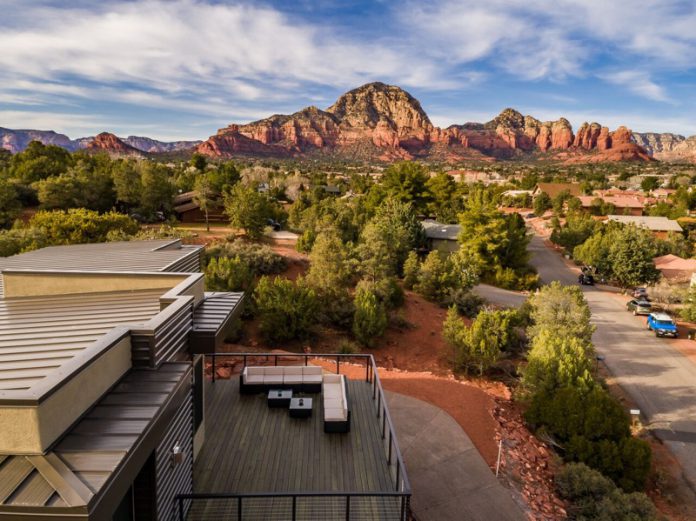 Now that people are back on the road and traveling again, it's time for many of us to choose our next vacation destination. For those looking for a mix of natural beauty, thriving local culture, and excellent food and entertainment options, Sedona, Arizona, needs to be on your list. You can contact a Sedona vacation rental property management firm to help you find the perfect vacation property to stay at—but where do you go from there? How do you begin to plan out your vacation to the American Southwest to ensure you get to see it all?
Here, we're taking a look at some of the hottest spots in Sedona that you won't want to miss out on. If you're looking to plan the perfect Sedona vacation for you and your family, there's no need to look any further. We'll showcase some of the most beautiful and unique destinations in Sedona to help you craft a truly unforgettable experience.
WHY SEDONA?
If you've never been to Arizona and you're planning your first trip, you might naturally just think about going to Phoenix. Sure, the state's capital and largest city has quite a bit to do and see, but it can also get pretty crowded. Phoenix is always going to be a popular destination, but there's much more to see in the Grand Canyon State. Looking for something a little different this time around? Then it's time to check out Sedona.
Nestled just over 4,000 feet up in the mountains, Sedona is a unique town with a creative and exciting local culture. Smaller than other cities like Phoenix or Tucson, Sedona offers travelers a more intimate Arizona experience while still being large enough to offer an array of dining, entertainment, and exploration options. Tucked in between stunning red rock formations and lush pine forests, Sedona's beauty is truly like nothing else you've ever seen. On top of that, the elevation helps you beat the heat and provides a more moderate climate compared to other parts of the state.
Sedona has long been a popular destination for its spiritual vortexes (which we'll dig into more later), but has now become a noted destination for spas, luxurious hotels, and amazing dining experiences. For a mix of the old and the new, the intimate and the extravagant, you'll need to come see Sedona for yourself.
CAN'T MISS SPOTS ON YOUR SEDONA VACATION
When you begin planning your Sedona vacation, what are the must-see spots? To help you get started, take a look at our list of the can't miss spots in Sedona.
Sedona vortexes: Perhaps the most unique sight to experience on your Sedona vacation, you can't miss visiting one of the spiritual vortexes. Known as centers of healing, self-reflection, and peace, there are four main vortexes throughout Sedona (Bell Rock, Boynton Canyon, Cathedral Rock, and Airport Mesa) for you to explore and connect with your spiritual side.
The great outdoors: visiting Sedona without seeing some of its natural beauty would just be a shame. Sedona, as well as the entire state of Arizona, is renowned for its gorgeous landscape. Ranging from red rock vistas, stunning rock formations, lush forests, and flowing rivers, there's so much to explore surrounding Sedona.
Red Rock Scenic Byway: if you're looking to chill out and take a drive to remember, you can't miss the Red Rock scenic byway. Also known as State Road 179, this stretch of road goes for about 15 miles through the Coconino National Forest along some of the most stunning scenery in the entire country.
Tlaquepaque Arts & Shopping Village: to access the true spirit of Sedona, you'll need to check out this huge arts and shopping center that features local crafts, artisans, and restaurants.
Palatki Ruins: for a glimpse into the past, go check out the unique Palatki ruins site. Jeep and UTV tours offer a chance to explore this area and see ancient ruins and stone paintings that will teach you about the unique past of this region.
VACATION PROPERTY RENTAL COMPANIES IN SEDONA
With so many great sights to see in this beautiful city, it's easy to forget about some of the other essentials of planning your trip. First things first—where are you going to stay? While many travelers may simply opt for a hotel or motel out of sheer convenience, don't feel like those are your only lodging options. What else is there when it comes to lodging? Well, have you ever stayed at a vacation property?
Vacation property rentals are quickly becoming one of the most popular options for finding a place to stay. Compared to a hotel, there are several unique benefits to staying at a vacation rental. For one, you'll have a lot more options when it comes to the size and design of your space. Vacation properties come in all shapes and sizes, which means that they can accommodate large multi-family getaways or just a romantic vacation for two. You pick the size, location, and amenities of your vacation property—offering a level of freedom and choice that simply isn't available with hotels.
Having these amenities, such as a kitchen, a yard, or a pool, can also help you feel more at home while you're on the road. Having a yard, entertainment room, and a functional kitchen to cook from can also allow you to spend even more quality time with your friends and family. This could even save you money in the long-term by not having to go to a restaurant for every meal.
CONCLUSION – CAN'T MISS SPOTS ON YOUR SEDONA VACATION
It's time to get back on the road and start exploring again. If you're looking for a new destination for your next vacation, you should definitely look into Sedona. This unique city, nestled up in the Arizona mountains between red rocks and pine forests, truly has a lot to offer. While Phoenix and Tucson may be larger cities, most visitors would agree that they don't quite have the personality or magic of Sedona.
No matter what you're looking for, there's a good chance Sedona has something for you. From amazing natural beauty and outdoor adventures, local dining and shopping, and unique spiritual experiences at the four top Sedona vortexes, everyone in your group will find something to love in this city. Once you've reached out to a professional vacation property management company to find the perfect place to stay, it's time to start planning your very own Sedona vacation.