Every person needs adequate rest and quality sleep. Therefore, it only fits that you purchase the right mattress to achieve that goal. Buying a mattress can be a tedious task, so you should ask questions at the mattress store before giving up your hard-earned money.
If you're going to be buying a mattress, you'll have to talk to a mattress salesperson. How you approach them and the questions you ask will considerably impact your shopping experience and the outcome of your purchase. What questions should you ask the salesperson when shopping for a new mattress at the store? If you want a cozy bedroom with a bed that satisfies your sleeping requirements, here are a few questions that you should ask a mattress salesperson: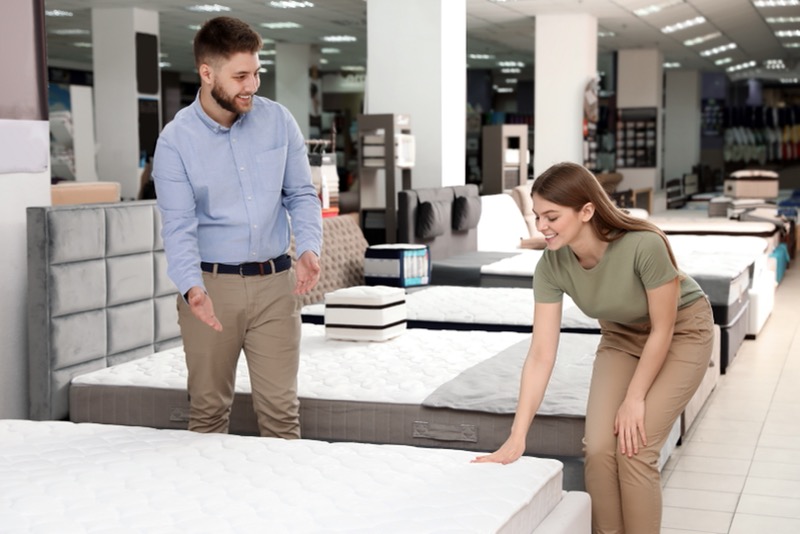 1. What Mattress Can You Recommend?
Mattresses come in many shapes and sizes. If you've done your research, be sure to ask for the exact model you have in mind. It'd help if you also asked for alternate options to compare them with your original choice. Oakville mattress stores employ sales professionals with extensive knowledge of the products they carry.
The store team member should consider your preferences and sleeping needs before making any suggestions. For example, they should ask if you're allergic to any materials or what mattress firmness you prefer before giving you options. An honest mattress store team member will recommend the items that suit your needs and not recommend making a commission.
2. What's Your Bestseller?
It's a good idea to find out the popular mattresses at the store. After all, there's a reason why they're considered bestsellers. Aside from a reasonable price, a popular mattress like the Queensway Mattress may also have excellent features. Ask the Oakville mattress store employees what beds are sought after by customers. Don't forget to ask why these mattresses get high customer ratings so you can compare them with the mattresses on your list.
3. Do You Have Any Ongoing Promotions?
A high-quality mattress isn't cheap, but the cost will be worth it when you find a bed that meets your needs. But don't disregard the possibility that you may get a discount from the original price. Mattress companies will try to stay ahead of their competitors by coming up with sales promotions or special deals. Ask to see their customer afternoon sales or weekend deals. So, take advantage of these discounts or promotions to slash a good chunk of the selling price.
4. Can I Test The Mattress?
Testing the mattress shouldn't be restricted to you sitting or lying down on the bed while at the store. Be sure to ask if the mattress that you want to buy can be tested at home. Since you're placing significant investment in your purchase, you may be able to try the bed for around 30 days.
But before you take the mattress home, make sure you've clarified the details for the returns if you're not satisfied with the product. Many mattress companies will accept the return as long as the item doesn't have stains or tears.
5. Does It Have A Warranty?
After you've shortlisted your choices to a few mattresses, it's time to ask about mattress warranty policies or terms and conditions. A warranty or guarantee is part of the sales contract to assure the buyer of the service or product's quality. Before purchasing a mattress, make sure to verify whether you can redeem the warranty at the store or if you need to send back the item to the manufacturer for replacement or servicing. So, don't forget to check the product warranty and how they work with the salesperson.
6. How Can I Prolong The Life Of My Mattress?
Have you decided what mattress to buy? Congratulations, but your journey doesn't end here. It's crucial to ask questions to mattress specialists to protect your precious investment. Is there any protective covering available to prevent stains or discoloration on the mattress? What are the things to do to keep the mattress in its original state?
You can also inquire about sleep accessories that'll complement your purchase. The Oakville mattress store salesperson may suggest a bed frame, mattress topper, or new pillows, so your new mattress is as comfortable as possible to sleep in as possible.
Takeaway
The right mattress is a significant investment. When buying at the mattress store, make sure you've prepared several questions to help you in your purchase decision. You know you went to the right place when courteous salespeople provided you with their unbiased recommendations.
So, get your questions ready before stepping into the mattress store of your choice. Not only will these help you validate your choice, but you can also ensure that you'll be assisted in the best way possible when shopping for a new bed.