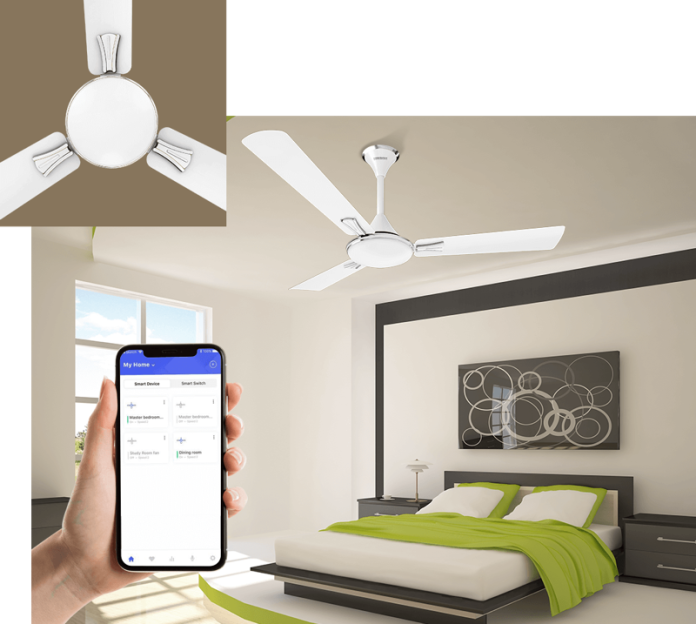 Recently, there's been a new buzzword trending in the home electricals space. Yes, you guessed it right – smart fans. As the world continues to get smarter with smarter cars, smarter phones, smarter watches, the home electrical space is no exception. After the introduction of bluetooth controlled smart LED bulbs and smart strips, the smart ceiling fans are the latest addition to the list of smart home electricals.
What is a smart fan and what makes them so smart?
How do you control your regular ceiling fan? As in how do you switch it off/on or vary the speed of the fan? From the room's switch board, right? Well, that's where the smart fans differ from their regular counterparts. The smart fans are ioT enabled ceiling fans and unlike your regular ceiling fan these new age smart fans can be remotely controlled from any part of your home or office. Most smart fans have one or more of these smart control options.
1. Smartphone Control
Ever imagined controlling your home/office fan with a tap on your smartphone? Well, if you haven't then now you can actually experience it for yourself. To control your smart fan with a smartphone, all you have to do is download a smartapp (provided by the fan manufacturer) and use the control options like power on/power off, speed control and more.
2. Voice Control
You may have played songs, news and did a lot of other cool stuff with your voice control virtual assistant like the Alexa. Now you can add one more thing to your list. You can control your smart ceiling fan with a simple voice command. And the best part is that some companies like Luminous have designed smart fans that allow you to even schedule when your fan gets switched on or switched off.
3. Remote
We guess this one's not very new to you. Although you may have rarely come across remote controlled ceiling fans, these fans always existed. The remote controlled fans can be turned on and turned off with the click of a button. You can also vary the speed of the fan with the remote.
Luminous Audie – A Smart Fan Experts Recommend
If you are looking for a smart fan then you should definitely consider the Audie from Luminous India. It is not only just one of the best selling smart fans in India but it is also one of those fans that most experts recommend. It comes with all the three control options that we just discussed. And if you were wondering how he fan would go with your home's decor then let us tell you that Audie is a beautifully designed ceiling fan capable of sprucing up any home decor. Also, the fan is easy to clean and maintain as it comes with a dust-repellent coating.
Important Specifications
Sweep Size – 1200 mm (approx 48 inches). It is ideal for room spaces anywhere between 75 to 160 sq. feet
Air Delivery – 230 CMM
Fan Speed – 380 RPM (rotations per minute).
Power Consumption – 70 Watts of power.
No of Blades – 3
Color – Mirage White
Voltage – 220 – 240 V AC, 50 Hz
Warranty – 2 Years
Conclusion
If you want to enjoy the convenience of controlling your fan from wherever you want or a fan of the latest gadgets and technology then you must definitely consider replacing your regular ceiling fan with a smart fan. And if you go with the Luminous Audie, it will not just make your life more convenient but it will spruce up your home's decor with its beautiful looks.