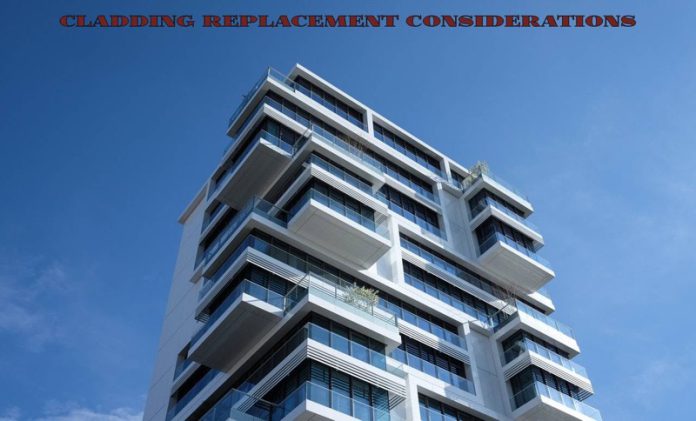 Cladding Replacement Considerations
Are you removing cladding from your building? Here are the most important things to keep in mind.
Replacing the cladding on your property is a mammoth task. It is also something that we cannot put off until it suits us. New legislation means that property and building owners are being called upon to upgrade cladding in their buildings. Although there is currently no real punishment for those that refuse to upgrade, lawyer's teams are likely to take you to court for non-compliance.
With cladding an issue for hundreds of thousands of Brits, what considerations should be made when replacing it? We did some research to find out.
Things To Think About When Replacing Cladding
Before you repair or replace cladding, consider the following things.
Do you have the power to replace the cladding?
Firstly: is replacement of the cladding down to you? Is it someone else's legal responsibility? Have you checked to make sure that cladding can be replaced through your property? If you happen to live in a high rise block of flats, then you will have bought that flat from the building owner. IT is not you who needs to replace the cladding in this case, but the building's owner.
Furthermore, if all of you got together and petitioned the property owner, you should conjure enough pressure to make them comply.
What if the building's owner says no?
If the building's owner refuses to have the cladding removed or replaced, you should be able to take other routes to pressure them into it. Consult with lawyers or run aggressive social Media marketing campaigns. Make sure the world knows the names of the property owners refusing to help their tenants by complying with the law. You can meet with your own MP and demand that they put governmental pressure on them, too. All of this takes time, but it will be worth it if you can assuage the costs of removal/replacement.
If you live in a government owned property, they are the proprietor responsible for your plight. They should replace the cladding with minimal fuss. Similarly, if you rent your high rise property, you are not liable for paying the costs.
Fire Risk Assessments must be carried out
Whichever firm you hire to remove or replace the cladding on your high rise building, needs to work closely with the local fire safety teams. Sparks will come off the rotary blades that are used to remove the cladding panels. Although these sparks give a low risk of fire, risk assessment is needed to be sure they are accounted for. The building should remain no-smoking throughout the duration of the removal. Other health and safety considerations should be made, too. For example, this will require people working at height.
How long does it take to remove/replace cladding?
Cladding removal is a lengthy process that must follow all actionable safety laws. It must be carried out by a professional team with the skills to do so. It cannot take place during the harsh weather, either. This means that cladding removal can take anything up to 5 months[i]. It takes at least 12 weeks for the paperwork to be processed in some areas of England. Once the paperwork has been cleared, you must remove each panel by hand.
Cladding replacement cannot start until all of the panels have been removed. This can take months to complete, with times lengthening dependant on the size and shape of the building.
I live in Scotland, what about my cladding?
If you live in Scotland, Wales, or Northern Ireland, the UK law on cladding is the same. However, the support you are entitled to receive differs. You should check your local council websites for more details.