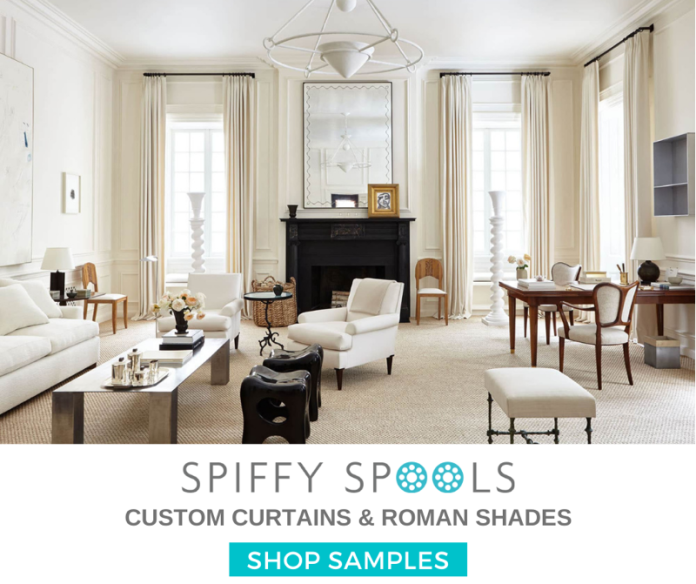 One of the first and important design decisions you will make for your new house is choosing the right window treatments. Considering the need for privacy and light control, blackout window treatments are on most homeowner's wishlist. And don't worry, 'blackout' neither has to mean 'all black' nor 'out of fashion and boring'. You can imagine your blackout window dressings in any color or pattern and rest assured that you'll find them.
There are two equally effective ways to get blackout window treatments:
Select a blackout fabric and get your drapes or custom roman shades stitched out of it.
Select a non-blackout fabric and get your custom drapes or shades stitched with blackout lining at back.
A blackout fabric – as the name suggests – resists light filtering to provide room darkening. If you choose this option, you save the hardware from bearing the additional weight of the lining if ever that is a concern. Needless to doubt, this option will typically also be lighter on your pocket. However, you may find your options for fabrics to be limited in terms of colors, patterns, textures and compositions.
The other option – choosing a non-blackout drapery fabric and adding blackout lining behind it – has many advantages. The choice for fabrics, colors, and patterns will be far vaster. Lining also adds weight and volume to a window dressing, increases fullness of drapes and ensures lesser wear and tear of the fabric.
Why Blackout?
Whether you choose to do a lining or to get a blackout fabric itself, there are many advantages to the choice of blackout window treatments. Let's see what's awaiting those who choose blackout. Here we go…
Total Light Control
The most direct and obvious advantage of a blackout window treatment is the control over light infiltration into the room. Those who are sensitive to light can have a hard time catching sleep, no matter how tired they may be. Blackout dressings are no short of a blessing for these insomniacs, for tiny tots who need daytime naps, for those recuperating from a surgery or serious illness and the night hustlers who work like nocturnes and crash on the bed during the day. A darkened room is just what one needs in these cases to get better sleep which in turn means focus and positive energy for the rest of the day. Blackout window treatments are also a great choice for media rooms to create a true theater-like ambiance at home.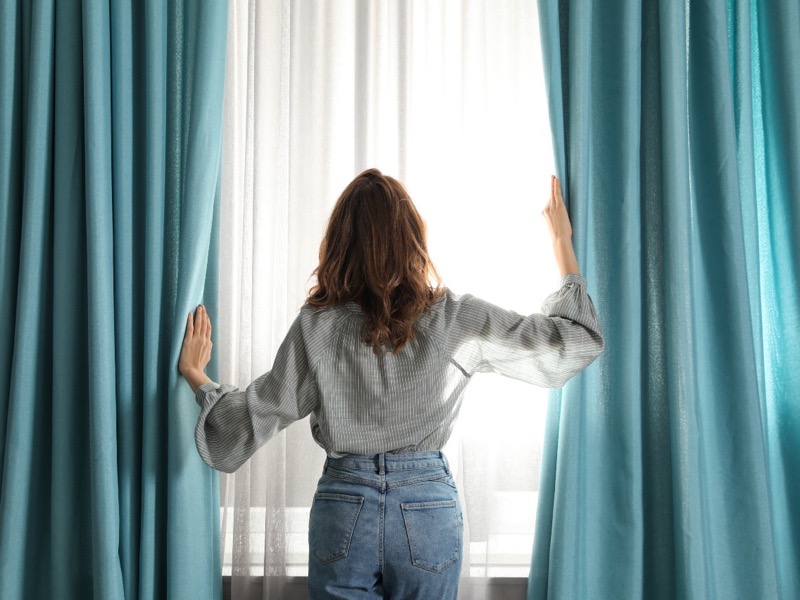 Blocks External Noise
As compared to other window treatments, blackout window treatments provide a restricted flow of external noise entering the home. This can translate into a distraction-free space for a student preparing for an exam or for a person working from home. It provides the right ambiance for a reading room, a library, a nursery, a bedroom or a media room. Blackout linings muffle echoes and harshness of overlapping sounds in all homes, especially the ones with wooden flooring. Along with sleeping and studying areas, blackout curtains can also enhance your media room experience.
Better Insulation
What brings in cooling in summer and warmth in winter can be perhaps called in one word as 'magic' or as 'blackout'. Truly! The thermal coatings help to keep the hot air out and to trap the room heat in. So, when it's hot outside, you won't be sweating and when it's freezing outside, you can avoid piling one more blanket on yourself.
Energy Savings
Windows are responsible for 10-25% thermal energy loss in a room. High quality room darkening curtains and shades can help limit this loss and save you energy costs by as much as 25%. Talk about the daily savings you make on the power bills when you can shut off the cooler and the heater for a while or run them on lower levels. If your window treatments are of blackout variety, you get this relieving feature.
Environment Friendly
Air coolers are inevitable in some regions and a well-deserved luxury in others, but the carbon-dioxide emissions that it entails is a major concern for the environment-friendly. If you knew that contributing to such a great cause is as simple as choosing a right window treatment at the least, why wouldn't you? Choose blackout, cut down on the use of the cooler and do your precious bit for the green movement.
Extended Lifespan of Furniture & Furnishings
The reduced exposure to sunlight and its harmful UV rays increases the lifespan of your furniture, fixtures, carpets, and upholstery in the room. The fabric of the shade/drape itself stands to benefit the most from the protective feature of blackout as it is saved from that weathered, color-faded look we hate to see.
Enhanced Visual Appeal
Blackout lining behind curtains can do wonders also in terms of visual appeal as the added weight of lining can add to the fullness and gather of the drape. Drapery experts advise that the added weight of lining also helps drapes fall into straighter pleats much faster than unlined drapes.
Increased Privacy
If you're a privacy-conscious person, you may not wish a prying eye to even see a shadow of you on the windowpane. And if your neighborhood is extremely poky nosed, then blackout window treatments can definitely save you some uncomfortable moments.
In Summary
The older darker versions of blackout fabrics would find resistance in prospective customers who want their window treatments to be attractive and cozy. But today, blackout fabrics don't have to be dark and drab at all. All the benefits of blackout window treatments are available to you whether you choose a blackout front fabric or choose to simply use it as lining in the back. Considering that the primary function of any window treatment is privacy and light control, blackout window treatments are the meeting point of practical functionality and bewildering elegance. Blackout window treatments – that's the way to go.