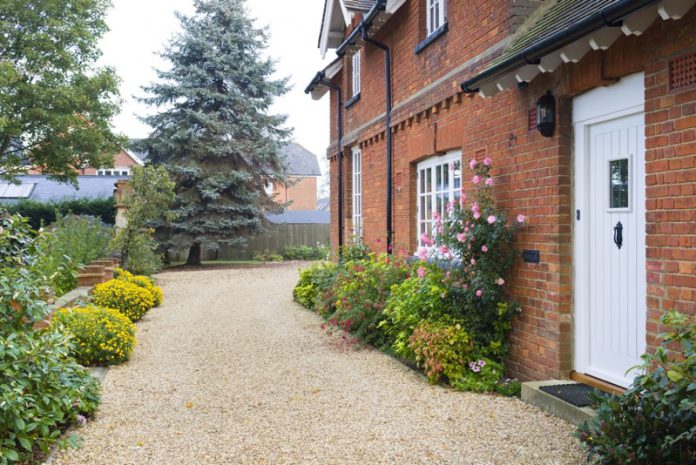 The comforting crunch of a gravel driveway welcomes you home as no other sound in the world can. Laying a gravel driveway yourself is a fun, low-cost hobby that allows you to express your individuality. A gravel driveway can be created by anyone, even if they have no previous landscaping knowledge. Make sure your new driveway looks fantastic with these helpful tips and tricks.
What is a gravel driveway, and how does it differ from a regular driveway?
It's easy to see how a gravel driveway can greatly enhance the curb appeal of your home's exterior.
Using a range of different coloured, shaped, and sized gravel, you can simply customise the appearance of your new gravel driveway.
Patios, walkways, rockeries, gardens, and decorative edging can all benefit from the usage of gravel. In spite of this, gravel driveways are a popular choice because of its many advantages.
Benefits of a Gravel Driveway
Design Flexibility – You have a wide range of options when it comes to the colour, shape, and size of your driveway gravel, so you can be as creative as you want.
Grass-based driveways don't require mowing, pruning, or watering, which makes it easier to keep them free of weeds.
Gravel driveways are less expensive and easier to maintain than other options like tarmac, asphalt, or grass.
Gravel's superior ability to disperse precipitation means your new driveway will be free of puddles.
Gravel's crunch sound when trodden on alerts you to the presence of onlookers because it is a loose aggregate.
A gravel driveway is a do-it-yourself project that may be completed by even the most inexperienced DIYer.
Gravel driveway construction instructions
Items Necessary
Decorative gravel of the highest quality, for a stunning finish.
For a solid foundation, using MOT Type 1 leveling material.
Water drainage and weed resistance are provided by the Driveway Fabric Weed Prevention Membrane.
The driveway is bordered with decorative boulders (optional).
Step 1: Decide on the gravel you want to use.
Choosing your gravel chipping is the first step in building a beautiful new gravel driveway. Gravel is incredibly adaptable and may be used in any type of building, regardless of style or age. Be sure to consider your home's overall colour scheme while deciding on a gravel colour before making a final decision. There are a variety of gravel colours, textures, and shapes to choose from depending on where you reside, whether it's in a rural community or a bustling city. An attractive contrast to darker brickwork, our 20mm Cotswold Buff Gravel 20mm is an excellent choice for gravel driveways. Gravels with an angular shape are very useful because they naturally interlock and maintain the stability of the gravel layer. For an even lighter, brighter touch, our famous 20mm Polar White Marble is the appropriate choice for a modern design, and it highlights plants and trees nicely. As an alternative, our Green Granite Gravel 20mm is an elegant and eye-catching gravel that works perfectly for gravel driveways in both urban and rural settings. Dove Grey Limestone Gravel 14-20mm is a popular choice for driveways, and it's one of our most popular products. But don't let us make that decision for you! There are many beautiful gravels and aggregates to choose from at CT stone and gravel – so get ready to have a lot of fun picking out the perfect colour and shape for your driveway.
Step 2: Measure your driveway
Measure your driveway after you've settled on a gravel driveway colour scheme. Using this method, you can determine how much gravel you'll need for your project. We've created a convenient gravel calculator to take the guesswork out of the equation. As a general rule of thumb, one bulk bag of gravel covers approximately 5 square metres at a depth of 50 millimetres (not including the sub-base).
Step 3: Select the gravel driveway edging.
Gravel driveway borders are an important aspect of the design process because they enhance the overall appearance of the surface and add visual interest.
While solid block borders are striking, they also serve a practical purpose by keeping gravel contained within your driveway.
Large boulders and rockery stones can be utilized as natural edging for gravel driveways and they look particularly beautiful when used as a barrier between the gravel and any remaining turf or planting areas.
Make sure your gravel driveway edging is tall enough to keep your gravel from escaping the perimeter of your driveway at all times.
Step 5: Gravel driveway construction begins with preparing the ground.
Preparation is the first step in installing a gravel driveway. Debris, turf, and/or topsoil may need to be removed to do this. Afterward, you'll need to excavate between 50 and 200 millimeters from the surface. If you're going to add a sub-base, you'll need to leave at least 50 millimeters for the gravel and 150 millimeters for the sub-base. Make that your driveway's foundation is level and compacted. Digging out and reinstalling MOT Type 1 may be necessary in regions that are softer. A roller may be needed to compact the base layer in large driveways.
Step 5: The gravel driveway sub-base is laid
MOT Type 1 should be applied to your gravel driveway base.
As a bulk filling and leveling material, MOT Type 1 aggregate is ideal for ensuring the stability of your driveway. Aggregate is available in a range of sizes, from 40mm to fine dust. Keep in mind that your decorative gravel will be placed in the space between the sub-base and the surface, so leave at least 50mm of space there.
Step 6: Weed Prevention Membrane should be applied at this point.
In order to prevent weeds from developing and to allow water to drain through your gravel surface, we strongly recommend the application of a Weed Prevention Membrane. Place the sheet on top of the compacted MOT Type 1 and cut it to the appropriate shape.
Step 7: Spread your ornamental gravel on the ground.
We've finally made it to the best part of the process after all that effort!
Shovel your preferred gravel onto the Weed Prevention Membrane that has been set out. The gravel layer should be at least 50mm (5cm) deep and evenly distributed. To ensure that the gravel is distributed uniformly, rake the entire surface.
How to keep a gravel driveway clean and free of weeds
It's easy to keep your gravel driveway clean and attractive, and it doesn't take a lot of time. If you want to maintain your new driveway looking its best all year long, follow these tips:
Remove twigs, leaves, and other debris from your gravel driveway on a semi-regular basis, especially in the fall. If you have any compacted gravel, this is a great way to break it up.
Weeds may form despite the presence of a weed prevention barrier if seeds blown in by the wind germinate. Using gardening gloves, just remove these by hand. Spray glyphosate-containing weed killer (or herbicide) on the affected areas.
The gravel in your driveway may thin out with time, leaving bare patches. Fortunately, this may be remedied by simply adding more gravel to the afflicted areas.
To guarantee that the stone you use to top up your driveway is the same as the stone that was originally used, it's a good idea to order an extra bag or two of gravel when placing your order.