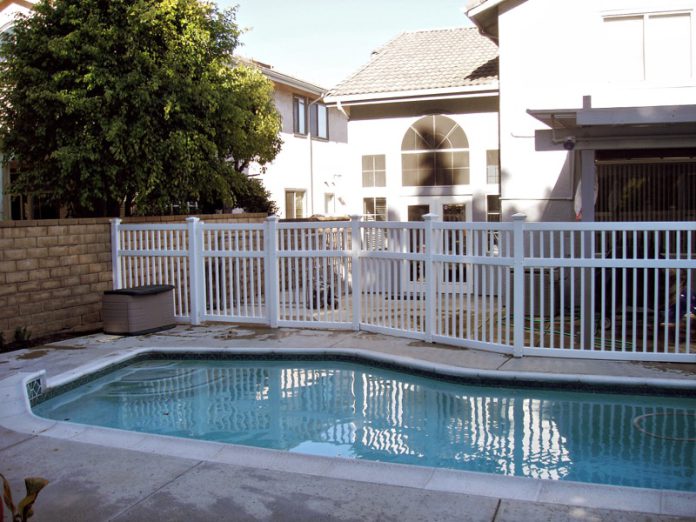 Having a pool is exciting, but it also comes with many responsibilities. You must not only clean and maintain it but also ensure that it is not accessible to children, animals, or passers-by without your permission. Furthermore, pools can be unsafe and result in unintentional drowning. Thus, pool owners should consider investing in a pool fence. An in-ground pool can be a terrific way to pass the time during the summer for many individuals. First, however, buy vinyl pool fencing for your backyard. Next, you should consider the safety concerns of owning one.
Pool Fences Importance?
Pool fences are essential in most regions since they help prevent terrible incidents. When a fence or other barrier surrounds a pool, the chances of a youngster unintentionally falling into the pool are minimized. As a result, pool fences provide some protection against any mishaps that may occur on your property. They also shield you from breaking state or municipal laws.
While a well-fenced yard might prevent outsiders from hopping onto your personal property and jumping into your pool when they shouldn't, it won't be enough to protect the people in your household. For example, a pool fence is a must if you have young children. The same goes if you're worried about a pet getting into your pool when you're not paying attention. Remember that a swimming pool is already seen as an attractive nuisance, a feature on your property that could attract young trespassers, increase your homeowner's insurance premiums, and expose you to liability. Installing a pool fence can protect you from lawsuits and help you avoid tragic events in your backyard.
Pool Fence Options
Glass: Glass fencing is durable and climb-resistant, making it one of the safest pool fencing options. However, it's quite expensive to install and maintain.
Mesh: Mesh is the easiest type of pool fence that you can install and remove. For many homeowners, the mesh is affordable and can work as a temporary fence if you need one.
Metal Frame: These fences are made of aluminum tubing or stainless steel. Metal fencing is a popular choice because it's durable, long-lasting, and low maintenance; however, it can be easy for children to climb over and obstruct the view of your pool area.
Wood: Wood is also a fencing option, but it is becoming less popular with time. Wood fences require regular maintenance; you must repaint and treat the wood at least once every year.
Vinyl: This is one of the best pool options, as there is no concern if it gets wet. Vinyl fencing comes in varied style options, similar to some wood fence designs but without maintenance. It is impenetrable to insects and moisture and will never rot, splinter, or decay. It is extremely strong and will never need sealing or painting.
Duramax vinyl pool fencing
Duramax vinyl fences are easy to install and do not require brackets and screws. Being heat and impact-resistant, the fences can withstand high-pressure situations. Also, they are easy to clean, and there are no chances of bacteria & termites getting accumulated right at the base. Just a rinse-off with a hose is more than enough.
In addition, Duramax fences are tried and tested before they finally go ahead & supply them to their customers. The fencing experts at Duramax ensure that their fences are ASTM F964 tested and tailored to withstand heavy blows. When buying vinyl pool fencing from Duramax, be assured you are getting top quality. They use DuraResin vinyl formulation in their products, designed to withstand the hot southward sun. With over 12 parts of Titanium Dioxide and UV inhibitors, Duramax has the highest UV stability. There are no chances of the fence turning yellow, and you will not have to spend anything extra on painting your best vinyl fence. The professionals working with Duramax are experienced and ready to put their best foot forward as and when required. They are aware of making things simple and do all the right things to make fences durable.
Conclusion
Pool safety is most important, especially if you have children, pets, or guests. Get a pool fence installed to ensure your pool is fun and safe. Now, you can get free samples of their product from Duramax Fences for a limited period. Claim yours today.