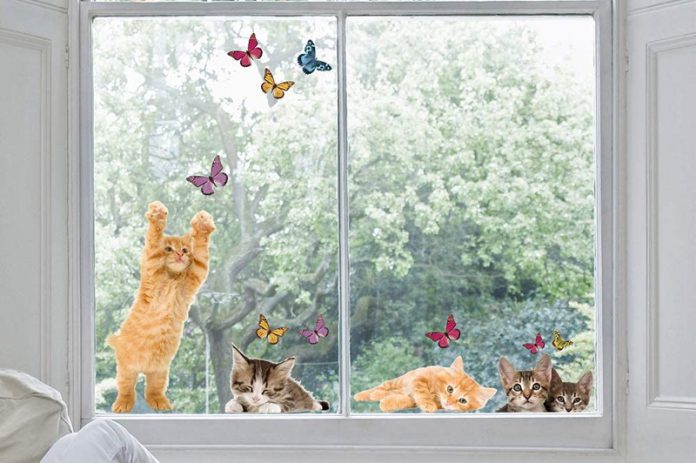 Many companies do not consider their windows while advertising. However, windows offer some of the greatest open locations for displays. Stores may feature windows along the front of the house in some circumstances.
If you leave your windows vacant, you may pass up a wonderful opportunity to boost your company with window decals.
Vinyl window decals are a terrific method to transform unused window space into anything unique and eye-catching.
You may transform your drab storefront into an informative and appealing display with simply a logo, business name, and a few crucial facts. Consider why you should utilize vinyl window decals for your business.
If you're curious about window decals for business, keep reading, as we have mentioned every aspect of making window decals for businesses.
What Is Window Decal?
Window decals are pictures, graphics, and text (or a mix of the three) applied to a glass's surface. Vinyl window stickers, window clings, and window graphics are other names for them.
Decals may be put to the interior or outside the glass because vinyl is a lasting substance. Clear decals, opaque decals, perforated decals, window clings, frosted decals, and writing are the five basic varieties of window decals.
The vinyl decals are pretty easy to remove, even though the adhesive is strong enough to endure weather and temperature changes. Because of their longevity, they are a good choice for both permanent and temporary use.
Window decals are inexpensive, making them ideal for temporary displays and seasonal ads. With the right tools, removal should not harm your windows, and you should be able to reapply new graphics immediately.
How To Make A Window Decal For Business?
Signage on the windows is an excellent approach to market your company. And custom-made company window decals make it easy and beautiful to do so.
You don't lose critical time while giving your business a new appearance because they are quick and easy to install. If your signage has to be changed later, window decals may be easily removed and replaced with new decals.
This article is for you if you are a new business searching for recommendations on utilizing them or an existing firm seeking fresh ideas. Let's look at window decals and what they can achieve for your company.
Steps to create a window decal are: –
Step 1: Create The Image
The Basic edition of Silhouette Studio does not handle scalable vector graphics (SVG) files. As a result, exporting the logo as a rasterized picture at a size near what is needed. By sliding the corners of the selection box, you can choose and resize the image to the exact size you desire. 
Step 2: Trace Cut Lines In
You must trace your image to establish the entire cut lines. Using the toolbar buttons in Silhouette Studio, open the Trace panel. Select the picture object to be traced and make necessary changes to the trace parameters. If you don't like the results, press undo many times and try again.
Step 3: Set the Cut Settings and Blade Depth
To access the cut settings panel, use the toolbar buttons. There are several publications available that will assist you with setup options. You must experiment with your material to see what works best for you. The ratcheting blade has a cover used to spin the blade's setting dial.
Step 4: Cut Vinyl
The Portrait includes two load media buttons: one for utilizing the included sticky carrier sheet (for holding through cut material) and another for adding content that does not require the carrier.
You don't need the carrier sheet because we're merely "kiss" cutting and leaving backing material in place. Decal has one very little cut-out that was disrupted throughout the cutting process.
Step 5: Cut Out A Final Design
You may now extract the media from the cutter and begin the weeding process with your decal cut. This is the stage at which you remove any extra vinyl, leaving only your selected final decal design. I caught and peeled away undesired pieces with the tip of a knife. You won't have any of that if you use the appropriate cutter settings and a sharp blade.
Step 6: Use Transfer Paper
Cut a similar length of transfer paper. Remove the backing and roll it across the top of the decals, careful not to create air bubbles. Transfer paper is just minimally sticky, so it will keep your logo when applied to a window, but it simply pulls away after the decal is in place.
Smooth and push down the transfer paper with a tiny squeegee, a credit card, or even your fingertips to ensure it is in excellent contact with the whole decal. Next, clip off the extra edge and, if necessary, divide your decals before applying them!
Step 7: Apply Decal To The Window
Make sure the surface of the glass is clean and dry before applying your new decals. Place the decal against your window to get a good sense of where you want it to go. Peel the decal-attached transfer paper away from the vinyl backing.
Position the decal carefully on the glass, then push and smooth it into place. Again, you may use a squeegee, a credit card, or your fingers to ensure that the decal makes excellent contact with the glass surface. Then, gently peel away the transfer paper, leaving your bright new logo decal in place.
This project is simple to complete, and each of these decals costs less than 50 cents in supplies (excluding the digital craft cutter).
You can use approximately six inches of my ten-foot vinyl roll to have enough left over for future projects. With a little forethought (and care), you can create decals like these in no time.
Conclusion
Make your window clings neither too little nor too huge. Calculate how distant your viewers will be from your writing and images by measuring the glass surface. Consider installing backlighting or spotlights to the front of the window if it is poorly illuminated. Make sure your colours contrast with the background and are bright enough to stand out.