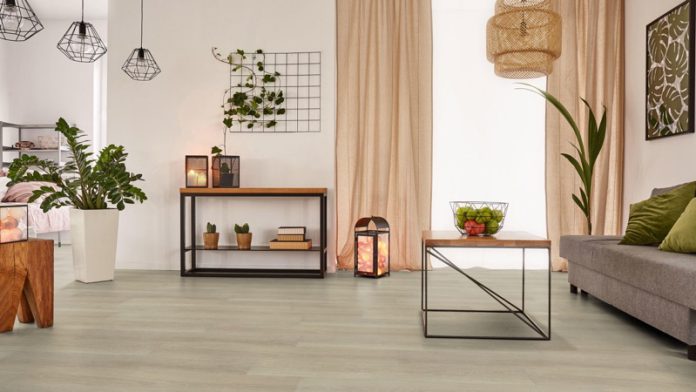 When it comes to flooring choices there are plenty of options for homeowners to choose from, depending on your preferences and decor there are flooring options to suit anyone's needs. But one flooring option that has been growing in popularity, is vinyl plank flooring. Many homeowners have been ripping out their carpets and other flooring to install vinyl plank flooring. Since it mimics hardwood flooring (without the hefty price tag) it makes a great addition to any home at a fraction of the cost.
However with all the information out there, it can be confusing to understand what vinyl plank flooring is made of. To help navigate this flooring option, here is everything you need to know about vinyl plank flooring.
What is Vinyl Plank Flooring Made of?
All the vinyl plank flooring on the market is made from vinyl as the name implies. Most vinyl plank flooring is partially made from PVC, which is a type of durable plastic. Now depending on the type of vinyl plank flooring you choose will further dictate the materials inside. Some of the types of vinyl plank flooring include rigid core, luxury vinyl planks, and even waterproof vinyl planks.
For vinyl planks, they are made of material that is pressed together in multiple layers.
For vinyl flooring, that material is then pressed together into planks, in multiple layers. Think of it as different materials sandwiched together tightly to form an extremely durable, practical and affordable flooring.
Now it can be a little confusing when it comes to what vinyl plank flooring is called. It can go by two main names, one is called luxury vinyl plank flooring or LVT (luxury vinyl tile) for short and the other is called  LVP (luxury plank flooring). LVP is the most common type of vinyl on the market. A luxury vinyl tile and luxury vinyl planks are a  waterproof floor that is exceptionally easy to install and maintain. Both LVP and LVT are the same thing (confusing we know).
Types of Vinyl Plank Flooring
There are three main categories of vinyl plank flooring: luxury vinyl planks (LVP), wood-plastic composite vinyl planks (WPC), and stone-plastic composite vinyl planks (SPC). They might all look the same at first glance, but there are some important differences that you should know about.
There are three main categories of vinyl plan flooring:
Luxury vinyl planks (LVP)
Wood plastic composite vinyl planks (WPC)
Stone plastic composite vinyl planks (SPC)
Now at first glance they all may look the same, but there are some significant differences that you should know.
Luxury Vinyl Planks
Typically these planks have a rigid construction and are made to be very durable. They're typically higher quality than stick and peel vinyl planks.  It's important t  keep in mind that the term "luxury" isn't industry regulated so there can be some variance between brands. Usually, the layers of luxury vinyl planks include a thick, durable backing, multiple layers, a realistic image and a tough protective outer wear layer.
Luxury vinyl planks are an ideal choice for areas with high foot traffic, kids and even pets too. They can feature a realistic wood, stone or decorative visual appeal. They also are a breeze when it comes to installation as well.
WPC Waterproof Vinyl Planks
This kind of vinyl plank is 100% waterproof and features a four-layer construction that has a waterproof core. It is made from a mixture of wood and plastic. This core is what sets it apart from other luxury vinyl flooring. But it is an ideal combination of durability and resilience with still enough softness to be comfortable underfoot.
This kind of vinyl planks can be installed anywhere. They are standardly thick enough to be installed over imperfect subfloors and are ideal for basements, kitchens, living rooms and more!
SPC Rigid Core Vinyl Planks
Rigid core vinyl planks are similar to WPC planks in the fact that they're both 100% waterproof but their cores are very different. Rigid core luxury vinyl has a stone plastic composite core. This means the core is incredibly dense and practically indestructible.
Because rigid core vinyl is so tough, it's perfect for high-traffic areas and commercial buildings. Since its core is so dense, it's certified to be able to withstand commercial areas. It is unlikely to dent under heavy furniture but it doesn't provide as much warmth or softness as other kinds of vinyl flooring.