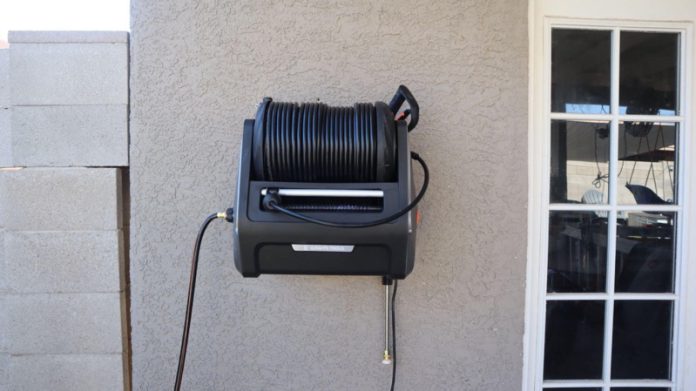 Pressure washers are both a blessing and a curse. They perform very well cleaning up a muddy or bug-goo-covered vehicle, keeping a garage floor squeaky clean, or flushing a hard winter's grime away from vinyl siding, but… setting them up can be time-consuming and cumbersome. Thankfully, Giraffe Tools has addressed nearly all of your pressure washer issues with Grandfalls Pressure Washer! Awww Yeah!
What is it?
The Giraffe Tools Grandfalls Pressure Washer is a wall-mounted pressure washer with an in-build 100-foot hose, and a 2200 PSI water compressor.
Hardware Specs
Dimensions: 519 x 487 x 353mm (20.4 x 19.2 x 13.9 inches) without pressure gun attached, 593 x 880 x 353mm (23.4 x 34.6 x 13.9 in) with pressure gun attached
Weight: 20kg (44.13lbs)
Maximum pressure: 2200PSI
Pressure hose length: 30 meters (100 feet)
Pressure hose diameter: 0.5 inches (12.7mm)
Motor: brushed type, 1800 Watts
Power: 120 volts, 60Hz,
Low: 2.1GPM (8LPM)
What's in the Box?
Pressure hose reel with 100 ft hose
High-pressure gun
Wall mounting bracket
Bubble spray bottle
Water inlet adapter
Self-tapping screws (4) 8 x 70mm
Expansion anchor bolts (4) 12 x 60mm
Quick-connect nozzles (0°, 15°, 25°, 40°)
SFT supply hose
Owners manual
Design and Features
Pressure washers are wonderfully handy tools.A pressure washer is a very handy tool. Maybe you've owned a pressure washer, and if you've used it a lot you've noticed that they usually share one drawback: To use it, there are three connections – the inlet hose, the pressure hose, and the electrical connection. Truthfully, you'd use it more if it wasn't such a hassle to assemble and disassemble. Prepping a traditional pressure washer takes about 10 – 15 minutes and involves completely unwinding a garden hose, attaching it to the spigot and washer, unreeling the pressure hose, and connecting it to the washer and pressure gun, then unwinding the power cord and plugging it in. Because I like things put away neatly, the reverse process can take an additional 15-20 minutes. I've always liked the results, but I find I'm often not motivated enough to endure the preparation process, or unwilling/unable to extend the time or effort, particularly in colder months when pressure washing means icy water and stinging hands. Now, Giraffe Tools has addressed virtually every criticism of using a pressure washer.
Giraffe Tools Installation Instructions
The Giraffe Tools Grandfalls Pressure Washer arrived in a heavy-duty cardboard box. Unpacking was uncomplicated.
Giraffe Tools provides an excellent manual with detailed instructions, illustrations and warnings. Because you'll be working with water and electricity and using a device that can hurt you, hurt others, or damage properly, please read the warnings.
The Giraffe Tools Model Grandfalls Pressure Washer is provided with a wall mounting plate and mounting hardware. There is an outlet and spigot near the place where the washer is to be installed.
Because the body weighs more than 40 pounds, mounting the base firmly to the wall is essential. The kit comes with anchor bolts needing a 12mm or 1/2 –inch drill bit (not included).
With the body of the washer securely installed on the brackets, assemble the inlet hose and connect it to your faucet. Then the pressure gun is connected to the hose by a threaded connection.
After all the installation you will have a clean looking pressure washer. Once the power and connections are made, the water can be turned on.
The 100ft hose takes some time to pressurize. When this happens, the pump motor may cycle for a few seconds. This is normal. After all the air has been expelled through the pressure gun, the motor will only start when the trigger of the pressure gun is depressed.
The Giraffe Tools model Grandfalls pressure washer includes four pressure heads, 0°, 15°, 25° and 40°. The greater the angle, the greater the sweep of water leaving the pressure nozzle.The barrel of the pressure gun allows for convenient storage of tips. Attach and remove the gun tip by pulling the gun's spring-loaded quick-connect toward the handle.
End of use. The pressure hose smoothly and easily unwinds from its storage spool similar to a retractable cord on a vacuum cleaner. A traverse guide ensures the hose doesn't tangle or kink as it's being extended. You can have no trouble extending and retracting all 100'. At full length, It was able to reach any corner of your house. For me it can reach the south and west sides of your house by going through the front door, and the east and north sides through the back.
Final Thoughts
Being able to use a pressure washer in seconds rather than the time-consuming juggling of hoses and cables is utterly fantastic! As a bonus, the 100-foot hose on the Giraffe Tools Model Grandfalls Pressure Washer reaches completely around your house.  Now with the rapid deployment speed of the Giraffe wall-mounted pressure washer, I'm radically more apt to use it on many more occasions, and in the week I've had it, I have used it multiple times. Well done, Giraffe!