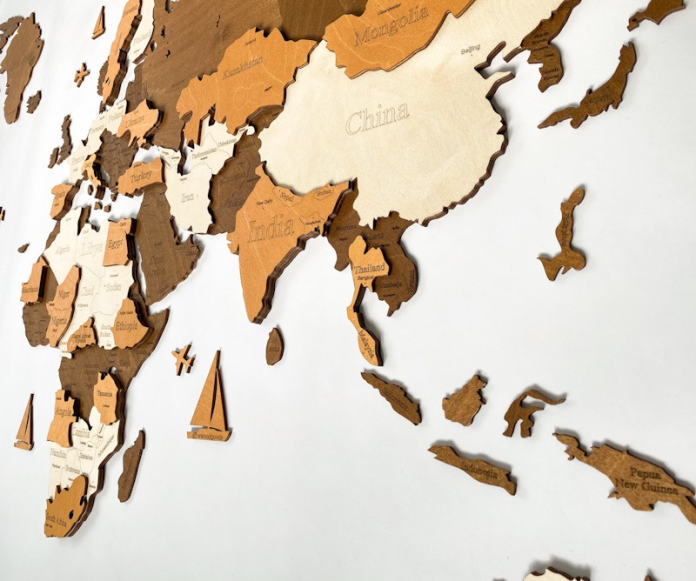 How can you decorate your walls with wood? There are many options, from wood maps of cities to shelves of various shapes. Either purely decorative or functional, these items will make more use of your walls, so you can make your home a place of your dreamі.
Wooden Walls
The most obvious idea of decorating your walls with wood is making the entire wall of it. Or at least a significant fragment. This fragment should be large enough to put a table near it, so you can enjoy your coffee or work with your laptop and feel that soft and warm wooden touch. And touch it accidentally if you please.
There are many types of complete wooden décor for walls. These can be:
simple varnished boards;
brick wall imitation;
continuation of your wooden floor;
exquisite wooden ornaments.
Whatever you like to see! In addition, these covers are quite easy to replace. So you can settle for one for several years or change them periodically.
World Maps
A world map on the wall is always stylish, even in the Google Earth era. Especially if it's a fine wooden masterpiece, each piece of which is fixed where it belongs. Wooden maps are cut with high precision, and all the continents and islands have borders and names put on them. Positioning them on the wall may be hard, but there are manuals, and the process itself is a sort of meditation. Don't be afraid that these maps may be rendered obsolete by political shifts; their value as pieces of fine art won't be shaken.
Shelves
A shelf on the wall is a useful thing for books, gadgets, flowers, clothes, whatever. But if it's made of wood, and it shows, it can be more than a utility. They can look simple, like a plain board fixed on the wall. They can be exquisite, looking like trees with branches going left and right from the stem. They can boast sophisticated geometrical shapes. And yet, they remain practical and useful. If you don't know what to start with, start with a shelf.
Signs
Unlike shelves, signs are mostly of symbolic value. But it's just as important for human beings, and sometimes they are even more important. Wooden signs are great if their message fits the style. In addition, wood allows for various methods of writing. You can draw the text, burn it, saw it through, and so on — anyway, it will look great. This is a good DIY challenge, but if you're not into it, there are vendors offering signs with custom inscriptions.
Frames
…and everything you can put into these frames. Mirrors and pictures, photographs and paintings, and even wooden signs. For the most technically advanced users, a wooden frame for a TV or a tablet would look just fantastic. Just imagine what you would like to see on your wall. A wooden frame will fit it perfectly. Everything looks better with it, if the frame is chosen according to the object in it.