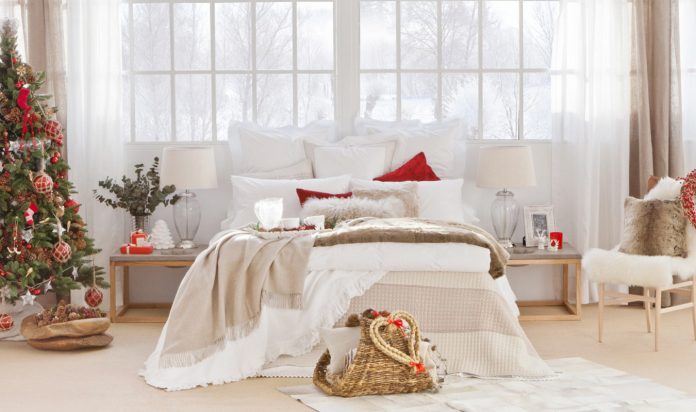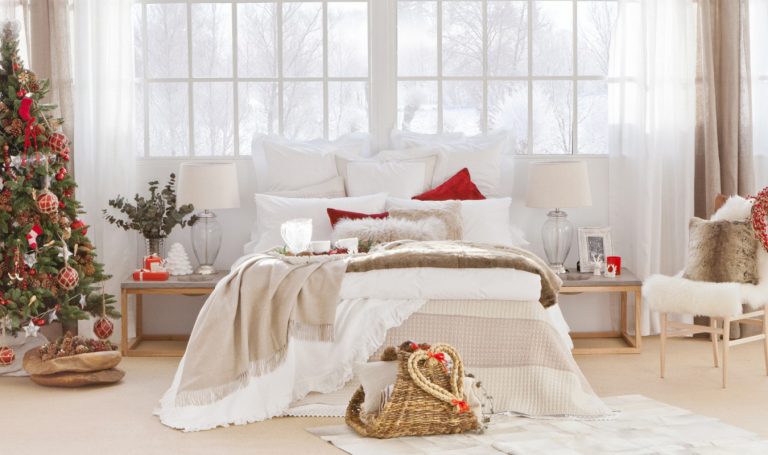 Decorating a room with a Christmas theme is not only can be applied to the living room but also the bedroom. It would be very nice if we can decorate it with the Christmas theme as it will make this event become more lively. And here we are to give you some great examples of Christmas bedroom decor that you can copy for your own bedroom. So, do not waste your time and let us check it out!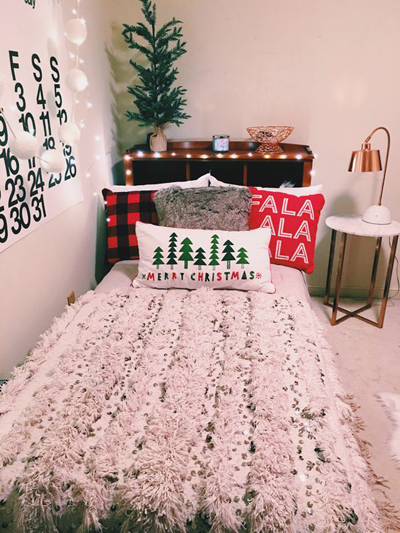 In order to create a Christmas themed bedroom decor, we do not need to be confused. It is not as complicated as decorating the living room. We just need to use some pillowcases with a Christmas theme like that and we can also put a small Christmas tree near the bed. Then, beautify the decor with an LED light like we can see above.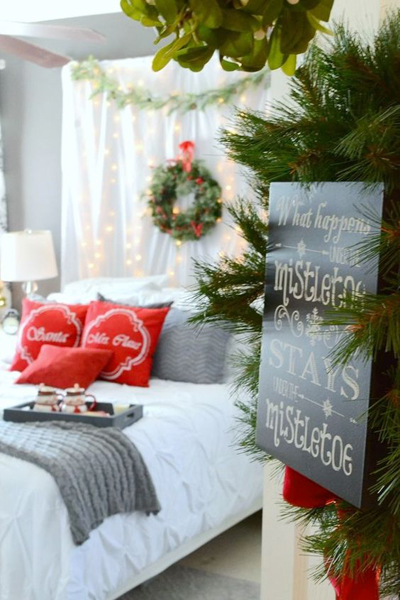 A red Christmas themed pillowcases is really suitable if you have a bedroom which dominated with a white color like this. Then, we can hang a Christmas wreath in front of the entrance door with a writings like that and hang the other one on the wall above of the bed. And using a Christmas light is a really good idea as it will increase the atmosphere inside our bedroom.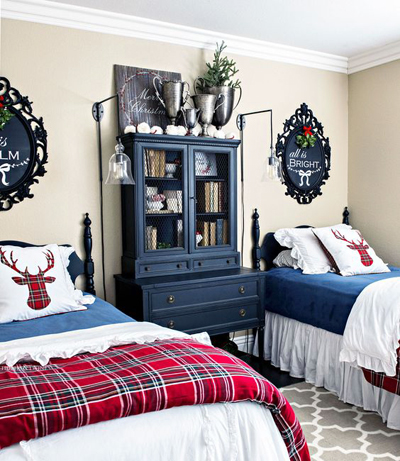 If we want a simpler decor, we can follow this example. As we can see, there are not many things that is used in this bedroom. Just some simple decorations such as the pillowcase and blanket with a Christmas theme and a wall decoration which hang above the beds. We can still feel the Christmas atmosphere inside this bedroom although the decor is really simple.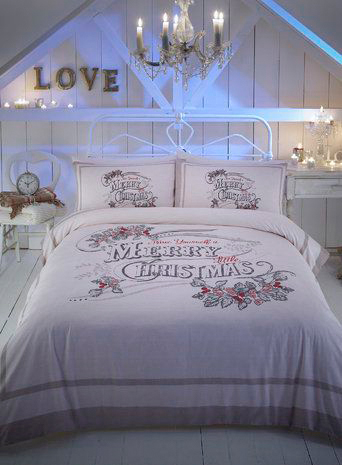 Another simple bedroom with a simple Christmas decor. Here, the bedroom uses the all white color inside the bedroom starting from the wall, floor, and even the furniture. The things that has a Christmas theme is just the pillowcases and the blanket which has a big Merry Christmas writings on it.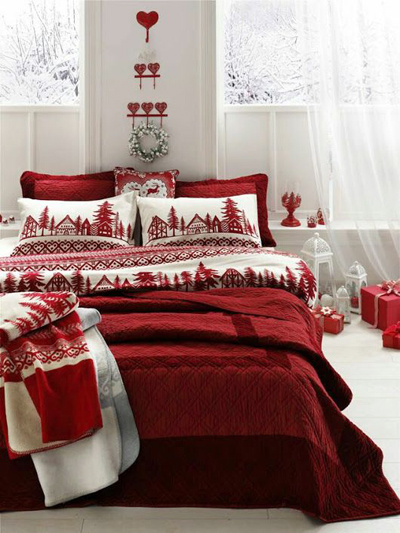 If you are the kind of person who loves an all out display, you can try this bedroom decor. The Christmas atmosphere is felt in this bedroom because there are a lot of things which used to decorate this room. We can see there are some gift boxes and some other decorations on the corner of the room. Then, there is a Christmas wreath hang above the bed which accompany with some love shaped decorations. And the use of the Christmas themed bed cover is really suitable with the whole decor.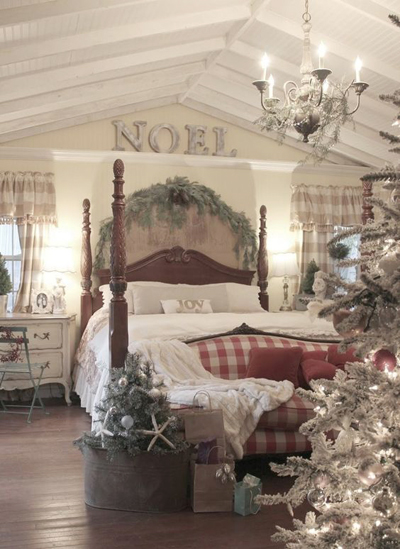 If you want to bring in the Christmas tree inside the bedroom, there is no problem with it as long as we have a large bedroom like this one. We can place it on the corner or in the middle of the bedroom. And as an addition, we can also use a big NOEL writing on the wall near the ceiling like this one to make our bedroom looks gorgeous.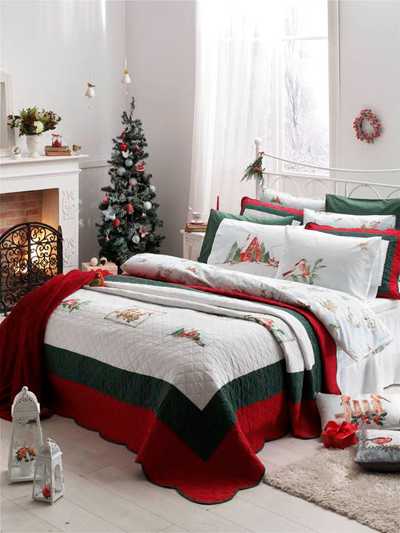 For a smaller bedroom, we can use a Christmas tree which has a smaller size and place it on the corner of the room near the window. Do not forget to hang some Christmas wreath to beautify the display of our bedroom and use the Christmas themed bed cover to match the whole decor.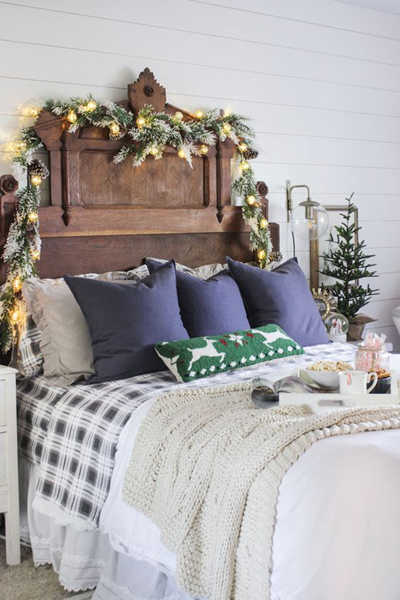 A mini Christmas tree which can be placed on the light table like this one also suitable to decorate our bedroom and of course we can save more space. Then, add a greenery which has lights on it like the one on the picture above to beautify the bed display. It will make our Christmas bedroom decor look simpler.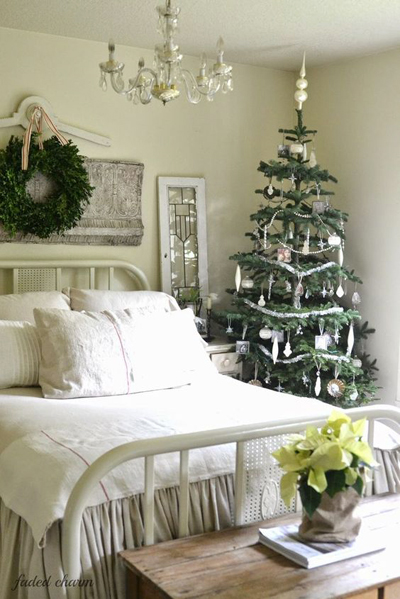 If we still want to use a large Christmas tree on a small bedroom, it is does not matter actually. But, make sure not to use too many decorations inside it or our bedroom will look so narrow. Just hang a large Christmas wreath on the wall is enough to bring the Christmas spirit to our bedroom.
The last but not least. In this last example, there is not many things that we need to use to create a Christmas bedroom decor. Just some things which is really important like the small Christmas tree which placed on the light table, a wreath with a nice pink ribbon on the wall, and red pillowcases and blanket which is identical with the Christmas event.
Final Words
Those are the ten examples that we can copy to create our own bedroom decor with a Christmas theme. We really hope that those examples can inspire and help you a lot. So, thank you for reading and do not forget to always visit our website Roohome to find a lot of useful information about home design, decor, theme, and much more.