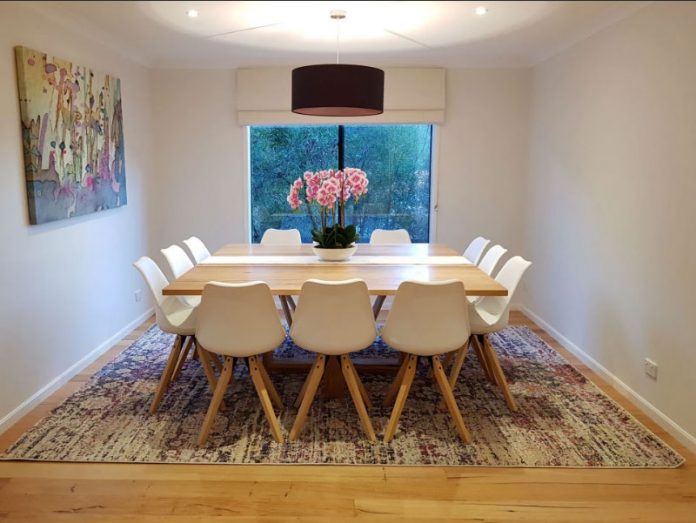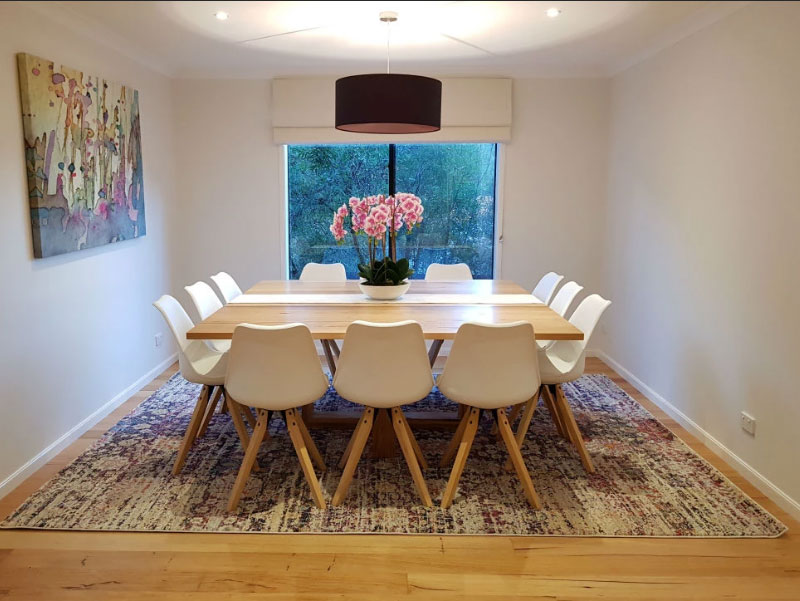 Should you have a rug in your dining room? The issue of whether rugs belong in or out of the dining room has been a hot issue for a very long time.
For this reason, many homeowners are left wondering if adding a rug in their dining room is a good idea. Is a rug in your dining room simply an afterthought?
Well, it shouldn't be. A rug under your dining table is excellent for both functionality and stylistic reasons.
Having said that, rugs are gorgeous accessories in any space, and shouldn't just be limited to the dining area.
Following are some reasons why having the right rug under your dining table is a must:
Warmth & Comfort
Basic hardwood and tile floors work fine in the dining areas, but don't you think you deserve a cosy place to rest your feet as you enjoy your meals?
Rugs are not only comfortable to rest your feet on, but they are also quite warm particularly during winter.
Many rugs used in the dining area are soft to the skin and also cushion your footsteps.
Rugs can actually have a therapeutic effect and make you feel relaxed after walking on a rug.
Rugs can also help reduce heating costs by saving your feet from the cold floor.
Complement Your Home Decor Choices
A rug can create harmony between your dining table sets and your choice of decor in the dining room.
So adding a rug under your dining table set will add colour and style and even liven up the atmosphere in the dining room.
Rugs can also brighten dark spaces by providing a splash of colour.
If you want to breathe life into your dining area, then a rug is an excellent option – it can bring dull spaces to life.
If you have a big dining area, you can use rugs to define the space. Rugs play a significant role in making big spaces look small.
They also introduce patterns and styles that tie your tastes together.
Floor Protection 
Some dining table sets can damage the floor. Rugs can keep your floor in good condition since they protect your floor from scuffing and scratching.
Rugs also help you avoid damaging your floors when chairs and tables slide against the floor.
The right rug can also help when you want to hide a less-than-attractive floor or even any scratches or damage that already exists.
Choosing The Right Rug For Your Dining Room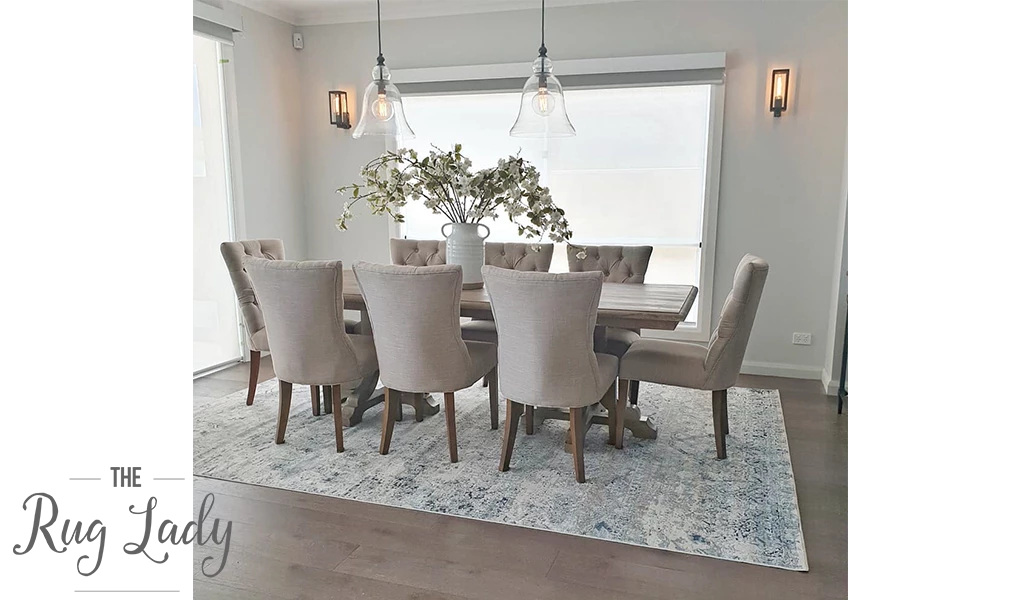 If you're pro-rug for dining room areas, then you should know how to choose the right rug. Always pick your table set before you select a rug.
Here's an overview of items to consider when picking a rug for your dining space:
Dining room style: You need to think about the decor of the room as a whole.
The area: What's the shape and size of the space? Do you have a square or rectangular space?
Choose a rug based on the amount of space you have and the configuration of the room.
Matching the shape and size of the area with your rug will give the room a pleasing feeling of order.
Rug Shape, Material, colour and size: Think about aesthetics and functionality when choosing a rug.
Practicality: Is a rug suitable for your lifestyle? Yes, it is. However, different rugs are ideal for different lifestyles.
For instance, if you have pets, then nylon rugs are an excellent choice.
Dining room rugs are available in different styles and colors to bring extra appeal to your dining area.
If you are looking to purchase an affordable, top quality rug, then look no further than The Rug Lady
The Rug Lady is one of the most trusted online rug stores in Australia and has rugs of all shapes and sizes to fit any room of the house.