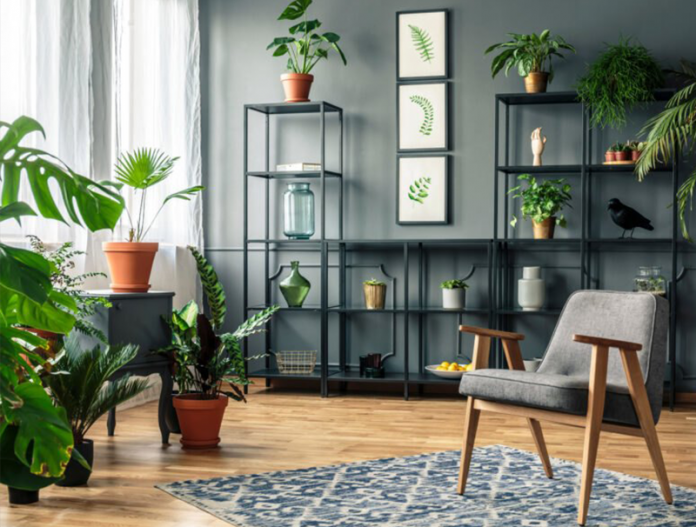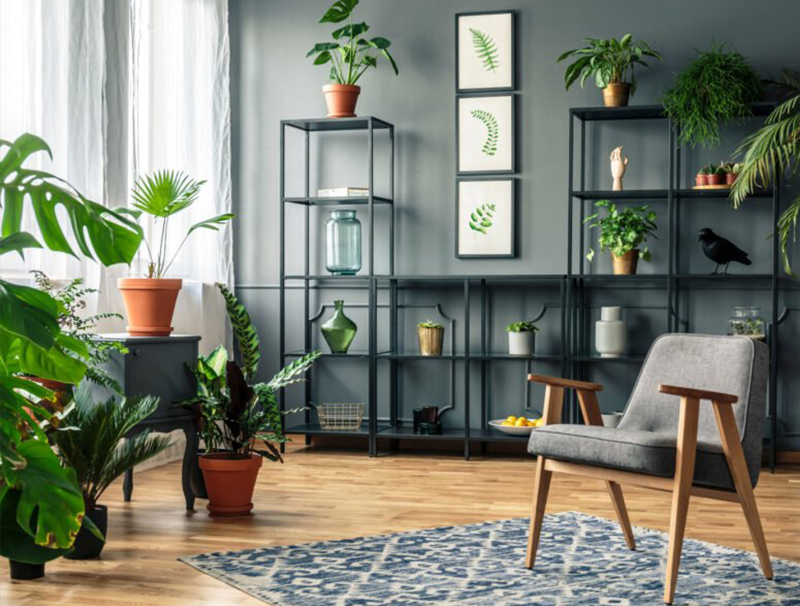 Indoor plants can spruce up any space by adding a hint of colour and style. Of course, the trend of indoor plants does not seem to be changing anytime soon. Plant decoration can make your living space more breathable and luxurious.
Indoor plants are the houseplants which can be grown indoors at homes and offices. Although indoor plants are usually grown for the purpose of decoration, studies have shown them to have a positive effect on human psychology. Indoor plants purify the air inside your home. Both tropical and semi-tropical plants are used as houseplants. Some important factors like soil quality, temperature, light, humidity, potting and pest control can be considered before planting the indoor plants.
Here are some of the best ways to decorate indoor plants in a living room:
Tropical Theme
A space which is fully decorated with green indoor plants and stickers of plants is referred as the tropical theme. The living room can be completely redesigned with plants according to your interest. Big plants can be placed in the corner of the living room while the small plants can be placed on the tables that are arranged in the living room. You can also use hanging planters for decoration. There is no specific set of rules for the arrangement of indoor plants in the living room. Imagination and creativity can be used which have no boundaries and limits.
Large Plants arranged beside the Sofa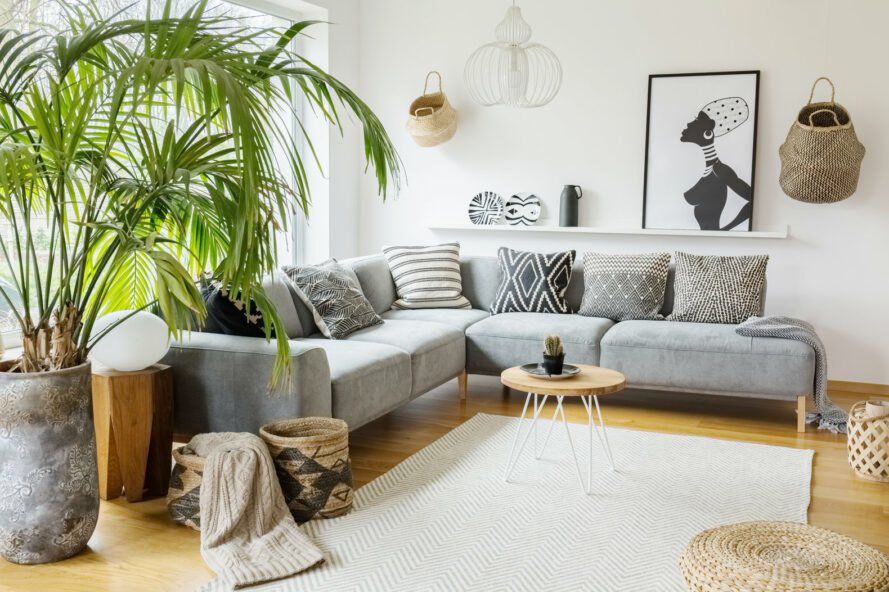 Decoration of your living room with indoor plants does not limit you to only shelves and tables. You can use the extra space beside your sofas by placing large-sized ornamental plants. They will look truly incredible. Palm, Dracaena and Umbrella papyrus are some indoor plants that you may opt for. You may use colourful pebbles in the base container of your indoor plants. They can absorb the extra water which is released by the pots.
At the Window with Glossy Sunshine
You can keep the decorative indoor plants at your window. Money plants, Peperomia and Peacock plants, are some of the best options to decorate the window of the living room.
Plants on Shelves or Bench
There is no need to dedicate an entire bench or shelf for plants. Instead, you can do a mixed arrangement. You can use your books, decoration pieces and any other office items along with the plants. The plants can be kept either in between the items or on the edges to make them look stylish.
Beautiful Designer Pots
Pots are available in wide varieties of sizes, and the choice of pot depends on what type of plant you want to use to decorate your living room. Medium sized planter pots can be kept on the corners of the living room, near windows or in any other places. Colourful designer hanging pots of small sizes can be hung which the natural feel of the living room.
Decorate the Corner of the Living Room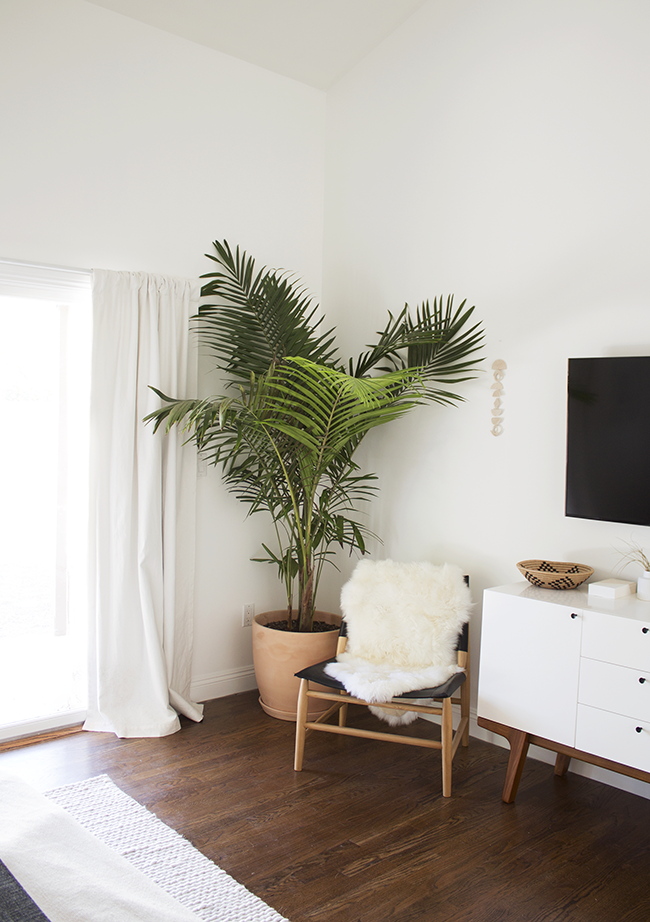 There are a few options for dealing with this kind of setup. One big indoor plant can be placed in the corners of the living room or the other option is to put some small bunch of beautiful plants of different types together on the corners. You may use a plant holder stand to enhance the look. If your living room comprises of dark backgrounds, go for light coloured stand and vice versa.
Place the Planters near Staircase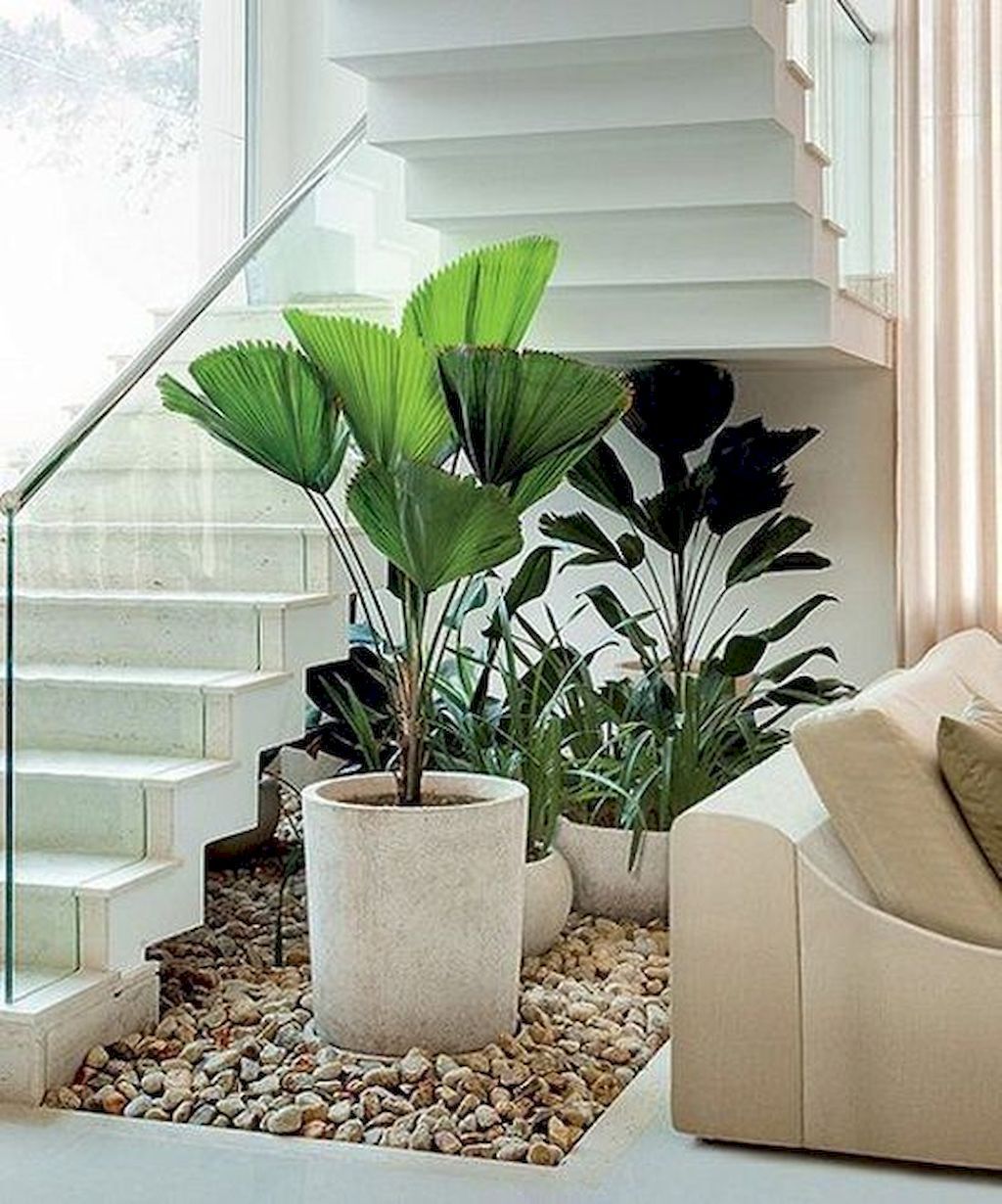 The ideal position for decorating indoor planters near the staircase is the bottom side of the stairs. You can place up to two to four plants according to the availability of space.
Opt for hanging plants
Hanging plants are stylish and eye catching. They can be easily placed anywhere in the house. You can simply hang them in a place where you want them to be. It is better to place them where there is less foot traffic. Since the plant roots are very sensitive, continuous movement of pots can affect the plants in a wrong way. Hanging planters are one of the best ways to decorate indoor planters inside the home.
Important Points to Consider When You Buy Indoor Plants
Choose a space based on the indoor plants that you are planning to have or if you don't have enough space, then you must ensure to select the right kind of indoor plants that can flourish in that space.
Consider the factors such as sunlight, people movement, available space for plant and number of times you need to water the plant.
Indoor plants also need some indirect sunlight to grow. So, you need to ensure that you place the plants in such place where they get indirect sunlight.
Choose the right plant pots online as per the size and type of the indoor plant you want to grow
List of some indoor plants
Syngonium
Philodendron
Anthurium
Money Plant
Snake Plants
Weeping Fig
Cacti
Lucky Bamboo
Aloe Vera
Dragon Tree
Indoor plants can surely brighten up the environment of your living room area. Love for nature is in our blood since we have originated from nature. You feel relaxed and the indoor plant decoration indeed adds a touch of luxury to your living room. Along with living room, indoor plants can also be decorated in the bedroom, work area, kitchen and even bathroom too.
At Trust Basket, you can find the finest decorative garden pots online at very reasonable rates. They stock a vast range of colourful and durable planters in different sizes, designs and materials. You may also buy seeds, indoor plants, gardening tool kits, composters, and other gardening supplies online, and have all the essentials delivered at your doorstep with just a click of a button.