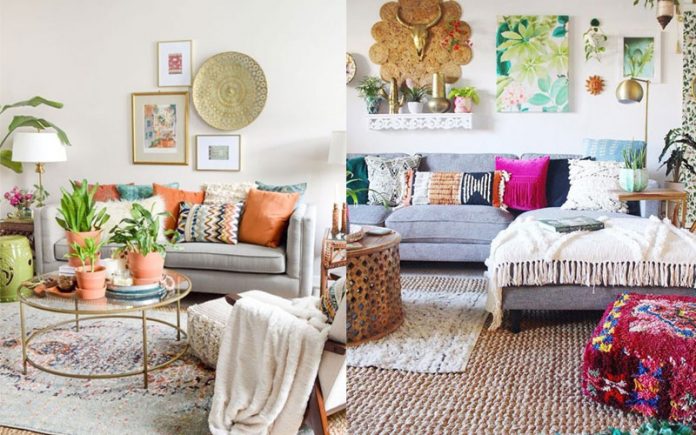 roohome.com – Maybe everyone is familiar with the Boho style. Some people think that the Boho style is full of art and one of the interior designs that look artsy. The atmosphere provided in the Boho style will feel pleasant and comfortable. A variety of colors used to make the room look colorful and outstanding, plus a variety of ethnic patterns make the Boho style is in great demand by everyone.
Presently it feels incomplete if there is no modern nuance at home. But, how about people who are interested in Boho style but want to give a modern nuance into the house?
Give a little modern nuance to the Boho style is a great idea. Artsy impression with modern nuance will create an outstanding look. The look will be sweet but still look colorful. And for you who are interested to give a little touch of modern nuance to Boho Style, here we have provided 5 Fabulous Modern Boho Design Ideas. So, let's check it out!
1. Boho Style with White As A Basic Color
Boho style have unique characteristics that differ from others. One of them is using a variety of colors. Even Boho Style can use 20 colors at once in one room. Unfortunately, in this era, people will try to make their dwellings as simple as possible. Anything that looks simple will definitely look good and comfortable.
To give a little modern touch to the Boho style, using white is the solution. White will be more suitable for all colors. So it will be suitable for Boho styles that use a variety of colors without rules.
2. Sheepskin Rug for Modern Boho Style
Sheepskin rug usually used in Rustic Style. But, if you want to create a modern atmosphere in Boho style, use sheepskin rug is a great idea. The sheepskin rug will make the atmosphere of the room feel sweet and warm. Also, sheepskin rug will look match with the Boho carpet.
As we know, the Boho style is related to nature. So, the sheepskin rug is a great item that can be used in the room with a Boho style. Sheepskin rug is made from sheep, but nowadays there are a lot of sheepskin rugs made from synthetic fibers.
3. Modern Boho Style with Black & White Nuance
In this modern era, so many people are addicted to black and white. It because black and white will create a cool atmosphere at their houses. In addition, black and white will make the room look simple but elegant. Moreover, if you add a striking color there, such as gold or brown.
Modern Boho style with black and white nuance is a fabulous idea. Like the picture below, black and white Boho patterns look good and outstanding. It makes the room stand out.
4. Boho Style That Looks More Simple
As we know, the appearance produced by the Boho style is full of patterns and colors. However, to make Boho style look a bit modern and contemporary, reduce the use of patterns on some items but still use a variety of colors.
5. Modern Boho Style with Unique Wall Arts
Wall display is one of the must-have items. Wall displays can make a room look more attractive. In addition, wall displays will not take up space in the room. If you have already applied the ideas above, then the Boho style will look a little in your house. So using unique wall plates is a very appropriate idea.