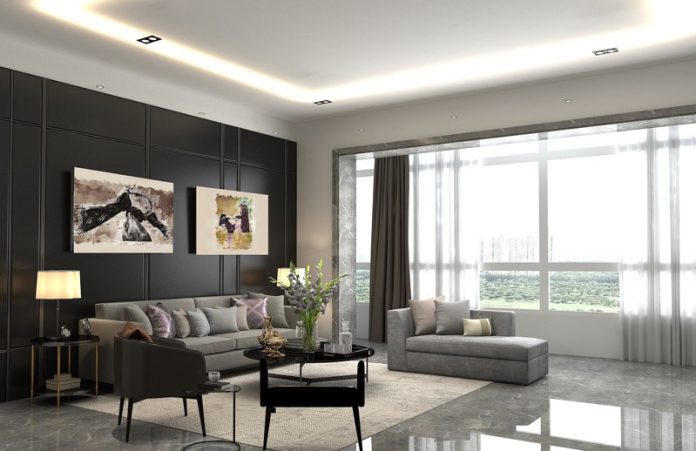 For many individuals, the living room is where they socialize, spend time with their families after a long day of work, or simply sit and relax. Being the most essential room in any home, it is necessary to decorate it accordingly. If you want your visitors to stay longer in your home, make sure your living room is designed to be comfortable, functional, and aesthetically appealing. Decorating your living room can seem like a daunting task. One can become overwhelmed by the number of choices, colors, furniture layouts, and accessories that are available when decorating their living room but following the 5 rules below will help to ensure that your living room is decorated beautifully and on budget.
1. Make a budget
Decorating your living room can get expensive very quickly. Set a price range that you are comfortable spending for each decision on the decorative elements in your home. Whether it is furniture, rugs, wall decor, or accessories, having a set budget will help keep you from overspending which could leave you with money left over for other things. A budget is also helpful when choosing the overall design elements of your living room. If you have a budget in mind, you will be less tempted to add a higher-priced item simply because it is something that would look good in your living room.
2. Start with the Layout
Before purchasing new furniture or accessories, it is important to determine how you want your living room to be arranged. Take measurements of your space and determine how much furniture you have available before shopping for new items. Draw an accurate map of where you want your furniture to go before purchasing. The layout is critical in order to maximize the room's functionality and comfort. You will need to determine whether or not you want a formal living room with one central focal point (such as a fireplace) or an informal living space with multiple conversation areas.
3. Choose Your Colors Carefully
Color is the most influential element when decorating and can help to either make or break a living room's design. Not only will color play a role in your furniture, flooring, and wall colors, but certain colors will attract people of different genders, ages, and personalities. Colors evoke different emotions from people and can help to determine the feel and tone of your living room. For example, red is a powerful color that evokes strong emotions, which could be too overwhelming for a small living room.
4. Lightening
Lighting is especially important when decorating a living room since it can help to create different moods and aesthetics. Before shopping for light fixtures and lamps, decide how much lighting you need and what types of lights will work best with your living room's color scheme and design. While a living room has many purposes, it is important to focus on the overall mood that you want your living room to have. For instance, a dimly lit fireplace can create a romantic and intimate feeling while a brightly lit chandelier will give your home an energetic feel.
5. Add an Area Rug
A rug can define an area in your living room and act as the focal point. It is good to match the size of your rug with the size of your furniture arrangement to avoid overcrowding your space. If you decide on a large rug, it may not be necessary to place all of your living room furniture directly on top of it. Keep in mind that your furniture's legs should never cross the rug and take up more than one-third of the rug to avoid damaging it. A clean rug will help to give your living room a more cohesive look. Fortunately, area rug cleaning Boise Idaho does the job for you.
A living room is a perfect place for friends and family to gather together, share stories, and spend time with each other. It is the first space that will be seen when guests or potential buyers enter your home. Decorating a living room can be challenging, but following these 5 rules will allow you to create an aesthetically pleasing design that is comfortable and functional for your family and friends to enjoy. Always make a budget before you begin shopping and focus on the layout first. Be careful when choosing colors that work best with the space, then choose your lighting carefully. Add a stylish area rug to define an area in your living room and you will be ready to entertain guests or just relax with family. If you are planning on redecorating your living room, follow these 5 rules for decorating a living room!