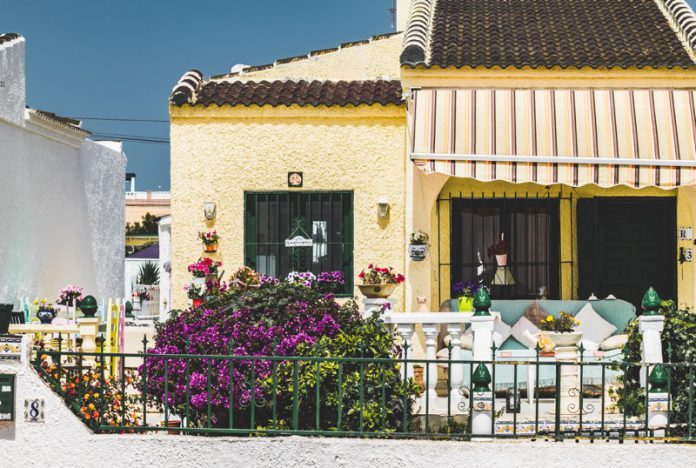 Cooler fall temperatures are slowly creeping in, but that doesn't mean you should give up on outdoor living just yet.  Extend your time spent outdoors, this Fall when you add an awning or other shade structure to your home.  Enjoy protection from the elements, increased insulation, and a great place to throw that Fall party.  Consider if investing in continued outdoor living could be the perfect upgrade for your family!
What Is an Awning?
An awning is essentially a large piece of fabric with support poles attached to it. It's designed to cover a patio area, porch, deck, balcony, etc., providing shelter from sun and rain while also protecting furniture and belongings beneath.  They come available in a range of colors/fabrics and are offered in both fixed and retractable styles.
Why Should I Add One?
Awnings provide many benefits including:
– Protection from harsh weather conditions and contaminants such as wind, rain, heat, dust, dirt, debris, insects, animals, birds, bugs, pollen, smoke, fumes, chemicals, and more.
– Increased energy efficiency by reducing solar gain through shading. This can save money on cooling costs during hot summer months.
– Improved indoor air quality due to reduced infiltration of pollutants into the house.
– Additional storage space underneath the awning.
– Added Curb Appeal
– Protection for interior furnishings and outdoor furniture
What Is a Pergola?
Pergolas are standalone or attached features that resemble an arbor, although they are much more versatile.  These structures are often used as garden features, especially around patios and decks. Some pergolas even include seating areas so you can enjoy relaxing under their canopy.  While these structures were traditionally partially open on the top, in today's market, a pergola can be whatever you want it to be.  Pergolas come available in both attached and standalone styles and can be covered to offer total protection/shade or used to offer partial shade.  It is even possible to completely enclose the space with screens and solar shades to create the perfect space for entertaining.  Thus, if you want the protection of an awning but the sophistication and style of a pergola you can now enjoy the best of both worlds!
Why Would You Want One?
There are several reasons why adding a pergola would benefit you and your property. Here are some examples:
Privacy – If you want privacy, then consider installing a pergola over your backyard pool. Or maybe you'd like something along the fence line between your yard and neighbor's property. Either way, these types of structures offer plenty of options for creating a secluded oasis.
Entertainment Space – For those who love hosting parties, a pergola offers ample room for guests to gather together.  For those who choose screened in options, pesky bugs won't spoil your fun.  Enjoy the great outdoors and sounds from your party without sacrificing on comfort.
Shelter – In addition to offering extra living space, a pergola can protect outdoor furnishings from inclement weather. And when it comes time to clean up after a party, all you'll have to do is sweep away any messes left behind.
Beauty and Equity – Adding a pergola not only adds beauty to your home; it also increases its value. People tend to pay higher prices for homes that feature shade structures. So, whether you plan to sell your home soon or are just looking to make improvements to increase its resale potential, investing in a pergola could help boost your bottom line.
Increase Your Outdoor Living Space – When we think about our backyards, most of us envision having a patio area, but what happens when you need more than just a small deck? A pergola allows you to expand your outdoor living space however you please. You will be sure to love this beautiful feature the next time you wish to entertain guests outdoors, need a break from the kids, or simply want to enjoy nature.
Shouldn't I Wait Until Spring to Add a Shade Structure?
The short answer is no. There are many different times throughout the year conducive to adding a shade structure to your home. However, there are certain seasons which provide better opportunities for installation than others.
While Spring is often favored for its mild temperatures and the long season of use ahead, fall is also a great time to install a new shade structure.  Whether you desire an awning or a pergola, there is no reason to wait until spring.  In many areas of the country, fall still allows for enjoyable days and evenings spent outside.  Although, fall is more prone to inclement weather than the summer months.  Thus, adding a shade structure can be especially beneficial for spending more time even with unpredictable weather.  You won't have to worry about cancelling that harvest party at the last minute, even if it begins to sprinkle a bit.
When you add a shade structure, you create the perfect outdoor space for entertaining guests, decorating for the season at hand, and keeping out of the elements.  Fall is well-known for being a yo-yo with temperatures dropping and then soaring back up to summertime highs.  With an outdoor shade structure, you can enjoy more days spent outside before the chill of winter arrives.  Whether it is hot, and you need protection from the sun or it is spitting rain, you can be sure to enjoy the great outdoors whenever you want.
With so many great outdoor fall activities, an investment in a shade structure is an investment in your family and friends.  While you could wait until spring to take the plunge, why go another day without the beauty and function of an outdoor shade structure!?  Not to mention, investing in an awning during the fall ensures that you can begin enjoying your shade structure at the first sign of spring and all the way through the next fall season.  Putting it off until warm weather arrives once more could result in you waiting several weeks or even months to get your new structure installed.  This is because spring is the busiest time of the year for awning installation companies.
When it comes to adding a shade structure, there is never a wrong time.  These great additions provide so many sought after benefits and truly create a haven of outdoor comfort for you and yours to enjoy.  Consider the benefits and all the ways installing a new shade structure this fall could enhance your life!
About the Author

Tyler Coomes
Owner | Best Awning Company
phone:  (303)-816-2303
website:  www.myawnings.com
email:  [email protected]
Bio: Tyler Coomes, owner of Best Awning Company that offers a truly customizable awning experience across the entire Denver Metro and Front Range Colorado.