The exterior of a house has a significant impact on its worth. For instance, it can influence how your neighbors view other houses in the area. Fortunately, if the exterior of your home lacks appeal, a few tweaks may go a long way in reviving the whole façade of your property.
How To Spruce Up Your Exterior
Good news—updating your exterior doesn't always mean spending lots of money, time, and effort. With a few easy fixes like the ones listed below, your home's exterior will look fantastic and you'll have a great curb appeal.
1. Update Your Landscaping
The significance of landscaping to your property's façade should never be discounted. Adding strategically placed bushes and plants to the front of your house may help conceal a slew of flaws. It may also infuse the space with some necessary hue and vibrancy.
When you're planting, be sure you don't block windows or other light sources. If the branches on your trees or other plants are becoming a hindrance, feel free to trim them. Garbage disposal services are available if you're concerned about the mess. You can read more about them on the internet.
2. Scrub The Paving
Over time, paving, pathways, and sometimes even doorsteps may become soiled and slippery. Using a pressure washer, you can restore their color and eliminate any unattractive moss from large cement sections and block pavement. Avoid splashing by using paving-specific pressure washer attachments.
You can get the same results with a brush and warm water on smaller areas like your doorstep or a short sidewalk. Whichever method you choose, make sure to use a cleanser made specifically for outdoor pavement. This will help keep the surface looking good and also keep molds from growing on it.
3. Add Color To Your Front Door
The front door is the primary entrance to your house and can be an effective representation of the rest of the house. So, be sure to care for it too and make it stand out. A bold choice like giving your front door a bright hue paint may be risky, but the results might be well worth the risk.
It's important to choose the appropriate hue and finish. The color should also be influenced by your current paint scheme and the design of your home. The idea is to make it stand out without the front door becoming overbearing. If you're able to achieve that delicate balance, you're on your way to a much-improved curb appeal.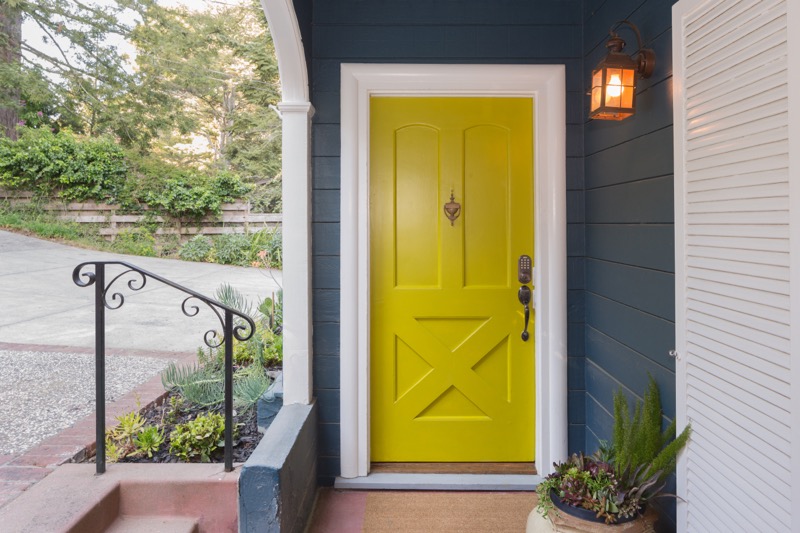 4. Replace Worn Hardware
Replacing worn-out door hardware may breathe new life into an outdated door. Moreover, everything around the new hardware also gets a facelift simply by being close to it. Thus, improve the look of your doors by replacing the locks, knobs, and other hardware.
5. Clean Your Windows
When seen from the outside, a house with clean windows looks more attractive. Additionally, it increases the amount of natural light entering your house, making it seem more spacious.
It won't be a hassle to clean your windows if you have the proper equipment, especially if you have bay windows and windows on a higher floor. For instance, you can try using a window vacuum cleaner to get things done faster.
When cleaning your windows, don't forget about the frames. These may also need a good wash and scrub to make them look better.
6. Hang Window Boxes
Window boxes have a certain beauty about them. Spend some time looking for ones that go nicely with the existing decor of your house. Window boxes come in a wide range of materials, such as plastic, wrought metal, and aluminum. These boxes could breathe new life into your home's exterior when they're decorated with vibrant flowers or lush foliage.
You can make your window boxes look like architectural features without spending too much money with a little additional work. One of the fastest and simplest methods to improve your exterior is to hang a couple of them in the front area of your house.
7. Clean Your Roof
The quality of your roof greatly influences your home's appearance and functionality. If your roof is old and in need of replacement, it's best to have it replaced. However, this may be an expensive improvement. If it's still in excellent condition and can still last a few more years, a deep cleaning may restore its appearance by eliminating debris and algae stains.
Takeaway
Even the smallest changes can have a significant effect on your home's exterior. So, if you want to freshen up your long-term residence or are contemplating listing your house for sale, these suggestions are the ideal way to add flair and freshness to your property. Use some or all of these tips to make your exterior look better.