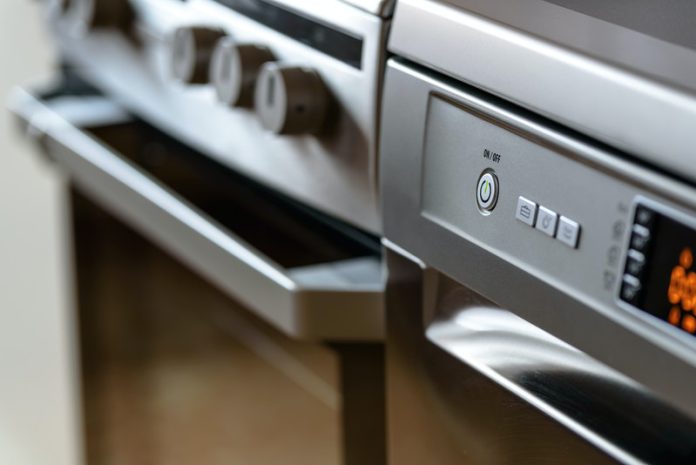 Buying home appliances can be a bit overwhelming. You might not find everything you're looking for in one place. Instead, you'll have to visit multiple places trying to find what you're looking for. If one brand has the best microwave, it doesn't mean it also has the best dishwasher. That's why to make your life a little bit easier, we created a list of the best places to buy a free standing dishwasher from.
Toshiba
If you're looking for a freestanding dishwasher, Toshiba is one of the best brands to buy from. That's because there are several dishwashers to choose from with all the options you're looking for. Take a look at the features yourself:
Free Standing Dishwasher, with Dual Wash Zone
With 14 place settings, you can choose the setting you want to kill all the bacteria and keep you dishes sparkling. Toshiba states that the free standing dishwasher with a dual wash zone eliminates 99.99% of bacteria and germs with the anti-bacterial filter. I think you wouldn't be shocked that it's true when you learn that it has:
Three Stage Hygiene Combination
Dual Washzone: Choose the settings you want depending on the size of the load in the dishwasher and make sure the water is directed towards the load in the dishwasher.
Anti Bacterial Filter: To reduce micro-organism build-up and maintain a 99.99% bacteria-free, 0-grade mildew proof environment, Toshiba has an anti-bacterial technology in its dishwasher.
70°C Hot Water Wash: Wash your utensils at a temperature as high as 70 degrees and high-pressure flow to ensure everything is grease-free and stain-free.
UV-Led Sterilizer: To help sterilize your kitchenware, the dishwasher has a UV light after the washing cycle that helps eliminate the bacteria effectively.
Sliding Tray: Looking for more space? That's not a problem; the sliding tray feature allows you to leave more room for tall glasses, forks, knives, and anything else.
There's nothing you can look for that can't be found in Toshiba's freestanding dishwasher. Try it yourself to decide.
Samsung
Samsung is a well-known company for its various electronic production. If you're not a fan of their phones, you might be interested in their home appliances. They never fail to surprise you with their freestanding dishwasher, and here's what you need to know about it:
Samsung Dish Washer, 14 Set
Choose a dishwasher that matches your kitchen appliances, either white or silver, but with these features, you'll know it's exactly what you're looking for:
7 Programs, 5 Options: Choose between a number of programs and options based on the kitchenware placed in the dishwasher.
Flexible 3rd Rack: For small and light items cleaned by powerful jets, there's a flexible 3rd
Hygiene Rinse: If you're looking to hygienically clean your utensils, then choose the program with a high-water temperature for a deep cleaning that kills bacteria and germs.
Half Load Settings: Place your load in the bottom zone to save time and energy while running a half-load in your dishwasher.
60-minute Wash & Dry: Clean your dishes and dry them in only 60 minutes. It's the ideal wash for small loads that don't need intensive cleaning.
LG
Another brand to add to the list of best free standing dishwashers. Life's truly good when you're benefiting from these features:
LG QuadWash™ Steam Dishwasher, 14 Place Settings, EasyRack™ Plus, Inverter Direct Drive, ThinQ
TureSteam: It's all about bringing back the sparkle; your utensils will look as good as new after every wash. With high water temperature and fewer water spots!
QuadWash: Multi-Motion spray arms and high-pressure jets to reach everything in the dishwasher.
Inverter Direct Drive with 10 Years Warranty: Get a 10-year warranty with your purchase.
EasyRack Plus: Foldable tines, easy height adjustment, and a rack for small items. What else are you looking for?
SmartThinQ: Made for smart homes. Connect your dishwasher to the wi-fi, and control your dishwasher from the smartphone app. You can download different cycles, personalize settings, and even set a reminder for machine cleaning.
Auto Opening Door: Once it's done, the door will automatically open to exceed your drying expectations and let heat escape as the dishes dry.
Can't decide which one to go with? All the features are attention-grabbing, making it hard to choose. However, you can never go wrong with Toshiba; they've got what you're looking for and more. But always make sure whatever free standing dishwasher you choose make sure it matches your kitchen.