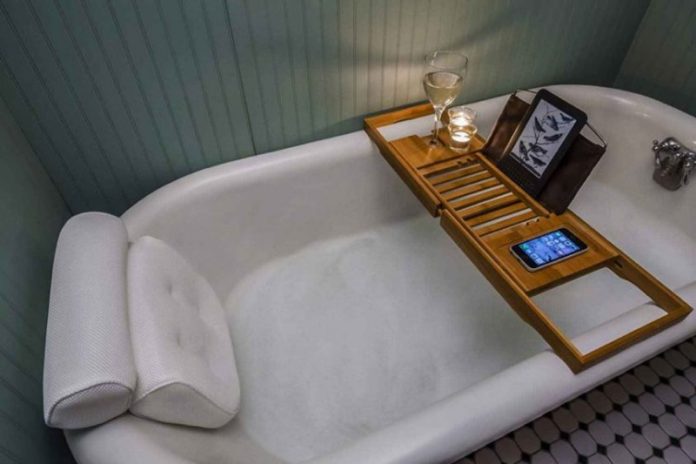 Bathing in your bathtub can be very relaxing after the day's hustles and bustles. But the hard concrete tub on the back of your neck can make bathing less relaxing. Staying too long in your bathtub with no support on your neck can cause neck pain and muscle strains. For a luxurious and relaxing experience, invest in a pillow. A pillow for bathtub will eliminate all the strains that are caused by the hard edge of your bathtub. Read on to know the healthy side of having a bath pillow in your bathtub.
Helps to Relieve Stress
Do you always look forward to having a relaxing hot bath after a long and busy day at work? But when you think of the hard surface in your bathtub that can lead to a stiff neck, you decide not to.
Purchase a bath pillow that will help you enjoy your baths. When you bathe in a comfortable bathtub, you relax more. Using a pillow will help reduce stress. Not only psychologically, but also the stress in your body after any physical activity.
Improves Posture
When we say posture, many people associate it with sitting or standing posture. But in this case, it is referred to the posture in your bathtub. Making sure your neck and back are aligned well to prevent pain can only be achieved by using a bath pillow.
Some people use rolled towels to reduce strains on the neck. It can work, but not as effective as a bathtub towel. Also, a towel will keep slipping off, and you'll keep reaching for it. This will reduce your enjoyment time and the relaxation you want.
Reduce Muscle and Joint Pains
Relaxing in warm water for long periods will help soothe your pain. Whether it's a pain related to your day-to-day activity or any chronic pain a long bathe can reduce it. A pillow also allows a good flow of blood.
A warm bath also reduces inflammation and makes your body feel refreshed. For a more pain-relieving experience, you can add natural products like lavender oil and sea salt.
You can only achieve this if you have a comfortable bathing pillow. Otherwise, you'll keep struggling to get the right posture, making other muscles in the body tense.
Boosts Your Mental Health
Warm water on your body creates a relaxed atmosphere, and you feel you can stay in the bathtub for hours. Adding your favorite essential oil to your bathing water will work wonders for you.
With your pillow in place, enjoy reading your favorite novel while still relaxing in your bathtub. Studies show that reading, even for at least six minutes per day, will help reduce stress and boost mental health. Without a pillow, you cannot achieve all this since you will be uncomfortable after a few minutes in the tub.
Improves Sleep Quality
Since a warm bath relaxes and soothes muscles, staying in warm water for even 10 minutes will boost your sleep. You find good sleep only if your body is relaxed. Otherwise, you keep tossing or waking up at night due to fatigue or pain.
To relax for at least 10 minutes in your bathtub, you need to have a pillow to make you comfortable. You may end up sleeping in the tub after the relaxation session.
Take Away
Having a good and long warm bath will soothe a lot of pain and aches. Without a bath pillow in place, you cannot stay long in the bathtub. Buy a pillow for your tub and take advantage of all these health benefits.