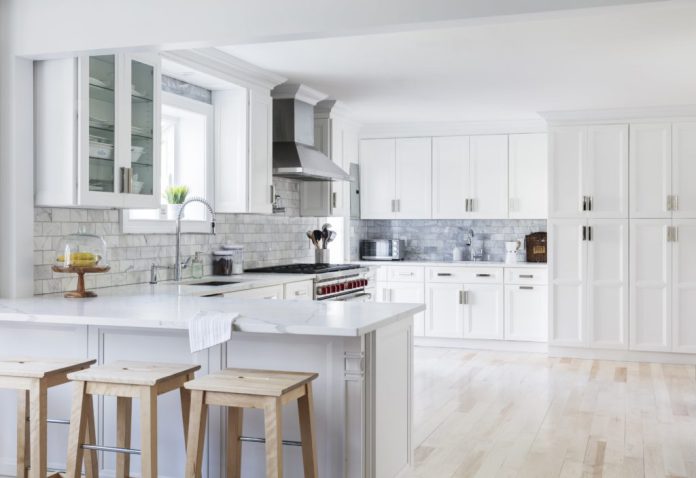 White cabinets are the easiest option because they spruce up just about any countertop color. So, whether you go for a warm-toned countertop or a cooler one — white cabinets offer extreme versatility.
From classic to contemporary and minimalist to rustic farmhouse, white kitchen cabinets introduce a crisp, renewed appeal to a wide range of themes and styles. Moreover, white is a color known to enlarge any space's appearance and helps reflect the light in your space — a major perk in your food prep area!
One of the best ways to uplift white cabinets is by pairing them with appropriate countertop colors that complement each other.  Quartz and solid surface counters are the most popular materials nowadays. Both materials are durable and offer your kitchen a unique look.
This post will help you find what color countertop goes best with white cabinets for both quartz and solid surface countertops. Let's dig out the color options to help keep the kitchen stylish and refreshing!
Check out the following link to learn more about the various characteristics of quartz countertops: https://www.caesarstoneus.com/blog/solid-surface-vs-quartz-countertop-key-differences-you-need-to-know/
Quartz countertop colors for white cabinets
Want the biggest bang for your renovation bucks? If yes, a quartz countertop is a smart choice. It is an engineered material with remarkable heat and stain resistance properties. Moreover, cleaning is the easiest thing when it comes to quartz countertops. The manufacturing process for quartz involves approximately 90 percent natural ground quartz with an adequate mix of supreme-quality polymer resins.
In addition, quartz countertops are available in a wide variety of patterns and colors that make your kitchen look super luxurious. Let's explore what color countertop goes with white cabinets.
Quartz countertops color options
Get inspiration from these countertop color options that blend with white kitchen counters:
1. White quartz countertops
White countertops are making a comeback with a bang. The quartz countertops with this pattern look both refined and highly versatile. So whether you want a contemporary, minimalist, or a rustic-themed look, white countertops grace your kitchen space in the most charming way.
2. Haze blend quartz countertops
If you are a fan of neutrals, the haze blend is what you can choose for that perfect contemporary feel. Although this color has a soft and delicate approach, it can go pretty well with an extensive range of interior design themes — especially white cabinetry in the kitchen.
3. Brown quartz countertops
Someone rightly said that the sky's the limit with brown, and when it comes to white cabinets, brown is a popular option among homeowners because of the flexibility it introduces. Moreover, it will help set the tone for the entire kitchen by adding more chic and extraordinary contrast to a light-hued kitchen.
4. Mixed quartz countertop colors
Kitchens with white cabinets are a clear contender for having a mixed quartz countertop. It contrasts amazingly with lighter kitchen spaces, offering an unparalleled artistic appeal. The best thing — these countertops won't feel dated for a number of years!
5. Sparkling black quartz
Do you want to know what color countertop works with white cabinets? Black can be an excellent choice. Without breaking the bank, sparkling black quartz countertops will add visual flair to your kitchen. The bright sparkles mixed with chic light highlights will jazz up your kitchen. With sparkling black, you will have a brightly reflective surface that will give a luxurious touch to your classic kitchen with white cabinets.
Solid surface countertop colors for white cabinets
Solid surface countertops are also considered to be durable and easy to clean. In addition, these are available in a variety of styles and are made to appear like expensive options such as marble and granite. Solid surface countertops are crafted with polyester and acrylic raw material (basically plastic material). Since these are available in several color options, finding the best one that fits your needs won't be an issue. Explore the list of solid surface countertop color options that interior designers swear by:
Solid surface countertop color options
1. Beige solid surface countertops
Sometimes, a simple contrast is something that will make you feel relaxed every time you see it. If you have beige-colored walls and want to give a cozy look to the kitchen, you can go for a similar colored counter. This subtle scheme in your kitchen will add to the warmth of your space. Also, don't forget to invest in beautiful but functional lighting.
2. White solid surface countertops
If you like subtle looks and trying to find out what countertop color goes with white cabinets, you can choose an all-white look. It will introduce the much-needed light and airy feel to your kitchen. In addition, these white countertops with squared-off edges will define your kitchen in a contemporary style. We suggest going with squared-off cabinetry hardware to keep the kitchen's interior in sync.
3. Natural textured solid surface countertops
Natural textured countertops are reemerging in modern kitchens and are helping homeowners create a perfect balance. These natural textures add a relaxed and refreshing feel to your kitchen. The best thing is that you can go for darker or lighter tones to complement the countertops with your white cabinetry.
4. Black and dark gray solid surface countertops
You can add major oomph to your kitchen with contrasts. In fact, black and dark gray solid surface countertops work amazingly with white kitchen cabinets. Even the interior designing experts claim that there is nothing wrong with the "opposites attract" approach.
Takeaway
Since white kitchen cabinets stand the test of time, most homeowners prefer having them. But, it can be time-consuming to find out what color countertop goes with white cabinets because of the number of options available in the market. If you want to go for a timeless look, you can consider any of the above-mentioned color schemes. Also, ensure to invest in the best countertop material if you want it to last for a long time.
However, if you aren't bothered about updating your kitchen frequently, then you can be more creative and opt for colors such as red, cherry, dark green, etc.
In the end, it's all about how you feel when you enter the heart of your home — the kitchen!