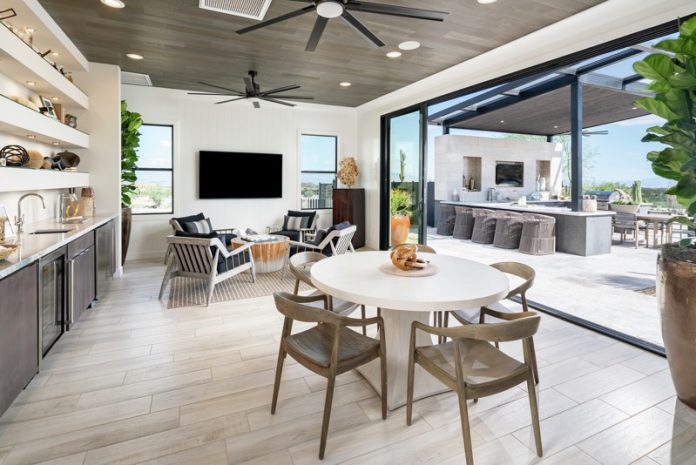 Indoor-outdoor spaces have become a pivotal feature of high-end suburban homes. Dating back from the era of modern interior design, indoor-outdoor rooms are still incredibly popular and sought-after in many contemporary home designs, and rightfully so. These rooms bring in bounds of natural light and beauty, expanding your living spaces without physically altering their dimensions, and not to mention, increase the value and appeal of your home by a significant margin. Indoor-outdoor rooms can make any home feel more expensive, luxurious, roomy, and visually appealing. They have become a staple in luxury contemporary architecture and interior design. In this article, we explore their appeal and unique features. Keep reading to learn more.
What is the Indoor-Outdoor Living Trend?
The indoor-outdoor living trend has become an extremely sought-after feature in contemporary homes. This trend seamlessly blends indoor and outdoor living spaces into one by replacing walls with large windows and doors that extend from the ceiling to the floor. This not only gives designers or homeowners limitless options that fuse their homes with a natural environment, but it also gives the illusion of more space, function, and beauty. The indoor-outdoor trend blends your outdoor living spaces without your indoor ones.
What Exactly is an Indoor-Outdoor Room?
An indoor-outdoor room can be an addition to virtually any room in the house. Most commonly, you'll see a fusion between living rooms and outdoor patio spaces. But kitchens and dining rooms expanding into outdoor spaces are also popular. One or two walls of the indoor room are replaced with windows, doors, or sliding glass walls that lead directly onto the patio, garden, pool, spa, or even, sunroom. This can expand the dimensions of the interior room without actually physically doing so. Additionally, if the themes of both spaces are consistent with one another, this indoor-outdoor concept will create a cohesion that gives your home a more expensive and spacious feel. If your outdoor landscape is filled with greenery and foliage, the indoor-outdoor fusion can create a natural, balanced blend between both spaces.
Where did Indoor-Outdoor Rooms Come From?
During the post-war era during which suburban, domestic living was glorified across every ad, the indoor-outdoor living trend was born. This trend took off, being displayed all over magazines and effectively upping the sales of multiple houseware items and materials. Becoming a suburban homeowner became an integral part of the American dream. Families started moving away from city life, desiring a more natural way of living. During this time, modern interior design was the leading style of home decor and architecture. Together, the two trends collided and created what we now call indoor-outdoor rooms. Because today's popular trends still pull from modern interior design, you will still see indoor-outdoor rooms in many contemporary homes today.
How to Make an Indoor-Outdoor Room
Making an indoor-outdoor room is quite simple, albeit can vary in price. Meshing an outdoor and indoor space requires floor-to-ceiling glass windows and doors, which by themselves can be expensive. Additionally, the outdoor area should be kept clean and its landscaping needs to be continuously maintained. Instead of keeping up with two separate areas, indoor-outdoor rooms become one large space you have to keep cohesive and clean.
What Are The Benefits of Building an Indoor-Outdoor Room?
Besides giving your home a unique, luxurious visual appeal, there are multiple benefits to building an indoor-outdoor room. Not only do indoor-outdoor spaces increase the home's value, they also make your home a more enjoyable and comfortable place to live.
Increases The Home Value
Because indoor-outdoor spaces are growing extremely popular in today's contemporary interior design styles, adding one to your home can significantly increase your home value. If you're limited in square footage, adding an indoor-outdoor space will create the illusion of a larger, boundless room that can attract many home buyers. Not to mention this can really make your home stand out from the rest.
Great for Hosting Guests
Indoor-outdoor spaces are great for entertaining guests. Not only does this provide more space for your guests to socialize, but it gives them an option to fluidly move from an indoor to an outdoor setting. The fresh air makes the entire home come alive, especially when your guests are socializing and enjoying one another's company. Indoor-outdoor spaces are the perfect solution for accommodating more guests and making your home a great place to host parties and events.
Closer to Nature
With the large windows and doors, the two rooms become seamlessly integrated. With beautiful, natural landscaping, indoor-outdoor spaces can bring your home closer to nature. Not to mention, the large windows allow more natural light to filter throughout your home. Tie the rooms together with some indoor houseplants and earthy-toned furniture, and you'll have a room fully enmeshed with a natural look and feel.
Great for Pools, Spas, & Sunrooms
Indoor-outdoor rooms are great for connecting indoor spaces with pools, spas, and sunrooms. From couch to pool within a matter of seconds – what more can you ask for? Sunrooms also make for a great lounging space, a place to keep your plants, or a spot to watch TV and movies! Creating seamless transitions between a living room or bedroom to the pool, patio, spa, or sunroom, is sure to enhance the value and design of your home.
Conclusion – What is an Indoor-Outdoor Room?
Are you looking to build an addition to your home? Are you looking to transform your living spaces? Look no further than indoor-outdoor rooms. This trend has been popular since the modern era, and for every reason. Not only can incorporating an indoor-outdoor room significantly increase the value, appeal, and desirability of your home, it gives your home a spacious and balanced natural atmosphere. This fusion of outdoor and indoor has become such a staple in interior designs that it will remain for years to come. No matter the home, no matter its square footage, an indoor-outdoor can enhance any living space.