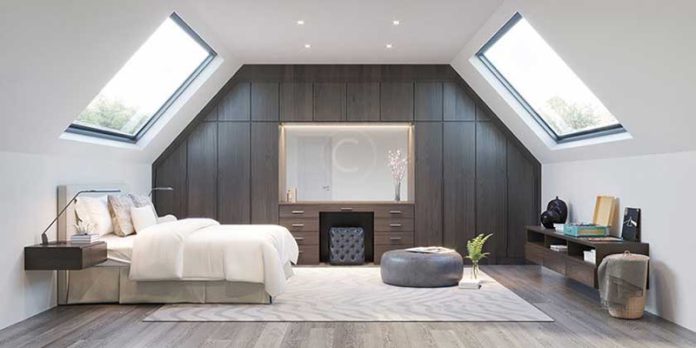 In the first quarter of 2022 alone over £3.66 billion British pounds were spent in household goods stores, as various home improvements and DIY projects were started by excited homeowners looking to enhance their properties. The most common home improvement project that we do in the UK is to put in a new bathroom, with the second most popular improvement being a new kitchen.
These kinds of home improvements can add plenty of value to your home both functionally, and financially, but what if you want to make a bigger improvement overall?
Perhaps your house sale fell through recently and as you're staying put, you want to invest some money into your home. Maybe you don't want to move home and you know a transformational home improvement is necessary to truly improve your quality of life.
If this is you, then it is time to consider something even more impactful than a beautiful new bathroom, or a fancy new kitchen. It's time to consider a loft conversion for your next home improvement project, and here's why:
There's A Range Of Options To Choose From
Loft conversions provided by a trusted loft conversion company don't just come in one style, or type. There are many different options to choose from, depending on your preference, budget and the type of house that you own.
From simple and speedy skylight conversions for quick transformations, to extensive L-shaped conversions that provide an opportunity for multiple rooms, bathrooms and more – there's an option that will make sense for your situation.
It Could Add Value To Your Property
The exact value that a loft conversion adds to a property is dependent on several factors. What we do know is that extra living space in any home is valuable, so it makes sense that utilising the unused living space in the loft in this way would have the potential to bring you quite a substantial increase in the value of your home overall.
As well as the financial boost a loft conversion space could add, there's rental potential to consider too. Nightly rates of over £50 pounds or more, or monthly rates of £500 pounds or more could be up for grabs with this one home improvement, which is pretty handy in the current, rather challenging economy and the cost of living crisis.
It Saves Vital Outdoor Space
Gardens that are well thought out are thought to have the potential to increase a home's value hugely, particularly in areas where there aren't as many outdoor spaces attached to properties, such as London. In addition, let's not forget how much of a natural haven the garden can be. If Covid-19 taught us anything, it is that even the smallest outdoor spaces are meaningful, and help us feel connected to nature, especially when we can't access public outdoor areas.
Loft conversions do not need to impact your garden in any way, which is why so many people choose them instead of a house extension, which tends to use up precious garden space.
Speedier Than Alternatives
House extensions can take a lot longer than a loft conversion to complete because foundations have to be laid and extensive building work takes place. As a loft conversion is working on a base that already exists, and the work involves adjustments and additions, you can expect it to be a much quicker process overall.
In some cases, you may also find that this means minimal disruption to your daily life. Any disruption that does take place happens for a shorter amount of time, which can be a game changer if you are raising a young family and lots of upheaval really isn't a particularly exciting avenue to go down right now.
You Can Create The Perfect Loft Conversion Aesthetic
Loft conversions are sometimes a little wonky, unusual and quirky in their shape and style, which is part of the visual appeal. This kind of character makes for a charming and interesting aesthetic, even with the most basic of designs.
When it is fully utilised and designed well, it can be a unique and breathtaking space, especially if you lean into custom furniture and layouts that play on the individual features.
Roll top baths under skylights, full projector walls with movie nights, contrasting wooden beams against crisp white walls and master beds that fill a whole room – there's a world of design fun to be had with a loft conversion.
There Are Endless Ways To Utilise Extra Space
The extra space created by a loft conversion is invaluable, particularly if you've been feeling a bit squeezed by the current square footage in your home.
You can use a basic loft conversion bedroom for just about anything. Home office space, design studio space, main bedroom, spare bedroom, childs bedroom, nursery, hangout space – the possibilities are endless.
If you've invested in a more extensive conversion that affords you possibilities like en-suites and kitchenettes, there's even more potential for your new conversion.
The central consideration to be aware of is that it was previously only suitable for a bit of storage, if that, but the work done has made it into liveable space, which is incredibly exciting.
There's No Need To Project Manage
Some people worry that a big home improvement like a loft conversion involves a lot of project management. In fact, the best loft conversion companies will ensure that whilst you are in control of your conversion, you are fully onboard with the entire process from design to finish, and you are made fully aware of any updates, you aren't needing to multitask or deal with time-consuming and stressful project management throughout. Instead, you'll have a person in charge of the build who speaks with you regularly, and who keeps you in the loop, which minimises your stress and time consumption without you feeling like you're losing control of this transformative home improvement project.
"Mid pleasures and palaces though we may roam, be it ever so humble, there's no place like home." – John Howard Payne
If you're hoping to make your next home improvement project impactful, why not consider a loft conversion? Take the next step today and speak to your local loft conversion company for more information, and perhaps even a quote. For extra space and functionality in the place you love the most, it really is a smart and savvy home improvement choice.