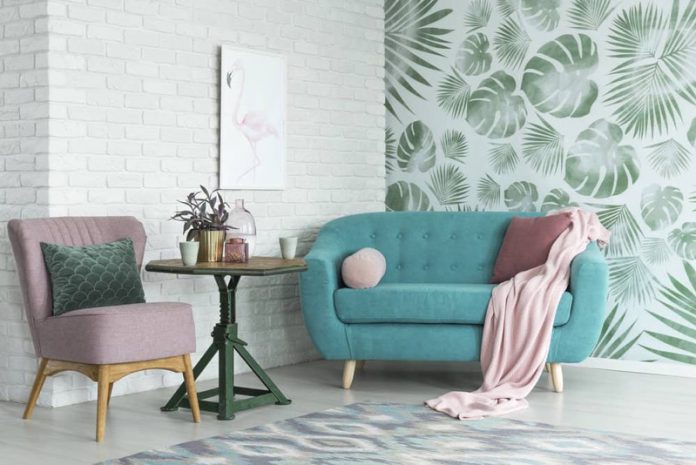 Despite the many decorative elements in the market, wallpaper stands out. You will get it in different styles and colors to match your décor and furnishings. It's best to understand what suits your space and choose the most suitable match.
Here are different types of wallpapers worth considering:
1. Vinyl wallpaper 
Vinyl wallpaper is the most intriguing wall covering due to its production method. It can mimic almost any surface and will suit most homes or offices. They consist of two layers: a bottom layer of paper or cloth and an upper layer of polyvinyl that has an embossed pattern.
These wallpapers are tough, flexible and don't absorb moisture. Vinyl wallpapers are easy to clean and are hardly breathable. They are paintable, flat, dense, and embossed foams.
2. Bamboo wallpaper 
Bamboo wallpaper is made of thin slats adhered to woven fabric. Instead of applying dyes, manufacturers emphasize the natural colors of bamboo stems. Bamboo is also a sustainable material and is environmentally friendly. Harvesting happens every five years, a relatively short period, because it overgrows.
As a result, the production uses less energy and leaves a smaller carbon imprint. Bamboo as a wall covering from scenolia.com/zen-wallpapers. It can make your house cozier by minimizing noise and heat loss.
3. Fiberglass wallpaper 
Special glass fibers based on perlite, sodium, lime, and calcite make up the basis material. They can be applied to any surface, are moisture resistant, strong, and fire resistant. Moreover, they are free of harmful materials, do not gather dust and are easy to wash.
Fiberglass wallpapers offer a stylish, contemporary appearance to any wall. They are also common in workplaces, malls, restaurants and hospitals.
4. Cork wallpaper 
Cork wallpaper is stylish and suits almost walls. It is the most environmentally friendly wallpaper and is made of cork oak bark. Since They are natural materials since they produce their glues and adhesives by heat-pressing cork stands.
They are well-protected from moisture and dust as they are glued on the bond for heavy wallpaper and have a great hold on any surface. They are also wear-resistant and covered in wax or lacquer.
5. Liquid wallpaper 
Liquid wallpaper is used to make seamless smooth, or textured coatings. Moreover, they have ornamental plaster made from natural materials like fibers, latex, or textile fibers. They are manufactured or sold as a dry mix, which needs to be tinted and diluted with water-based paint.
That's not all; these wallpapers are waterproof, odor-resistant, and easy to clean. They are also easy to apply to any surface. Liquid wallpaper also enables the creation of random patterns.
6. Paper wallpaper
You can utilize simple paper to create this wallpaper design. It is original and manufactured from tree-sourced paper with no frills or thrills. It has a matte finish and is preferred by many.
Wrapping up
Wallpapers can make your walls look stunning without spending significant cash. However, you must know various types in the market and choose the best match for your space. If you want the best wallpaper while shopping, then have the above information in your head.