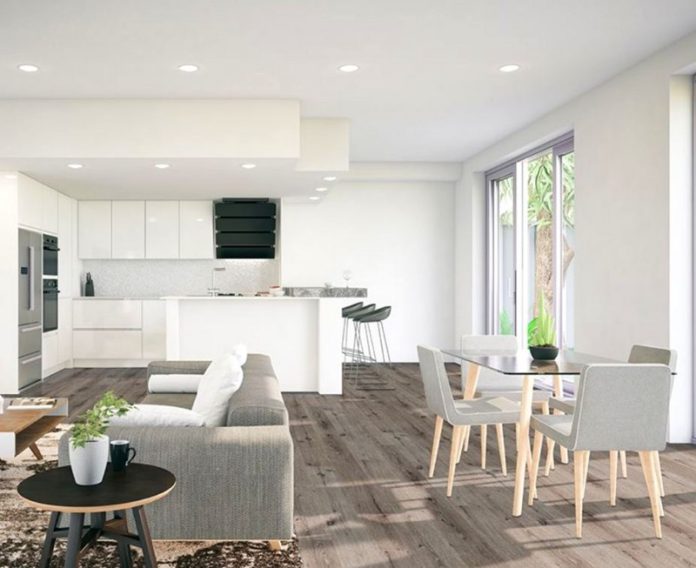 We are huge fans of the classic look that is achieved by covering flooring with stone, wood, or ceramic. But let's be honest: these materials can have a hefty price tag, offer little in the way of comfort, and frequently require more maintenance than either our time or energy allows for. Because of this, the smart money typically goes on vinyl. This long-lasting flooring is resistant to debris from the street, shoes with pointed heels, and messy spills, and it also provides a non-slip surface that is frequently cushioned and does not break the bank. It is little wonder that vinyl may be found in virtually every home in the United States, most frequently in areas such as kitchens, bathrooms, and entryways.
This category of resilient flooring encompasses a variety of products, such as sheets, tiles, and planks made of flexible PVC; rigid tiles that combine vinyl and ground limestone; and soft, rug-like sheets that are woven from vinyl-coated fiberglass strands. Flexible PVC is used to make sheets, tiles, and planks. Rigid tiles combine vinyl and ground limestone.
Vinyl flooring, which gained widespread acceptance in the middle of the 20th century, is continuously undergoing development. It can be installed more quickly than earlier models, and it is more robust; several firms even give lifetime guarantees on their products. The patterns and textures aggressively go in the direction of a more contemporary aesthetic or impressively replicate its more traditional rivals. As another measure taken to address health concerns, certain types of flooring are now officially recognized as complying with stringent criteria for the purity of air within the home. Who needs a historic pedigree when a flooring option is this adaptable and has so many different appearances?
5 BENEFITS OF VINYL PLANK FLOORING
Impervious to water.
It is possible to install waterproof vinyl planks in any space, but they are particularly well-suited for wet environments such as kitchens, baths, and basements. The worry-free vinyl plank solutions from Mannington keep your flooring safe from moisture and are designed to withstand accidental spills as well as messes left by pets.
Realistic sights.
The versatility of vinyl plank flooring in terms of its look is perhaps one of the factors that contributes most to its popularity. Your flooring will have the appearance and feel of the genuine article because of the incredibly accurate patterns, colors, and textures employed in the creation of vinyl planks.
It is simple to clean and take care of.
Vinyl plank flooring, like other kinds of flooring, has to be cleaned every once in a while. This is notably the case if it is utilized in a high-traffic place; but, fortunately, they are simple to clean and take care of. Use a broom, vacuum, or a sweeper made of microfiber for a speedy clean up to maintain the appearance of newness of your vinyl planks. When it comes to thorough cleaning, all you need is a wet mop and some gentle cleanser. In addition, there is no requirement for waxing at all! In addition, vinyl plank flooring has a protective wear layer on it, which enables it to keep its brilliance for many years after it has been installed.
Extremely durable.
Vinyl plank flooring is designed to withstand heavy foot traffic. Because it is resistant to scratching, denting, and staining, it is a good choice for homes with children and pets. Because of its long-lasting properties, vinyl plank flooring may be installed in almost every room in the house.
Ample diversity.
Your choices for flooring are practically countless, ranging from concrete to ornate tile, marble, stone, and other types of stone, as well as wood. Not only will it be simple for you to locate a floor that you adore and that complements the interior design style you have in mind for your house, but you could also have problems deciding which option is your absolute favorite!
You are able to get the opulent look of stone and exotic woods without having to deal with the commitment or money that comes along with the upkeep of such materials. In the extremely unusual event that it would ever be necessary to have it replaced, the vinyl could be removed in a pretty short length of time and with very little work on the part of the person doing the removal. In addition to this, vinyl can withstand the corrosive effects of dampness without being damaged.
As a result of this, it is a wonderful material to use in homes that have animals of some kind living in them. Customers have the opportunity to choose from a wide variety of color options, surface textures, and design choices when it comes to vinyl flooring, which is one of the many alternatives available at SD Wood Cabinet – the best vinyl flooring San Diego and is part of the store's extensive assortment. The store is known for having the best vinyl plank flooring in San Diego.