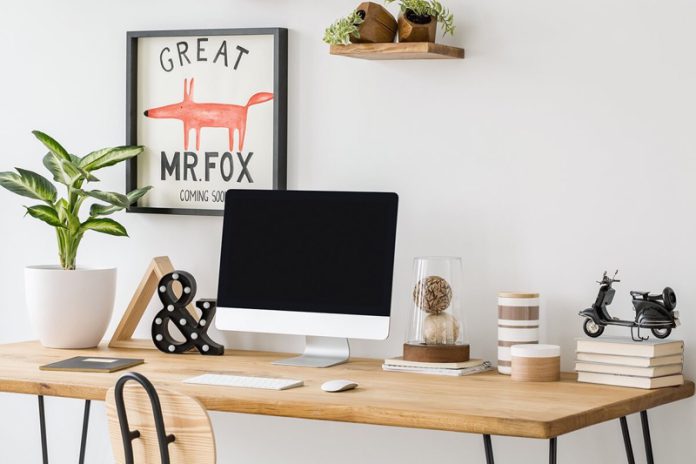 It is crucial to make sure you are entirely content with your employment because you spend a lot of time there. You can make a number of changes to your office to make it as lovely as possible. Along with being fantastic to have a lovely office, this might actually enhance productivity! Whether you want to make a few minor tweaks or something more significant, we've put together a list of some of the best ideas for how to improve your home office.
Paint the room
Even though you might not think it will have a big impact on your performance, research has shown that wearing certain colours and keeping up with current fashion trends can actually improve your focus and productivity. One of the best ideas to improve your home office is to search online for great colour schemes that you can include in your space. Some people's jobs could be boring, but your workplace might be interesting! Why not head over to your neighbourhood store right now and buy some paint cans and brushes so you can get painting? Painting can be time-consuming and demanding, so asking for help might be a wise decision. It's also crucial to remember that you should carefully evaluate and test out the colour you desire for your room. Let the initial section dry before painting the entire room; it would be extremely inconvenient to find that you don't like the way it looks. 
Add decorations
Nothing says that just because it's an office, it can't be decorated! A variety of excellent decor could make your office appear more vibrant. Depending on your personal preferences and the overall layout of the space, you'll choose a different style of decorating. Since this is your chance to fully infuse your office with personality and make it uniquely yours, take the time to consider your options before blowing all of your money. There are many different types of decoration. You can use items like paintings, canvases, pictures, clocks, and decorations to spruce up your workspace. If the overall design of your workspace is modern, we strongly advise including some abstract art.
Mount the TV to your wall
Installing a TV on the wall would be one of the best adjustments you could make if you value your well-earned breaks. We typically use our breaks as checkpoints throughout the day, so making the most of them is a great technique to prevent burnout. One of the best ways to do this is by using a TV. If you want to give the impression that your office is as professional as possible, a good, sleek TV mounted on the wall will not only look wonderful but also perhaps come in pretty handy. Watching TV while unwinding at your desk is a wonderful compliment. To find services for TV wall mounting, click here. Mounting your TV to the wall is by far one of the best ways to improve your home office.
Upgrade the things inside the office
This can be done in the form of new furniture, desk toys or even the computer you're working off itself. This one has a very pragmatic perspective. It goes without saying that it would be challenging to finish any activity without the right instruments at your workplace, such as your mouse, keyboard, and PC. But have you ever thought of updating any of them? There is a tonne of new products available that, if you spend money on them, might significantly enhance your life. You can choose to purchase a better ergonomic mouse or a more efficient keyboard, for example. If you've had the PC for a while, you probably need an upgrade more urgently than you realise, so, we suggest that you think about updating your PC.
Also, getting a reliable refurbished PC or laptop can be a cost-effective solution for automation, as long as it is from a reputable source and has been thoroughly inspected and tested.
Add a speaker to the office
Maybe you like listening to music throughout your day as part of your routine. You can relax and become more energised with music. Additionally, it can increase productivity. Listening to music while working can allow you to finish your jobs more quickly and with higher quality than those who were not enjoying any tunes, you may feel as if you need fewer breaks by listening to music and more relaxed and content with getting on with the task.  With the help of a great bluetooth speaker, you can drown out any background noise and fill your workspace with your preferred taste of music to increase attention. Check out some office-ready speakers after creating a playlist of your preferred mood music (simple chord progressions, instrumentals, and catchy rhythms frequently work well).
We sincerely hope you find our list of the best ways to improve your home office useful, but it's important to keep in mind that there are of course many other possibilities available. If you take any of our ideas as inspiration, your office will unquestionably undergo a dramatic transformation. Good luck!