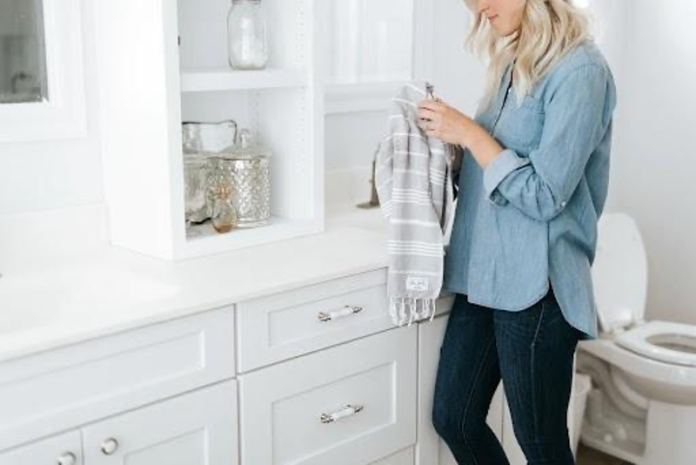 Turkish towels – yes towels! – are a great and inexpensive way to update your home decor. With their extra large size, light weight but warm and cozy feel, subtle boho designs and tassets too, they make a great complement to your interior design in any room in the house.  And since they are towels with many uses you can also use them as a bath or beach towel, a sarong or bikini cover up, a wrap for travel or even a neck scarf in the colder months.
Trying to find the ideal Turkish towel but feeling overwhelmed by your options?
We can help you select the best Turkish towels for home decor, whether you're looking for the ideal towel to bring to the beach, a charming throw to liven up that boring living room couch, or a 100% cotton wrap.
Seek out your Ideal Turkish Towel.
The Bali Market Essential Stripe – Turkish Bath & Beach Towel – Taupe
Waffle Weave Turkish Bath Towel – Navy. Peshh by The Bali Market – Tassel Free, No Fringe Turkish Towels – Chevron Stripe
Essential Stripe Turkish Towel Throw – Air Blue
A Turkish towel, also known as a peshtemal or hammam towel, is a thin, lightweight towel traditionally used in Turkish baths (hammams). They are often made from Turkish cotton, known for their absorbency and quick-drying properties. These towels are becoming increasingly popular as beach and spa towels and decorative throws. Their unique stripes and fringes often characterize them.
Waffle Weave Turkish Bath Towel
A Waffle Weave Turkish Bath Towel is a type of towel made from a waffle-patterned fabric. These are a little thicker and often only found in solid colors with white or offwhite fringes. These make great neck scarves and throw blankets in addition to their intended use as a bath towel.
Perfect Classic – Turkish Bath & Beach Towel – Pink
The Perfect Classic Turkish Bath & Beach Towel is the most popular style and type of Turkish towel. It is made from high-quality,100% Turkish cotton and is well known for its softness, absorbency, and lifespan. The towel is designed for bath and beach use, making it versatile and perfect for any occasion.
Perfect Classic – Turkish Bath & Beach Towel – Grey
The color Grey gives it a stylish, elegant and versatile look. Turkish cotton is known for getting softer with each wash and becoming more absorbent. The towel is lightweight, quick-drying, and durable. It is also perfect for traveling as it is compact and easy to pack.
Turkish Towel Throw Essential Stripe
This standard towel, which can be used as a throw or blanket, is available in a colorful form called the Turkish Towel Throw Essential Stripe. It has a solid striped design and is made of a soft, lightweight 100% Turkish cotton. This style comes a little thicker and more plush (but still lightweight and compact) than the Perfect Classic.
Diamond Design Turkish Bath Towel
A unique style of Turkish towel with a diamond pattern. Turkish towels are a popular option for bathroom use because of their softness, absorption, and speedy drying qualities. A beautiful towel can be made with a diamond pattern, adding visual appeal. This particular design is also thicker and softer out of the package. You'll want to wrap yourself up in it the minute you open it up.
The Bali Market sources only sustainable towels from Turkey that are eco-friendly and responsibly made by a women-owned manufacturer. The Bali Market also uses eco-friendly and minimal packaging. Your order will never include a printed invoice, and all of their shipping supplies are recyclable, bringing you one step closer to a waste-free life.