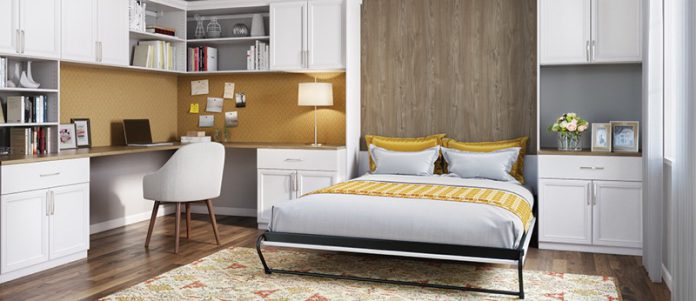 Have you heard of the popular Murphy bed? This practical, space-saving bed is truly a wonder for creating a multipurpose space. You can easily free up floor space in your home, without any heavy lifting or pulling. What's more, Bestar has Murphy beds that come in a variety of styles, designs and finishes, so you're sure to find the perfect fit for your needs. Keep reading to find out how a Murphy bed can make all the difference in your home!
Space Liberation
Finding practical ways to save space in your home can seem impossible, especially when you don't know where to start. But with a practical Murphy bed, you can save space and have room for all your favourite activities. When the bed is folded away, the cabinet stands alone as a beautiful unit, taking up minimal floor space. You can use the space in front of the cabinet for your yoga exercises or online Zumba lessons. When you're ready to use the bed, clear the floor space in front of the cabinet and fold the bed down. The bed's dual-piston system makes it easy to fold the bed up and down as often as needed.
In addition, Bestar has models that come with shelving units, so you can keep your space clutter-free and organized. Some units come with shelving, drawers, and open and closed compartments to keep all your belongings within reach and neatly stored away. It's so easy to keep your space looking its best!
Multi-Functionality at Its Best
Do you have a spare room in your home but just can't decide on what to do with this space? Well, with a Bestar Murphy bed, you don't need to choose—the options are endless!
If you're looking to create a versatile multipurpose space, you should certainly consider a Bestar Murphy bed with a desk. Bestar has two models: one with a fold-down desktop and another with a retractable desk that folds into the storage cabinet beside the bed. Ready to catch some Zs? Remove all the items from the desktop, fold the desk and pull the bed down. By day, you can work comfortably at the desk and at night, you will reap all the benefits of a cozy bed. What's more, you can opt for a model with one or two storage cabinets to keep your work supplies and essentials organized and tucked away. When the desk and bed aren't being used, you can use the space to host game night, enjoy a movie night with your kids, or continue your arts and crafts projects.
Guest Room Magic
Do you enjoy hosting overnight guests? If so, then a Murphy bed is the perfect solution for your space. All Bestar Murphy beds have flexible mattress support slats for ample comfort and can accommodate most standard size mattresses, so you can choose a mattress from your preferred retailer. What's more, you can keep thin sheets on the bed when it's folded away for additional practicality. So convenient! However, be sure to remove heavy bedding and pillows from the bed to make sure it closes properly.
Some Murphy bed models also have storage cabinets with shelves, drawers as well as open and closed storage compartments, perfect for storing extra sheets, movies, and books for your guests during their stay. Why not store a bag of chips or candies in the unit so your guests can snack in bed? They'll definitely love the personal touch!
To make your guest space truly versatile, why not opt for a Murphy bed with a desk? You can choose which model is right for your needs (a fold-down desktop or a retractable desk). When your work day is over, all you need to do is fold the desk away, clear the floor space in front of the cabinet, and fold the bed down. Add a cozy blanket and fluffy pillows to make the space guest-ready!
Aesthetic Appeal
Last but certainly not least, Murphy beds are truly stylish additions to any space. Bestar has collections for every style and space. For instance, the Murphy beds from the Lumina, Nebula and Orion collections have clean lines and contemporary designs, creating a modern and refined look in your space. For a more traditional style with a classic finish, check out the Pur, Edge and Versatile collections. What's more, each collection has Murphy beds with storage to keep all your belongings organized. Some models even have doors on the units to conceal all your items, giving your room a clean look. With so many options to choose from, you're sure to find the right style for you.
Be it a studio apartment, basement, spare room or shared living space, you can transform your space completely with a Bestar Murphy bed. Not only will you have a practical system in place, but you'll also have a comfortable bed to rest in. After all, a good night's sleep starts with the right bed!