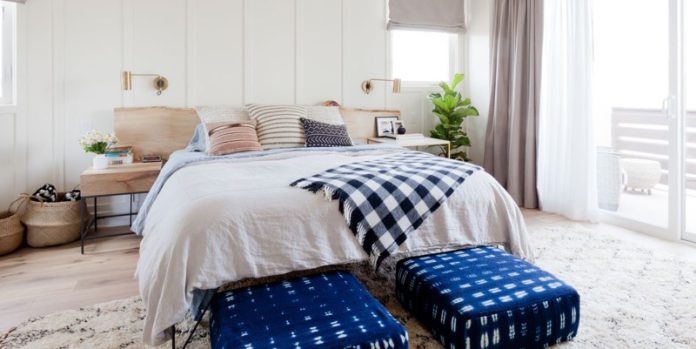 Ottomans are stylish and functional pieces that instantly upgrade the look and feel of any room. While traditionally used in living room designs, you should consider adding one to your bedroom décor. There are several ways you can use an ottoman to enhance your space, so let's dive into a few of them.
Sometimes finding nightstands for a low-profile bed is challenging. The ones that come with your bedroom set may not necessarily fit your tastes. Why not try ottomans instead? A square or round ottoman on the smaller side can sit beside your low-profile bed frame and balance the look and feel of the space. They come in a variety of colors and fabrics you cannot find in typical nightstands, so feel free to have fun with the idea.
When you don't have much closet space, storage ottomans are perfect for keeping your assortment of shoes. Some of you may need more than one ottoman to hold them all. Purses are another item you can keep safe inside the ottoman.
Important documents are usually kept in metal file cabinets, but they will severely clash with your bedroom furniture. Use a storage ottoman to hold your paperwork. You can even find a filing system that will fit in the drum of the ottoman to make things easier.
Another use for ottomans for bedroom designs is dog beds. If you have a small furry loved one, turn an ottoman into a mini-bed for them to rest in. Make sure the material is comfy enough to keep your furry friend happy.
Place the piece at the end of your bed and stow extra linens away inside the ottoman. They'll be easy to access when it's time to change the sheets or put a new comforter on the bed. Put your decorative holiday pillows in the ottoman and pull them out when the right season rolls around.
An ottoman provides a place to sit as you prepare for your day. Why sit on the edge of your bed and put your shoes on when you have an ottoman? Unlike accent chairs, they have more than one function and make life a little bit easier.
Use it as a coffee table. Place a tray on top and you have a designated snacking area in your bedroom. Or keep your favorite magazines on top and read them at your leisure. Book storage is another way you can use the ottoman in your bedroom. If you have a small personal library, ottomans can easily hold your collection.
In your nursery, hide the diapers, wipes, rash creams, and other baby items in a decorative ottoman. Bottles and pacifiers can also go inside the drum. As your child gets older, convert the ottoman into a toy chest. Cars, dolls, superheroes, and building blocks can be kept in one central location for easy cleanup.
The ottoman is a very versatile piece that you can find creative ways to use in order to enhance your space.