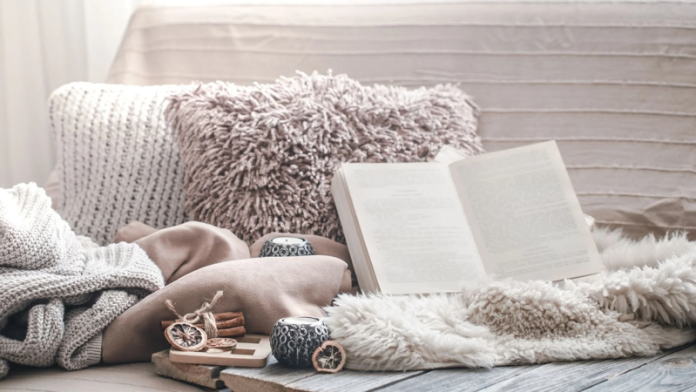 As the days grow shorter and the temperatures drop, it's time to prepare your home for the cozy season ahead. Hygge, the Danish concept of comfort, coziness, and contentment, is the perfect inspiration for creating a warm, inviting space to hunker down in during the winter months. Bring the spirit of hygge into your home with these ten tips:
Soft Fabrics and Textures
Surround yourself with soft, tactile fabrics and textures to create a comforting environment. Trade stiff or scratchy materials for soft cotton, velvets, flannels and woolens. Layer rug upon rug to warm up bare floors. Swap out summer-weight bedding for heavier quilts, duvets and plush pillows. Hang thick curtains to keep out drafts and darken rooms. Light a fire and add a sheepskin throw to up the cozy factor.
Opt for fabrics and materials that beg to be touched. Cashmere, chenille, fleece and faux fur offer irresistible softness and warmth. Seek out natural fibers like wool, alpaca and silk that provide comfort and temperature regulation. Add extra pillows and cushions throughout your home as squishy, suitable decor. Your winter haven should envelop you in softness from head to toe.
Comforting Touches for After Bath
A relaxing soak in a warm tub is a perfect hygienic treat on a chilly winter night. Enhance the cozy factor with soothing touches for after your bath.
Place plush bathrobes or wraps near the tub to allow easy slipping into cozy layers. Set out a pair of warm slippers or socks to pamper your feet post-bath.
Opt for oversized, high-quality cotton varieties that envelop you entirely for towels. After use, neatly fold towels and place them on a heated towel rack or radiator to dry and warm. This allows towels to be toasty and inviting for the next use. If you don't have heated racks, simply line dry towels near a heat source like a vent or fireplace. These are the best ways to dry towels after showering.
Fluff towels in the dryer for 5-10 minutes before creating heat and volume. Add a few drops of essential oils like lavender or eucalyptus to the dryer for a light scent. Removing stiff, scratchy towels from the equation is essential in creating a soothing, spa-like bathing experience.
Soothing Scents and Aromas
Fragrance plays an important role in hygiene. Take advantage of winter aromas to set a comforting mood. Simmer cinnamon sticks or cloves on the stove—brew aromatic teas like chamomile or earl grey. Set out baked goods like gingerbread men or snickerdoodle cookies to scent the air. Burn beeswax or soy candles in calming scents like lavender, eucalyptus, pine and birch.
Experiment with natural aroma diffusers to fill your home with subtle scents. Add a few drops of essential oils like pine, cedar, and fir needle to evoke the outdoors. Infuse dried fruits and herbs into simmering pots of water or warming oils for a gentle fragrance. Display bowls of potpourri, pomanders, and sachets made from cinnamon sticks, cloves, and orange peel. Freshen room scents with natural products like eucalyptus leaves, cedar blocks and dried lavender.
Warm Lighting
Bright, harsh lighting ruins a hygge haven. Swap out stark bulbs for softer glowing lamps, string lights, candles and a crackling fireplace. Use dimmers throughout your home to control lighting. Opt for table lamps over overhead fixtures. Position lamps low to emit a subtle glow. Light the fire early in the day to emanate warmth and ambiance. As evening falls, let candles and firelight illuminate your space.
Create pools of light throughout your home to delineate spaces and activities. Use directional lighting like sconces and track fixtures to highlight artwork and architectural details. Save bright task lighting for workstations so living areas maintain a relaxed vibe—link lights to smart controls and timers to automate ambiance. As natural light fades, gradually transition to lamplight and firelight. The ultimate hygge experience? Curling up with a book and beverage while snow gently falls outside. 
Cozy Nooks and Reading Corners
Few things say hygiene more than a comfy reading nook tucked away from the busyness of everyday life. Carve out small spaces for relaxing. Arrange an oversized armchair or loveseat by the fire or beside a window. Layer on warm throws and surround yourself with pillows. Add a footstool, ottoman or pouf to prop your feet up. A side table can hold tea, cookies or a stack of books. For a reading corner, install shelving, add a cozy chair and pile on the pillows.
Reading nooks beg you to curl up with a good book. Choose furniture scaled to your space – a tiny niche may call for a padded window bench or armless chair. Float furniture away from walls to delineate your particular spot. Add privacy and separation from nearby activity areas with a screen or drapes. Include lighting for nighttime reading. Top with a cuddly throw, sheepskin and baskets for storage. For a reading corner, angle a comfy seat near layered shelving. Add a floor lamp, rug and footstool—stock shelves with books, plants, and cozy accents.
Natural Materials and Textures
Rustic, natural materials emphasize the back-to-basic concept of hygiene. Incorporate wood, stone, greenery, wool and cotton into your decor. Use timber, brick or stone as key materials. Furnish with natural fibers like jute, linen and hemp. Add warmth with sheepskin and woven wool rugs. Bring life indoors with dried grasses, branches, cut flowers and potted plants. Simplicity and raw materials connect you to the beauty of nature.
Create a tactile experience with natural-edge wood furniture, handcrafted ceramics, and woven baskets. Use reclaimed wood to build shelving and accent walls. Seek out furnishings and decor in organic shapes and unfinished woods. Choose natural fiber rugs like wool, cotton, and sisal. Bring in living plants like succulents, herbs and flowering varieties: display collected stones, shells and pieces of wood. Rough-hewn, imperfect materials emphasize the cycle of nature.
Uncluttered Spaces
A calm, simplified environment allows you to unwind. Decluttering creates peaceful spaces that help you focus on togetherness. Remove excess furniture and decor. Organize and contain clutter in baskets, cabinets and drawers. Minimize visual noise and distractions. Spend time outdoors to gain perspective, then return indoors with fresh inspiration for editing your home. A tidy home frees your mind and allows pure enjoyment of your hygge haven.
Evaluate each area and ask if every item contributes to comfort and purpose. Remove unused and unloved objects that create disorder—designate spaces for necessary items like office supplies, toys and gear. Install shelving, hooks and bins to neatly stow items when not in use. Take a minimalist approach to surfaces and furnishings – overly ornate decor distracts from hygge. Follow restful practices like bed-making, tidying as you go and maintaining clean surfaces. An orderly environment brings calm and control.
Comfort Food and Drinks
Share comfort food, cozy drinks and sweet treats with loved ones. Savor stews, casseroles, soups, baked goods and porridges that warm from the inside out. Share pots of tea, hot chocolate, warm ciders and coffee specialties. Indulge your sweet tooth with seasonal desserts like apple pie, gingerbread, baked fruit crisps and spiced cookies. Prepare foods with warmth, simplicity and love to nourish your spirit.
Plan your menu around nostalgic flavors that provide a sense of childhood comfort. Bake ginger molasses cookies, sugar pie or bread pudding. Simmer soup stock with herbs and vegetables. Fill your home with the aroma of cinnamon rolls, banana bread or beef stew. Share mugs of steamy cocoa, spiced cider and warm toddies. Focus on old-fashioned flavors and family recipes that provide a delicious distraction from the world outside.
Togetherness and Quality Time
At its heart, hygiene is about spending meaningful time with loved ones. Leave screens and devices behind and enjoy each other's company. Share laughter, conversation, silence and affection. Play board games, assemble puzzles and make music. Read stories aloud. Embrace stillness and contemplation. Cherish the simplicity of being present together. Joy shared is joy doubled.
Carve out tech-free time each day and evening to disconnect from devices and focus on being together. Pop popcorn or nuts for snacking and gather around the fire for conversation. Pull out well-loved board games and create new traditions. Tell stories, reminisce about fond memories or discuss future dreams. Linger over meals cooked and enjoyed as a family. Hygge moments don't require elaborate planning – simply be fully present.
Cozy Attire
Dress in layers of warm, comfortable clothing. Envelop yourself in oversized sweaters, thick socks, and slippers. Change into soft pajamas and robes for lounging. Wrap up in a chunky knit cardigan or shawl. When you feel warm and supported, you're ready to unwind in your own little nest.
Trade stiff, restrictive garments for stretchy, soft fabrics that move with you. Look for natural fibers like wool, cashmere and alpaca that provide warmth without bulk—lounge in yoga pants, leggings and slipper socks. Try on oversized sweaters that surround you with warmth. Add a knit beanie and fingerless gloves to stay toasty indoors. Hygge fashion means dressing purely for comfort and coziness.
Conclusion
The winter season brings opportunities for stillness and reflection. By cultivating hygge in your home, you create a sanctuary from the cold weather and the hectic holiday season. Bundle up, slow down, and savor simple pleasures with loved ones in your cozy cocoon. Let these ten tips inspire you to embrace hygge and transform your home into a welcoming refuge, perfect for recharging your spirit this winter.