Roohome.com – Are you looking for an amazing inspiration to help you in designing your apartment? Well, these elegant apartment design ideas will inspire you a lot certainly. Do not you wish to have some elegant ideas and accents in your apartment? If so, this design is your answer. The designer creates an ordinary apartment becomes stunning and elegant all in one. Of course, a perfect arrangement also will be presented for you. Are you curious to see? Let's take a look below!
Elegant Apartment Design Ideas Beautifully Decorated With Contemporary Interior Features Designed by Yevhen Zahorodnii
Yevhen Zahorodnii proudly presents elegant apartment design ideas which decorated beautifully with contemporary interior features. The main idea of this apartment actually a contemporary elegant apartment. Its contemporary produced from interior features while its elegant from the furniture. The first impression when you enter this apartment, you will see a soft wooden texture covers a whole main room or living room. This is the best choice for you if you need a warm atmosphere along with contemporaneous appearance inside the apartment. Meanwhile, some parts of the wall are painted with gray tone color accents. Talking about accents, Yevhen Zahorodnii places minimalist furniture in order to beautify the living room. Two rounded green coffee table as the set of the couch. One thing that you must know, the designer creates a multifunctional board which can be used as a display storage or something else.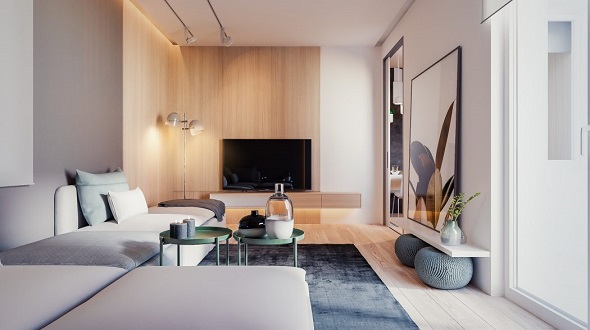 A soft wooden texture still can be felt in the kitchen. If you have a modest kitchen in your apartment, you must be smart in using a modern interior apartment design. This kitchen is decorated with modern interior accents in it. You can spot it from the white kitchen cabinet which designed modernly. This kitchen has an L-space shaped, which means you can place a dining table near the kitchen. Brilliantly, the designer does not use a big dining table but Yevhen Zahorodnii uses a minimalist dining table along with dining chairs. Have you seen some elegant apartment design ideas and tips above?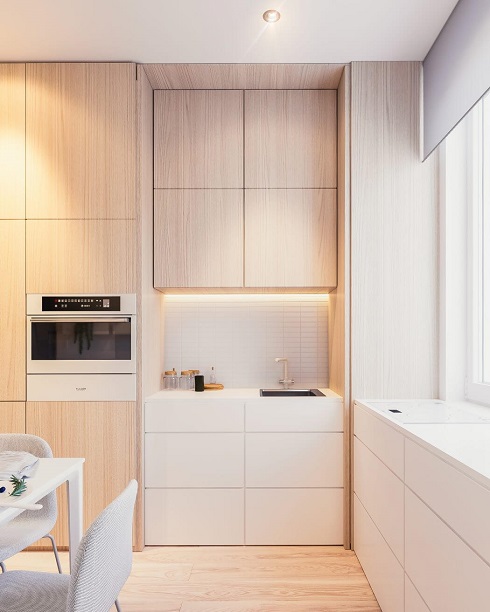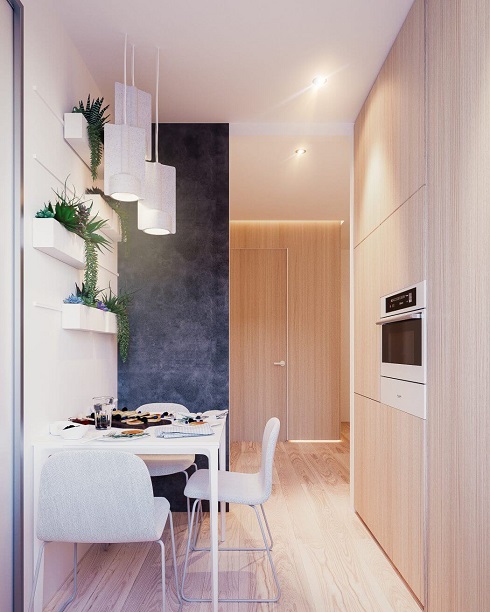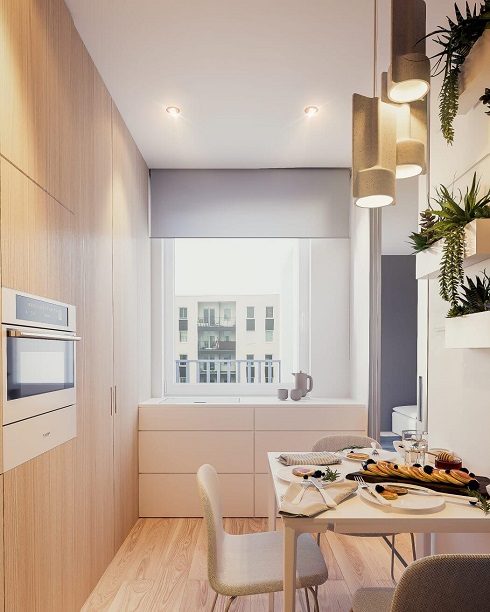 Combining Dark Accents And Contemporary Interior Accents Inside An Elegant Apartment Design
Another space is decorated with a shade of dark accents. The designer combines it with contemporary interior apartment design accents perfectly. Yevhen Zahorodnii applies it into bedroom and bathroom. In this bedroom, the designer clearly combines dark tone color accents with a soft wooden texture. This combination perfectly produces an elegant look inside the bedroom. Meanwhile, the interior has contemporary values such as three rounded chandeliers, a simple white work desk, and a contemporary wooden wardrobe. Move to the bathroom, you will see contemporary hexagonal wall textures a whole the room. The hexagonal wall texture is combined with dark stone wall textures as well. It will be better if you place some contemporary bathroom furniture inside of it. What do you think?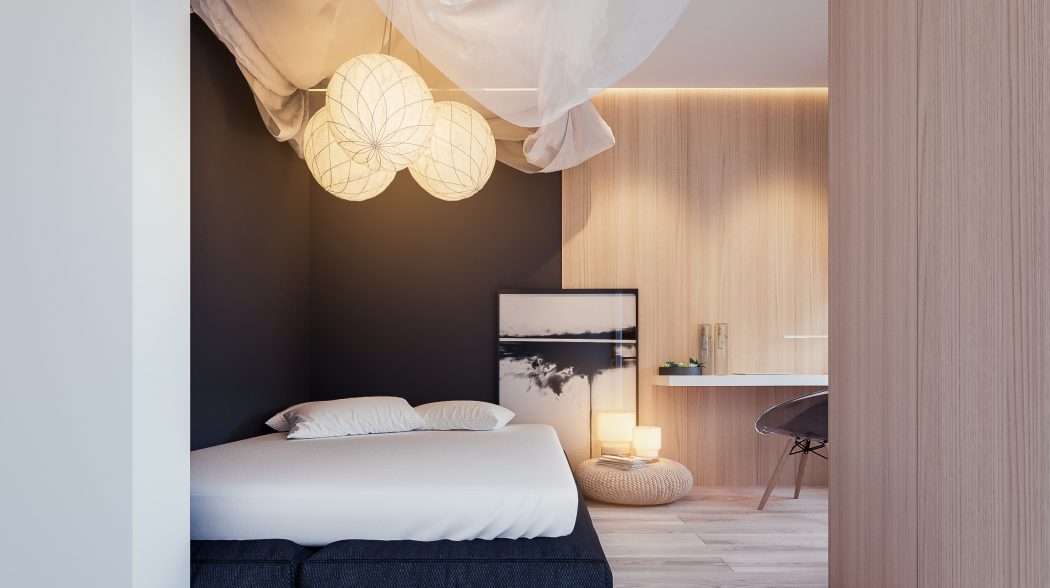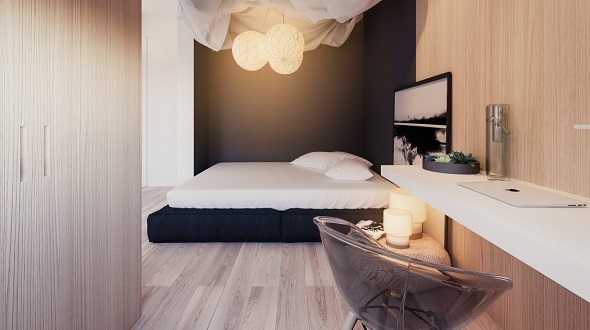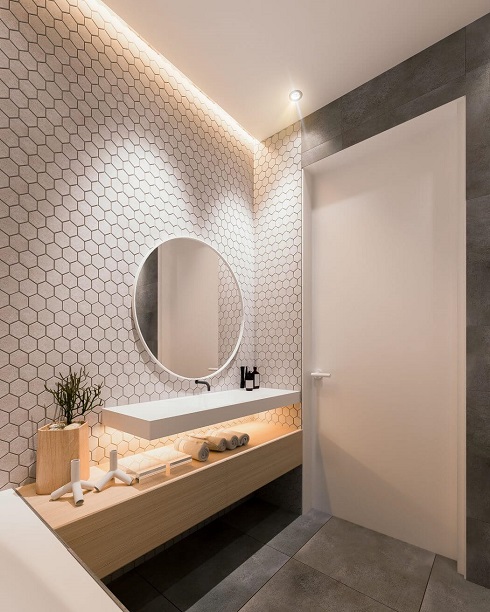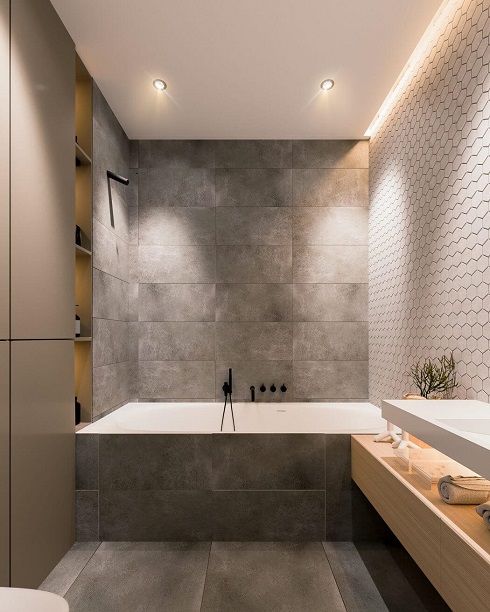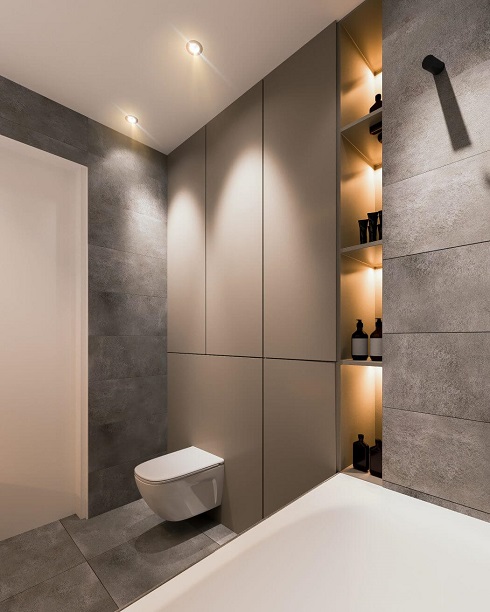 Do you get this amazing inspiration of elegant apartment design ideas above? Do not waste your time to re-decorate your own apartment. If you want to see other apartment design ideas and tips, just visit and check here. Have a nice day!