Roohome.com – Do you have a small apartment but you want to make it looks unique and charming? Calm down, we have the best idea of unique apartment design which arranges that show a perfectness into this room. There is the best designer who has a great and creative idea to renovate apartment into a simple and modern design but it looks charming. He created something unique and outstanding layout to this apartment. By applying a light mint color scheme that paints in this room, it will make it looks gorgeous. Not only that, to make this unique studio apartment decor perfect, he adjusts with trendy and fashionable features around it. For more details, better you check and see below!
Small Unique Living Room Design With a Light Mint Color Concept
To make this apartment looks outstanding, for the first you should think a perfect decor in it. Therefore, they offer you a chic and charming decor for this unique studio apartment decor, especially for the living room. Even your guest room having a limited space, but you can still make it looks awful by applying a light mint color scheme in it. The designer suggests you follow the small unique living room design here for your guest room. With this design, your room will show a charming impression. Then, to make it perfect, he uses a wooden plank material for the floor, it is suitable to cover your floor. By using this one, your apartment, especially for the living room, it will show a modern layout inside.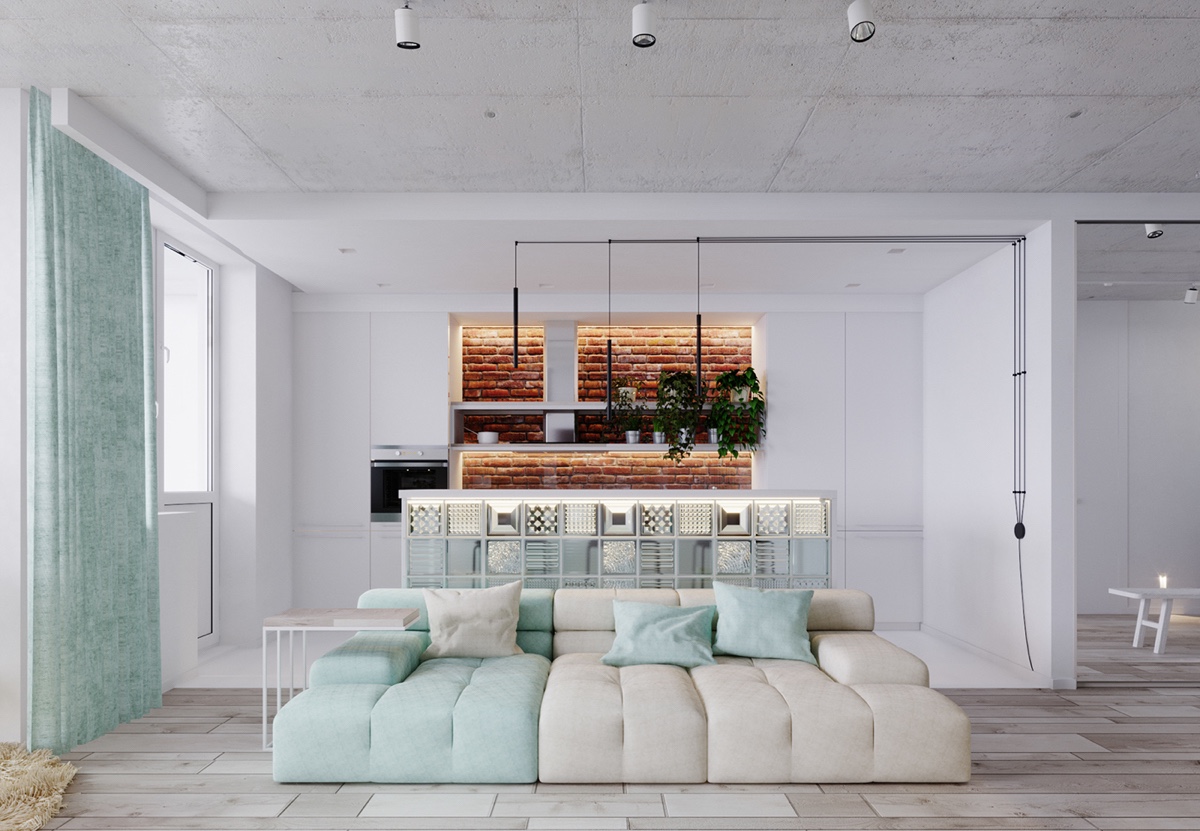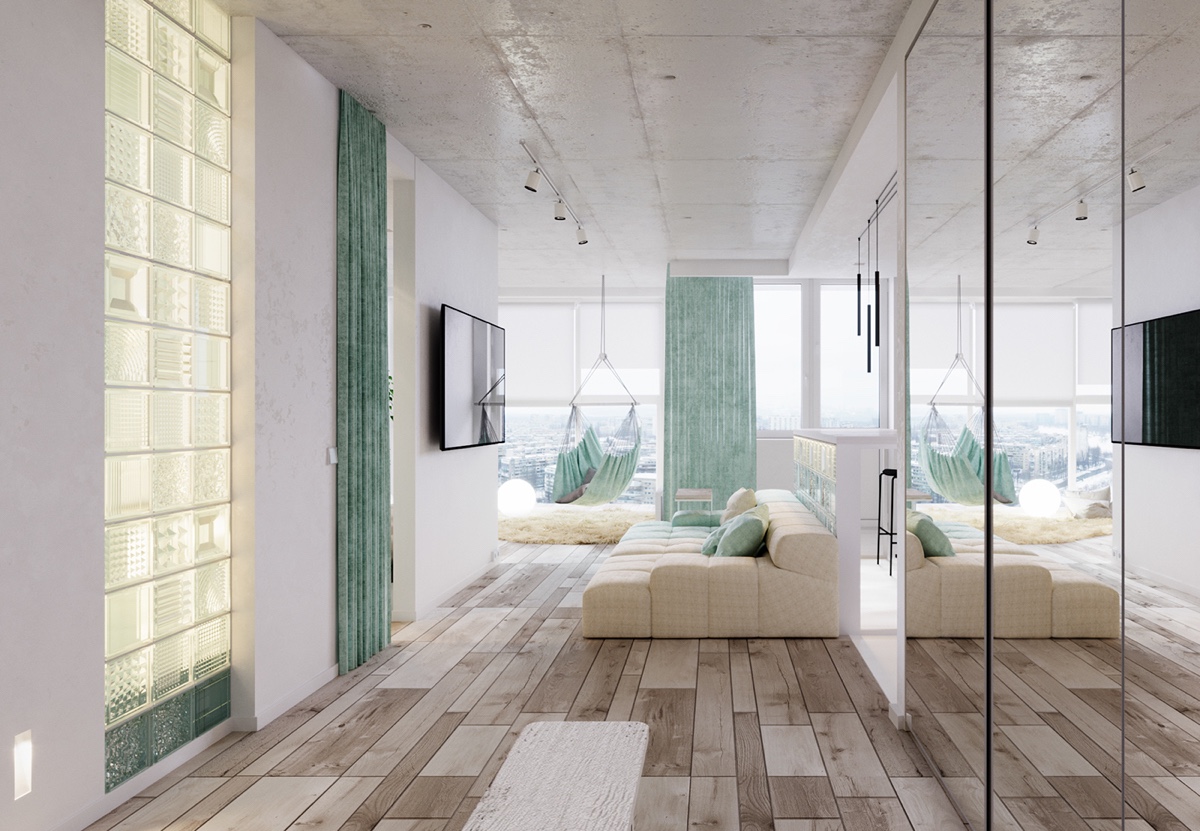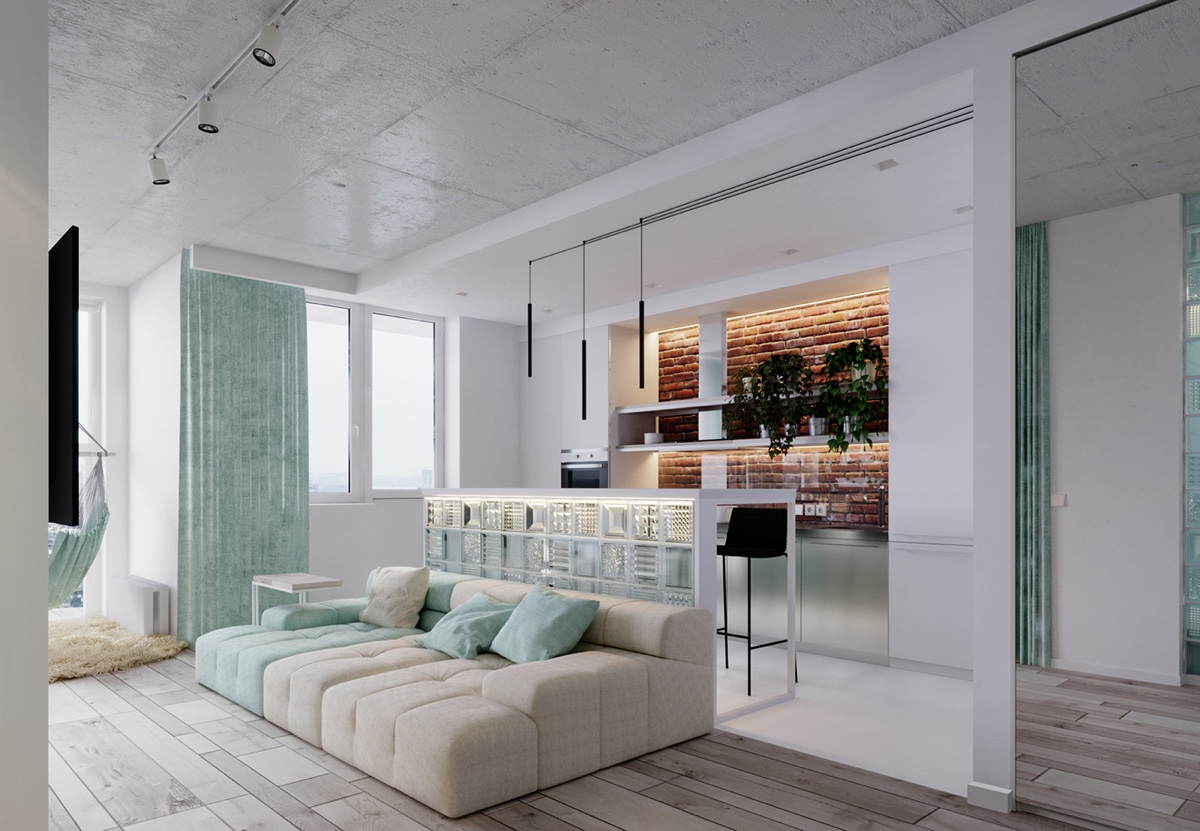 Simple Chic Kitchen Design With Charming Decor Ideas
Move to the other parts of the unique apartment design here, you must make your kitchen set design looks different than usual design. For that, they suggest you the best design for the kitchen which applies with charming decor ideas inside to make it looks attractive. The simple chic kitchen design here is suitable for you to completing your apartment design. It is possible to use a brick material for the wall accent design. Then, for the table, it looks unique by using a glass block as the main design on it. To make it modern, you may apply a modern and chic feature decor around this room.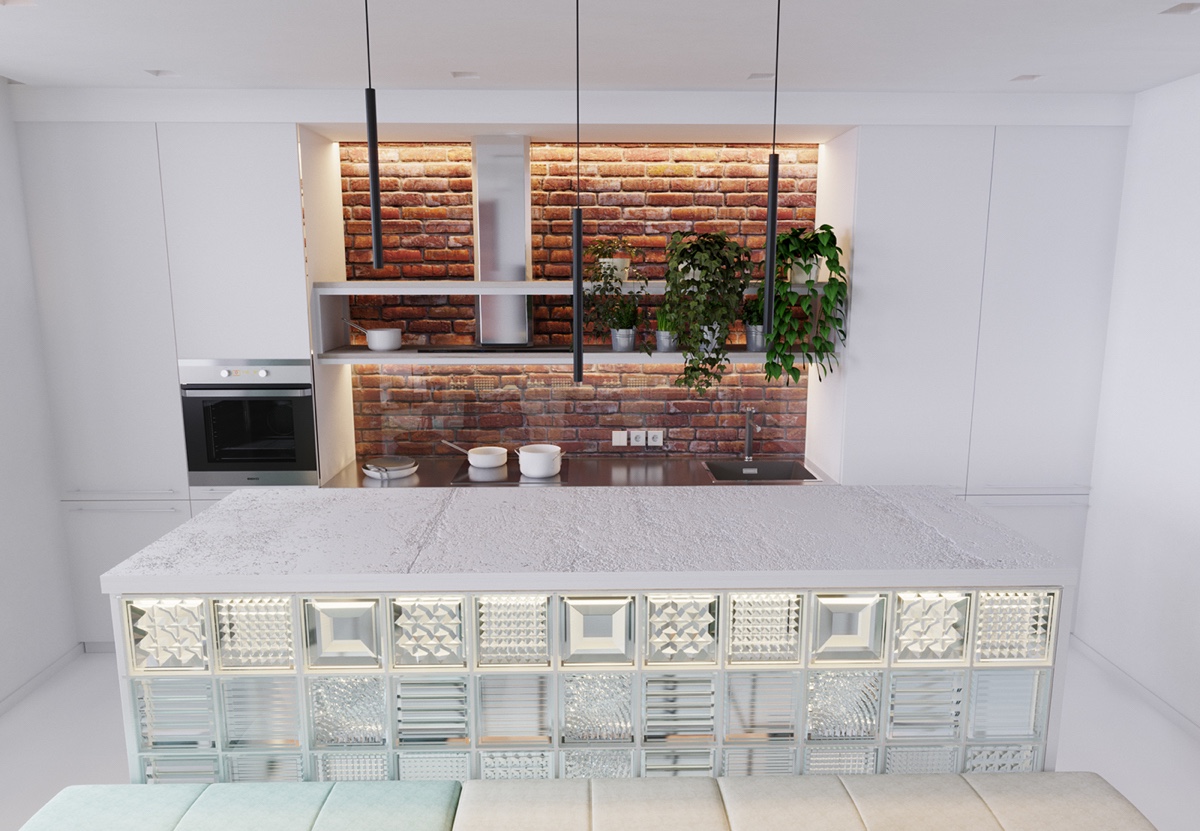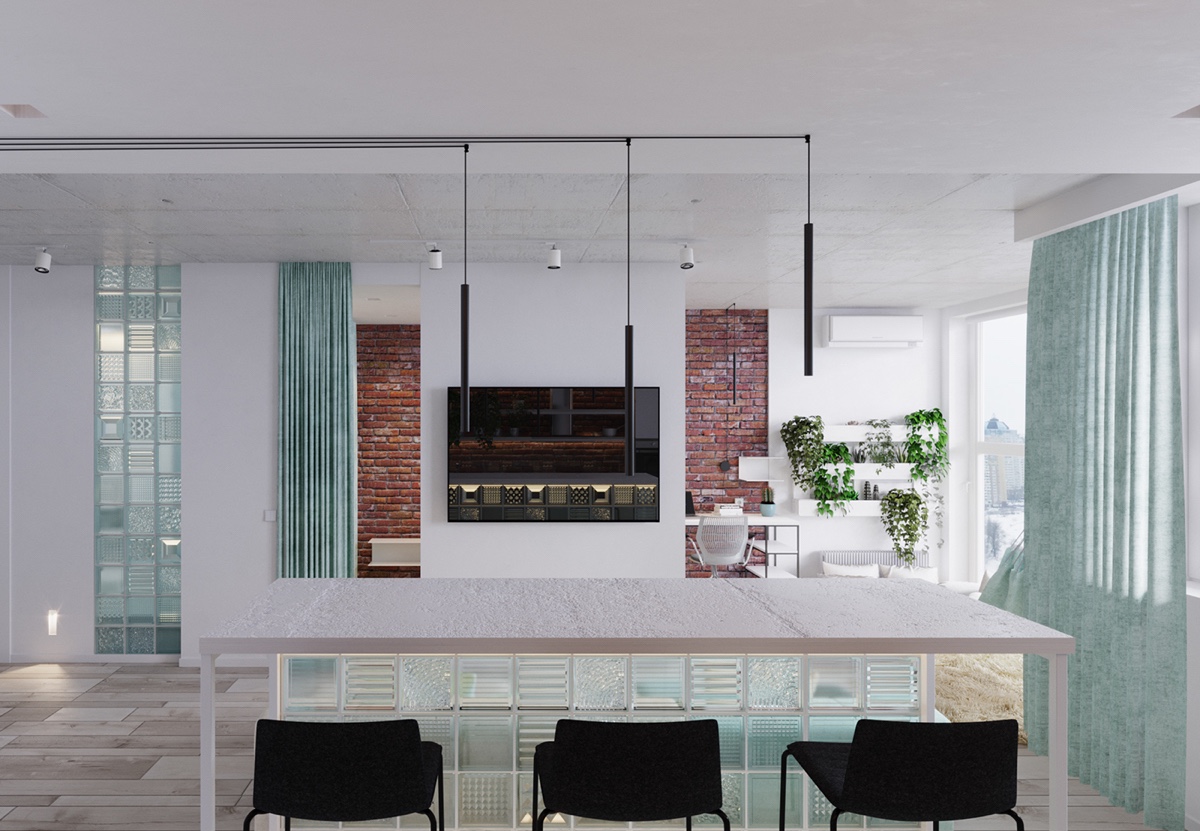 Unique Bedroom Design With Perfect and Charming Decor
Then for the bedroom, it still applying with a light mint color scheme to bring out a chic impression around this room. The designer creates a unique and unusual design, to separate this bedroom, they build one small room which arranges with a brick wall accent decor in it. Then, next to this bed, they create a simple workspace that looks more comfort with a chic design. Even it too simple, but you can enjoy a relax scenery around this room. To make it looks charming, a light mint color here may you apply for the curtain and another feature around it. Put a decorative plant to bring out a natural impression and show a fresh impression. This unique bedroom design is appropriate to follow for your unique studio apartment decor.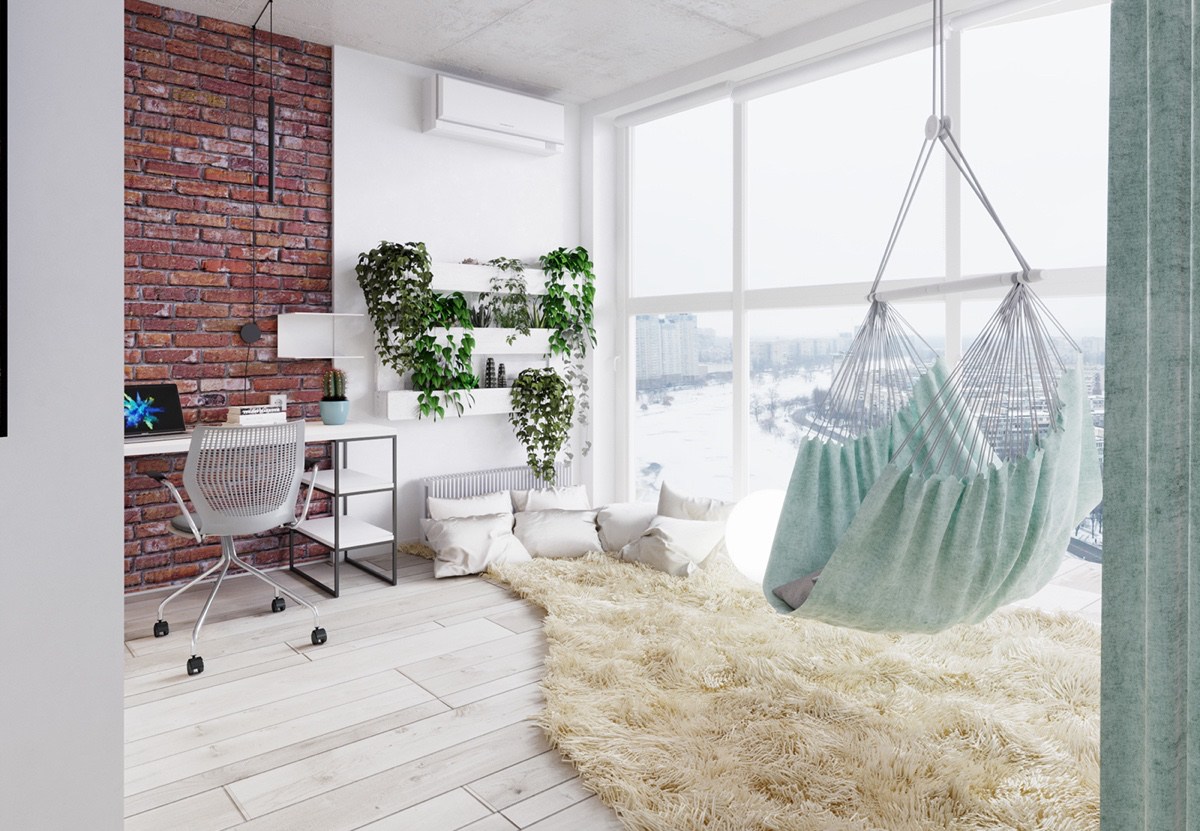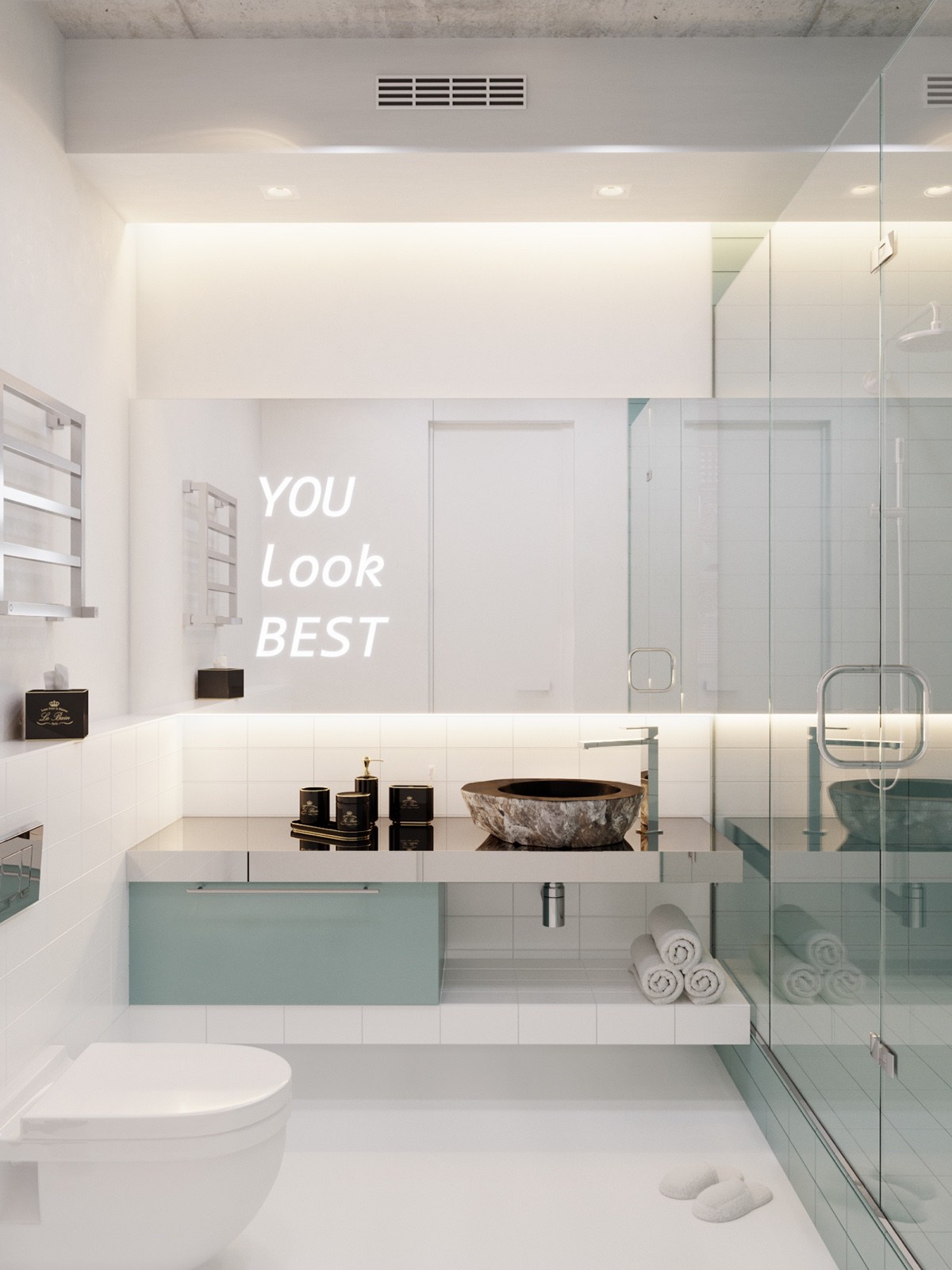 If you want to make your flat looks charming and show its own uniqueness, it is better and great to follow this unique apartment design. Change your old design into a new and charming design like the following picture above. It is a must to follow and apply it! Good luck 🙂