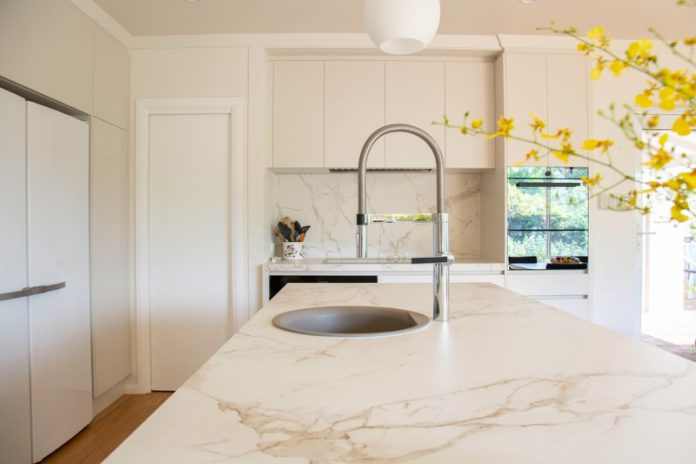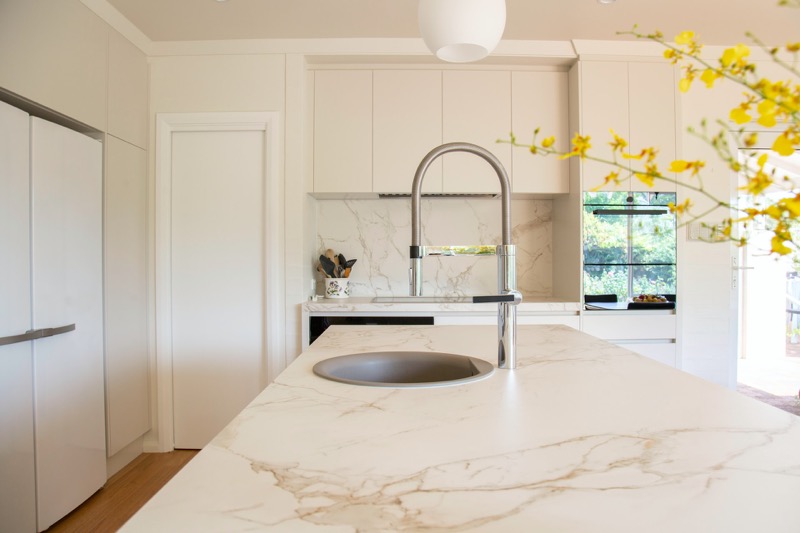 Countertops are a very significant part of your overall kitchen design. There are numerous types of materials that you can use, but they also vary in price. Finding a high-quality material that will suit your style should not be that difficult if you do proper research.
Marble countertops became quite popular due to their luxurious look and the richness that they bring to your home. However, they are somewhat pricey, and not everyone can purchase a natural marble countertop. There is a perfect imitation of marble, and that is quartz. We are bringing you some ideas to style your kitchen with quartz countertops that resemble marble!
If you would like to read more on quartz countertops, you should click here!
Why Choose Quartz?
First off, quartz is a crystalline mineral that is hard and composed of one part silicon and two parts oxygen. This mineral is the most abundant and the most used mineral on Earth!
Pure quartz is transparent, glass-like crystal. However, it comes in many varieties, and some types of quartz are the following:
amethyst,
citrine,
smoky quartz,
rose quartz.
Quartz is commonly used in different forms of therapy as it is believed to be an energy amplifier. However, it is also used to make oscillators for watches, clocks, radios, etc., as well as kitchen countertops, which we are primarily interested in.
Quartz is an excellent substitute for marble due to numerous reasons. The first reason is the price difference. The average price of marble countertops is $40 to $100 per square foot, whereas the price of quartz countertops is $50 to $65 per square foot.
Another advantage of quartz is that it is easier to install than marble. It is also more durable in everyday use, as marble is porous and soft. Quartz does not need as much sealing and resealing.
Quartz Countertops Design and Ideas
Now that we have established why using quartz countertops is a great option, we should also cover some ideas on how to style them. Here are some things to consider:
Pairing Quartz With Other Elements
When buying a new kitchen countertop, you should also consider the style and colors of other elements in your kitchen. If you decide to go for quartz, you should bear in mind that it does not come in many colors. The primary colors you can get it in are the following:
If the rest of your kitchen is completely white or mainly white, you should go for darker colors to break the monotony. On the other hand, if there are darker elements, go for white or cream.
The great thing about these colors is that you can easily blend them with bright and dark shades. They are very flexible, and you can incorporate some lively colors in your kitchen as well!
Choosing The Right Pattern
Quartz has veins and different pattern movements, which make it even more attractive. This design can truly make your kitchen come together. You simply have to style it properly.
For example, if your kitchen is monotonous, you should choose thicker veins in the design. On the other hand, if a lot is going on with designs and patterns in the kitchen, you should choose more subtle veining and thick lines.
Of course, this also depends on your personal preferences. We advise you to look at the entire space before choosing your pattern. You do not want to go too over the top with a bold pattern.
Choose The Proper Finish
When it comes to the finish on quartz, two main options are:
Honed quartz;
Polished quartz.
Polished quartz is glossy and has a specific shine to it. It is very reflective and adds extra appeal, especially to darker countertops. A polished quartz countertop will surely make your home seem a lot more elegant.
On the other hand, honed quartz provides a raw appearance and is popular because it imparts a modern look to your home. You should consider using honed quartz in the areas of your house where you do not spend too much time.
Either way, it all depends on your personal preferences and how you take care of your space.
Pair The Countertop With A Backsplash
The backsplash is pretty much the material that is used to cover the area between the sink and kitchen cabinets. For example, ceramic tiles are commonly used for this purpose.
Now, when choosing a quartz countertop, its color and pattern, you want to make sure it does not stray too far away from the backsplash. You want it to be noticeable enough without overshadowing the rest of the space.
Let's say the backsplash is one-colored tiles with no particular shape. You want to pair this with a countertop that offers a bit more vibrancy to the place. Maybe choose a different color, or try to match the veins with the color of the backsplash.
You can also combine materials, such as a quartz countertop and some glass, wherever you find it fitting.
Another thing you can do is choose a matte countertop and pair it with a matte backsplash to make that part of the kitchen truly stand out. You can do so many things with quartz if you start thinking creatively.
Waterfall Countertop
Waterfall countertops are basically regular countertops except that it does not finish at the edges, but it goes down to the floor, covering the entire space. This is especially popular with islands, and it gives an exquisite and luxurious look to your kitchen.
The only issue is that this requires more material, which means it will cost more. However, it will make your kitchen look incredible, so it might be worth it!
Endnote
Overall, quartz is an excellent material for countertops. It is perfect if you do not want to spend too much money on marble but want to find something that resembles it. Quartz is both beautiful and durable, and you should consider getting it.
Also, reach out for professional help before deciding on your purchase. Look for the best quality material within your decided budget and make sure you get your money's worth.