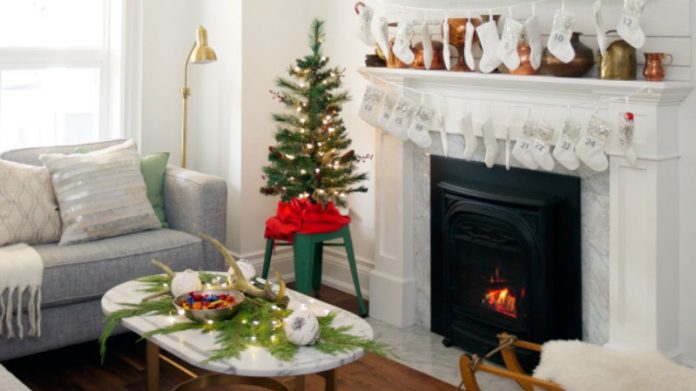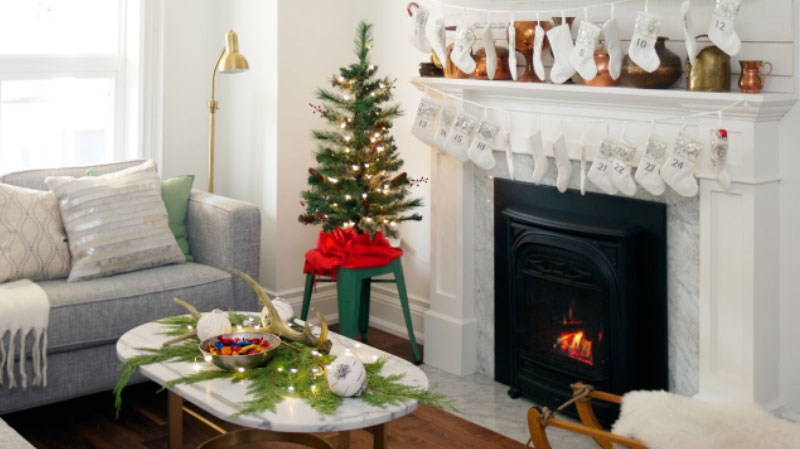 roohome.com – It does not feel that Christmas will arrive soon. Christmas is one of the big days that people waiting for. Almost every people are excited about welcoming this day. Usually, they will decorate their houses or apartments as attractive as possible.
There are so many beautiful items that you find in the days before Christmas. So many stores sell them. So, you can find them easily.
In decorating your apartment, it would be easy if you have a big apartment. But, for those of you who have a small apartment, you just have to explore your creativity to make it look more attractive. And here, we have provided the Tips Applying Christmas Decoration to Your Small Apartment. So, let's check it out!
Christmas Tree Wall
Christmas tree is the main item that you have to have on Christmas day. But, how if there is no space to put the Christmas tree? Do not worry. You could make the Christmas tree on the wall like the picture above. You could add the string light there to make it look more attractive.
Flower Wreath
The other item that you should have is flower wreath. You can hang this item on the entrance door. It would make your door apartment look beautiful. So, when there are the guests who come to your apartment, they will look at it and will get the Christmas vibe directly.
This item, will not take up space in your apartment. So, this is the right item that you can choose for your small apartment.
Beautiful Candles
The other Tips Applying Christmas Decoration to Your Small Apartment is utilizing the candles to make the apartment look attractive. You can place the candles on the beautiful vase-glass.
To have a beautiful vase-glass, you can make it by yourself. You just need the vase-glass, rope, and small leaf. Decorate is like the picture above. After that put the candles in.
You can place this item on the table, or on the firebox. Usually, Christmas will be followed by winter, so your firebox will be used. And decorate the firebox with this item is the right idea. It would make the firebox look more attractive. In addition, the light produced by candles will make your small apartment feel warm and comfortable.
Beautify The Apartment with Christmas Balls
If you no have much space in your apartment and you want to decorate your apartment with Christmas balls, you can follow this tip. You can hang the Christmas balls on the window.
You should tie the Christmas balls with the ropes and then hang them on the windows. Try to use the Christmas balls in different colors. It would make your small apartment look more attractive.
By using the Christmas balls for the window, it does not take up space in your apartment. So, you can beautify the apartment with the other items.