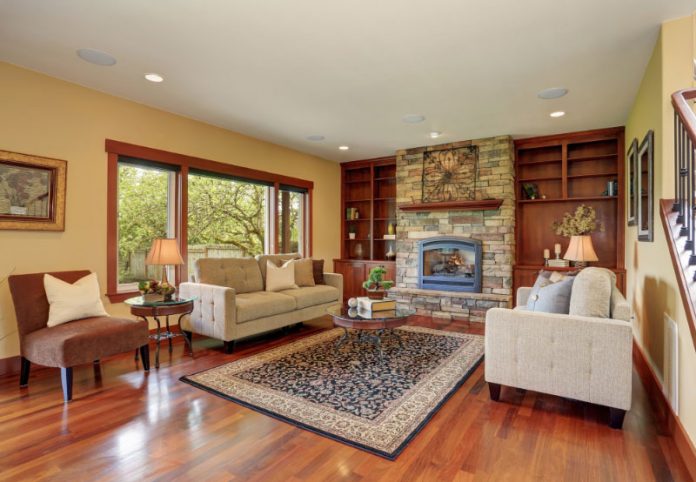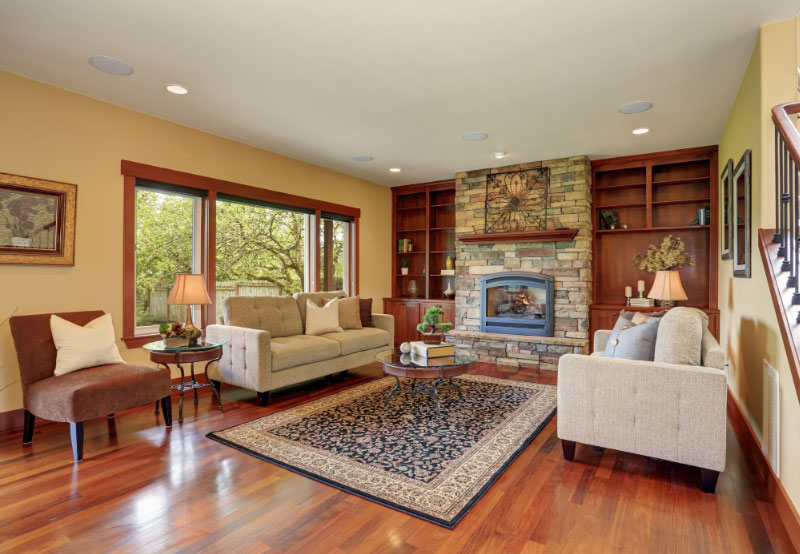 Old flooring system may show some signs of wear and tear as years pass by. The floor, damages can be caused by different factors including, high foot traffic, weather changes, and chemical exposure. A worn-out flooring lessens the overall appearance of your home or business properties, one of the most effective ways to restore the aesthetic appearance of your old concrete slab is through floor refinishing Chicago.
Chicagoconcreteresurfacing.com offers different floor refinishing options that will surely suit the overall aesthetics of your residential and commercial properties. Floor refinishing is a cost-effective solution that offers modern finishing that is based on your specifications and requirements.
Listed below are the different floors refinishing options you can choose from in restoring the beauty of your existing concrete flooring.
1. Concrete Stamp or Overlays 
Stamped concrete is a process on which a preferred design pattern is stamped on the freshly installed slab, while the overlay also requires stamping but over a newly overlayed concrete on the old slab. The most cost-effective is the overlay since there's no need to rip off the old slab for a new one. These two-floor refinishing options are recommended for a widely damaged home or commercial space such as patios, driveways, or pool decks. Concrete stamp or overlays are popular options due to the following reasons:
Offers a wide variety of patterns
Works for both residential and commercial properties
The material can be colored or stained
This concrete refinishing option is more economical
Can be used in both outdoor and indoor spaces
The material is easy to clean
Professionally installed concrete stamp or overlays last for many years
The most popular concrete stamp overlays patterns are the following options which you can choose from:
Flagstone
Fractured Slate
Wood
Ashlar
Brick
European Fan
Basket weave
Cobblestone
Herringbone
Fractured Earth
There are more pattern options available for concrete overlays, however, choosing the right pattern and design needs to be planned carefully for great results. If you need assistance, talk to your contractor to discuss your desired floor refinishing design.
2. Concrete Staining 
Concrete staining is widely known for its versatility and unique luxurious outcome. This type of material can be used for both outdoor and indoor spaces with added enhancements. The two types of stains include:
This type of stain is a reactive type that creates unique effects when the metallic salt component is mixed with a natural lime component of the concrete. Most acid stained concrete provides a unique flooring design. The material does not quickly fade, flake off, or peel because the stain deeply penetrates into the concrete.
A water-based stain is non-reactive which means that property owners can choose a uniform design and color for their concrete slab.
Concrete staining does not only provide a unique flooring system, but it also provides other notable features including:
Offers a wide range of colors to choose from
Resistant to heat
Can be used for both interior or exterior flooring
Economical solution for old slabs
3. Epoxy Coating
Epoxy coating is a material that offers durability to home or business concrete floorings. Since the material is a combination of a resin and a hardener, it is highly recommended for garage and basement floors where the surface is exposed to high foot traffic and heavy vehicles. This type of coating also comes in a wide range of color and design options that would surely complement the overall aesthetics of your home or business. Although the material is durable, it is not resistant to UV that's why it is often used for interior concrete flooring. The advantages of choosing an epoxy coating for your concrete flooring are the following:
Installation only takes 2 to 3 days
Lasts for many years
Resistant to any type of damage
Provides an appealing finish
Offers slip-resistance feature
Budget-friendly
Easy to maintain
Environment-friendly
Epoxy flooring projects cost between $13 to $12 per square foot. Some of the factors that need to be considered during the epoxy flooring installation include:
The quantity of the epoxy coating required to cover the entire concrete surface
The measurement of the entire area
Any kind of repairs needed for the installation
Customization request
4. Polyurea Polyaspartic Coating
Polyurea polyaspartic is a durable coating used for spaces such as basements, garage floors, and commercial floors. This type of coating is applied over old existing concrete to restore and extend the lifespan of the slab. Though the material is quite expensive compared to epoxy flooring it provides impressive features, and that includes the following:
The installation process only takes a day to complete
Resistant to almost any type of damage
Offers a quick fix that is long-lasting
Works well for industrial and commercial spaces such as factories, stores, and factories
Handles heavy impact and weight
Easy to clean and maintain
The material is non-porous
Offers a wide range of colors and design
100% UV resistant
Provides glossy finish
Heat resistant
No VOCs
Provides a strong bond into the slab
Before deciding to install this type of material on areas of your home or business, it is essential to evaluate the current condition of your concrete flooring. Some concrete cures do not go well with polyurea polyaspartic coating. To make sure if this material is suitable for your concrete slab, it is advisable to seek help from a professional contractor.
5. Acrylic Cement Coating
Acrylic cement coating or also known as spray knockdown texture finish is a technique used to add texture on the concrete surface using a trowel. This type of material is best for outdoor spaces such as patios, walkways, pool decks, and driveways; it also comes with several perks:
Provides a non-skid concrete finish
Provides a textured surface but comfortable to walk on barefoot
Provides a cooler surface
An affordable and highly efficient option
Comes in a wide variety of color and decorative options
Concrete finishes are customizable
Low maintenance
Spray knockdown texture finish is considered to be one of the most economical solutions for outdoor spaces. However, there are some factors that affect the overall installation cost, such as:
The measurement of the area
Customization request and options
Preferred stains or colors