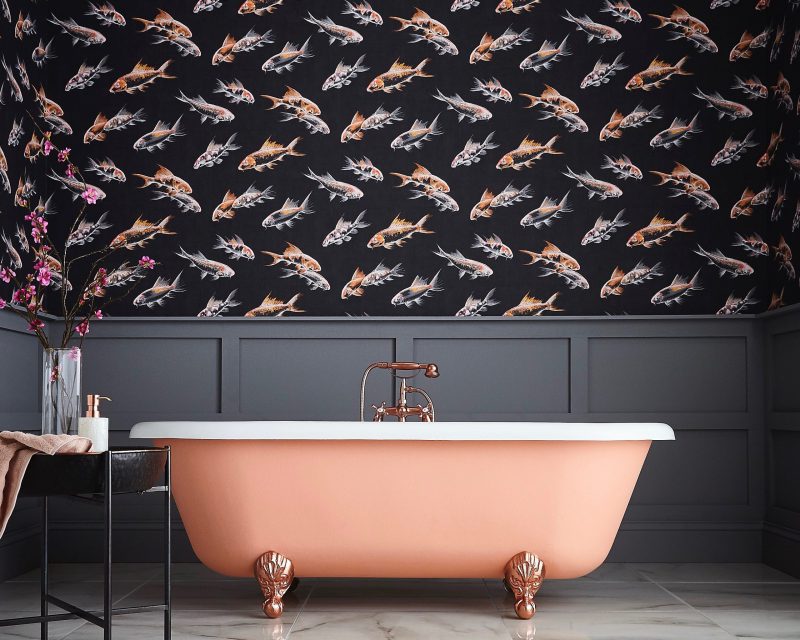 Are you thinking about transforming your bathroom? There is nothing better than wallpaper for doing this! Many A-List interior designers have confirmed that wallpapers can easily modify a space, especially a bath! From ditsy florals, latest botanical-inspired prints to unique mermaid designs, there are many options available in wallpapers for the bathroom.
Are you wondering if you can really use wallpaper in a bathroom? And what type of wallpaper should you go for?
The answer is yes; you can actually use wallpaper in your bath space if your bathroom is ventilated. If there is a window or an extractor fan, then it is also great to accommodate wallpapers. But still, you have to be careful and keep it away from direct contact with water. So, what kind of wallpaper is best for bath areas?
You can go for "vinyl-coated wallpapers" or "washable" ones. These 'Scrubbable' wallpapers are made from heavyweight vinyl and are 'highly wash-resistant.' All of them come with written instructions, so it's better to look before buying.
Today to help you decorate your bathroom, we've come up with cool wallpaper ideas from Wallpaperfromthe70s. All of them are specifically designed for wet rooms. They have not only a protective vinyl coating and are washable, but also they have low flammability and are strippable. So, are you ready to experiment with these stylish wallpaper in your own space?
5 Stylish Wallpapers For The Bathroom!
Wallpapers are a quick and easy way to bring designer style into any bathroom. Below is the list of five latest 'paste the wall' and 'peelable' wallpapers that are easy to switch when you're ready for a change. So, let's add instant color and impact in your wet rooms:
1. Magical Mermaid Wallpaper
Mermaid in the bathroom: Sounds magical, right? you can live your fantasy by installing this enchanting wallpaper. It is non-woven wallpaper, which has low flammability, and you can easily install and remove them. The combination of a dark blue base with fishes, mermaids, and shell patterns in cream color will look really pretty with a white standing bathtub.
2. A Tiled Look
This vinyl wallpaper has Delicate patterns in various shades, including violet, pink, and reddish-brown, that add a graphic touch to space. It is almost like a woven fabric, which is by the way really good for bathrooms. Apart from this, it is also scrubbable and strippable.
3. Add a Floral Touch
Do you love floral prints? If yes, don't keep them limited to your living rooms or bedrooms; they'll also look gorgeous in bathrooms. It has a pastel green color as a base with flowers, butterflies, and birds designed in multiple hues such as blue, green, white, light yellow, rose, and red. Don't worry about its maintenance as it is made of vinyl with a tactile, fabric-like structure, which is safe and perfectly suitable for damp rooms.
4. Bold Botanical Print
Add pops of color and vibrant hues with this bold statement botanical wallpaper. With the wood paneling painted in forest green color, this combo takes the ambiance of this bath to another level. Apart from its looks, this wallpaper is strippable and washable, which means you can install it in your bathrooms without getting worried.
5. Flying Butterflies
Can you see the beautifully drawn butterflies on the wallpaper? This modern abstract pattern in black and white will be perfect for wet rooms. This creates a balance and a calm atmosphere and will take the bathroom to a whole new magnificent level. Super easy to clean, it is also strippable and has low flammability.
It's Wallpaper Time!
When you have thousands of options for selecting the best wallpapers for the bathroom, you might get confused. Whenever you feel like that, take a look at these images. All the above wallpapers have a protective vinyl coating and can be cleaned with a damp cloth or sponge. So splash some fun and color in your bathrooms with these creative wallpapers.
I hope this blog helped you in finding the suitable designer wallpaper for your wet rooms. So, browse many other stylish and cool wallpapers on Wallpaperfromthe70s and order your favorite one.