When cleaning your house or business, you might have heard the terms "power washing" and "pressure washing" and have used them interchangeably. And that isn't entirely wrong: they are very similar in what they do and how they do it.
So for the sake of argument, let's refer to the term as "pressure washing", and dive into what it is, what it can clean, and why you should hire a pro to do it.
Your Guide To Pressure Washing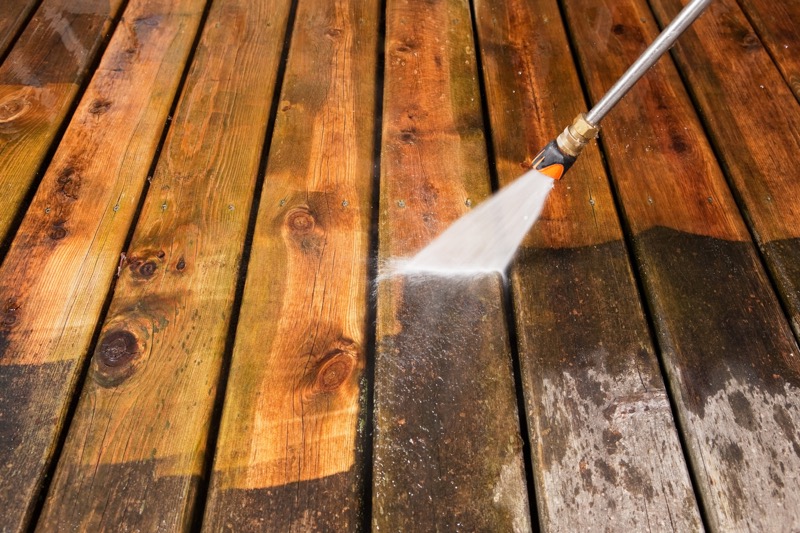 What is Pressure Washing?
In basic terms, pressure washing does what it pretty much says it does: pressure washes away any dirt on your home.
It's a high-pressure water jet blast that strips off dirt, grime, grease, mould and moss off surfaces. It's designed very much like a hose, except that the pressure is much more intense and likely to cause injury if exposed to the skin. Depending on what you need it for, the water can be hot or cold water to remove the tough substances on your surfaces.
There is another level of pressure washing, which is referred to as "hydro-jet" cleaning. It's a more powerful form but is mainly used for removing buildup in tanks and sewer lines. You probably don't need this level of strength for your property.
What can it Clean?
Pressure washing can be used on multiple surfaces around any property:
Driveways and Sidewalks
Roofs and Gutters
Patios and Decks
Cladding
Parking Lots
There are many advantages to using this cleaning method, including:
Great for various surfaces, such as masonry, brick, and concrete
It's time-saving, as the power behind the washing removes dirt easily
Removes tough stains and filth that regular washing can't. There are also multiple nozzles that can clean hard-to-reach areas
Cost-effective option for many homeowners and businesses. You can find many home or window washers that use it and offer solid deals
Improves the curb appeal and visibility of your home or business (which can help with improving its property value if you ever sell it)
Keeps your property safe for family and friends, as the blasts these potentially harmful substances away and strips off slippery substances can falls
It can be environmentally friendly if you choose the right professionals for the job
As you see above, there are many advantages to getting pressure washing for your home or business. Significantly, if you have areas on the house or property where there is a grim or dirt that is stuck, and regular washing won't remove it, this option provides fast and effective solutions.
Why Should I Hire a Professional?
Although there are many options for you to buy your pressure washing system, you have to be careful when using it, particularly if it is your first time.
The intensity of the system can damage your property and hurt individuals if exposed. Likewise, if you don't know how it works or which areas on your property it works best, you might be spending hours working on it. You might also risk hurting yourself in the process.
That's why it's recommended that you hire a professional pressure washer to do the job for you. They can execute a perfect cleaning job for you, ensuring that your property is clean and safe during the process.
If you find that you only need to pressure clean your property once in a while, then it's more cost-effective to bring on a professional than buying a unit.
When the moment calls for it, and you realize that regular cleaning won't do it, then take the time to get pressure washing – it will make the difference for your home or business!