There is a lot of misinformation surrounding what a home theatre system needs to be. Some people think that the screen size or room dimensions are a barrier to entry, but that is simply elitism in its most basic form. The reality is that home theatre systems of all sizes are worthwhile if they bring joy and happiness to those who get to use them.
Therefore, this will not be an article about the screen dimensions, speaker capabilities or technological additions that you must have to enjoy your home theatre. Rather, this will be a look at what the basic elements of a home theatre system are, and how you can select products that best meet your needs. With the help of smartspacehomeautomation.ca let's get started.
Speakers
Speakers are probably the biggest defining difference between a home theatre system and just a single television. An additional speaker set can help you get more immersed in your entertainment and is the easiest way to give luxury and depth to your experience. The simplest systems add two speakers and a subwoofer for deeper sounds, but they can go up to 16 or more additional speakers.
When selecting speakers for your theatre system, you should consider the length of the cords, or even wireless options. Wireless options can have the downside of lagging sound quality, whereas short cords on speakers can limit the "surround" of your sound.
Television
The marketing folks at any television manufacturer will tell you that bigger means better, but that just isn't true. A 60" television is already beyond excessive for most homes, as being far enough away from it to actually view the whole image can be difficult without an open-concept area. Instead, it is better to select televisions for the quality and fidelity of their picture, as this will produce a more enjoyable experience with a noticeable difference between available options.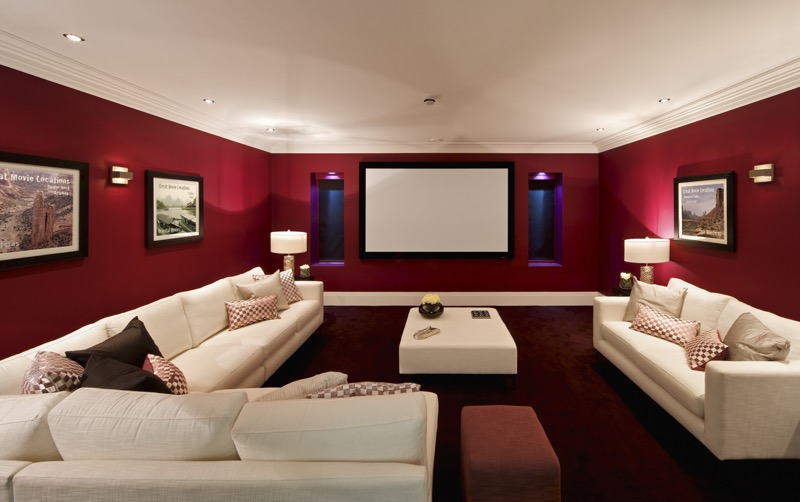 Media Player
No home theatre system is complete without the media player that broadcasts the entertainment. In the case of cable television, this is a box supplied by your provider, along with a plan for your viewing channels. You may also choose more modern options, like a Google Chromecast, Amazon Firestick or other media streaming device. You may also consider using video streaming applications on your gaming console, which are usually more than sufficient.
Occasionally, home theatre systems will require hub devices to marry all the many technologies in play, like the speakers and television. These can be helpful for complex systems and convenience, but carefully consider your needs before investing in them, as they are not essential by any means.
Viewing Area
The viewing area you choose for your home theatre system can also make a big difference in the quality of your viewing experience. You should choose comfy furniture that isn't likely to degrade too quickly. You should also try and position yourself far enough away from the television to be able to view the entire screen at once without having to strain your eyes or move your head.