It's prevalent for most Australian homeowners to continuously improve their living rooms and bedrooms to ensure they're visually appealing and enjoyable.
For instance, some would incorporate online or traditional games in the living space or attach an indoor swing for the family to enjoy anytime. But have you ever thought of upgrading your backyard to make it more usable and enjoyable for the family?
Aside from your living room, another space which you and your family can gather around and bond is your backyard. There are plenty of reasons why spending more time in your backyard is beneficial and sometimes more enjoyable. One, you get to enjoy the warm and fine weather outside, and two, backyards are often more spacious compared to most living rooms.
Worried about your backyard being bland? Don't worry, as here are seven backyard additions your family will enjoy and surely encourage them to step out and kill more time outdoors.
1. Invest In A Swim Spa
Perhaps it's too late to wish on having your very own swimming pool in your backyard. So, instead of a pool, why not invest in a swim spa instead? Not only will this be fun, but this will surely be relaxing and soothing for the family.
Imagine if you have your own swim spa at home. You and your family wouldn't anymore need to get out and drive to the nearest spa service center to give yourself a treat. You only need to step out, wear your swimwear and soak in your own seater swim spa.
You also get to enjoy your backyard view and the fair heat of the sun while having your relaxing session. You can look out for swim spas Australia stores or online shops, and go for a bigger swim spa which can accommodate three to four persons altogether. This way, you and your family can give yourselves your well-deserved treat.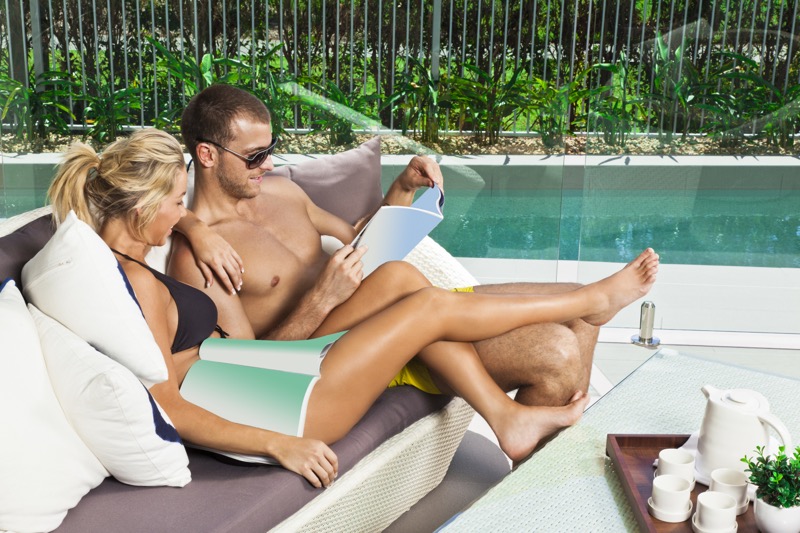 2. Buy An Outdoor Screen
Are you thinking of ways to upgrade your family's movie night experience? You can pull this off by buying an outdoor screen and set it up on an outdoor wall. You can let your kids join in clearing your backyard, setting up the sofa, blanket, or chairs for seating. Once everything's done, wait until it's nightfall, set up the projector, get the popcorns, and invite your family and friends over for an outdoor movie night.
3. Set Up Your Own Mini-Golf Course
If you and your family love playing golf, or maybe you have senior family members who wish to do some light sports like golf, you can set up your own mini-golf course in your backyard. To save your time, energy and water from mowing your real grass, you can buy artificial turf, wide enough for a mini-golf area.
Then, get the right tools like a drill, saw, and wood to make holes in your golf course. Your kids can help you with this building process by letting them hold the drill to make them feel the sense of accomplishment that they're able to help. To promote a safe environment, just make sure you and your kids are wearing protective goggles to prevent sawdust from hitting your eyes.
4. Put Up A Mini Treehouse
For DIY (do-it-yourself) enthusiasts out there who are thinking of new projects to pull off, you can try building a treehouse in your backyard. If you have a big and sturdy tree featured in your backyard space, you can utilize that as part of your treehouse's foundation.
A backyard treehouse will provide a perfect hideaway for your kids (or even adults) to play, relax, have a cup of tea, or host sleepovers. However, remember that this option is for a serious DIYer only. Otherwise, it's best to not mess around with the trees without an expert's help.
5. Install A Bar In The Backyard
Have you ever imagined being the one behind the bar counter and doing all the mixing of drinks and juices? You can achieve that by having your own bar in the backyard. You have the choice to make build it out of wood, natural stone, or concrete, as long as it's something that you've always wanted.
Once you have your own 'bar in the backyard' up and running, you can start producing your own signature cocktail like gin and tonic and invite your family and friends over for a free taste. If you don't have supplies yet, there's an online gin delivery service you can sign up for, to save your precious time. Don't forget to create fresh juices for the kids.
6. Brighten The Night With A Fireplace
Some families love to use their backyard as a second living space. But sometimes, it can be hard to relax outside, especially if the weather is too chilly. Luckily, adding an outdoor fireplace can resolve that issue.
There are various ways on what or how would you like the fireplace to be installed. It can be a portable fireplace, the traditional arched box, or the round stone fire pit. Once your outdoor fireplace is set up, gather a few chairs, blankets, or tents and enjoy the warm night while stargazing with your kids or friends.
7. Introduce Fun Backyard Games
You don't need to possess DIY skills so you can have your own backyard games. There are plenty of store-bought games like horseshoes, ladder golf, or corn hole, which can add a fun factor to your backyard during outdoor family gatherings. Meanwhile, if you wish to DIY your backyard games, you're free to do so too.
Wrap Up
What do you think? Which of these ideas do you wish to achieve for your backyard? As it turns out, you don't need to drive to town to have some fun outdoors. Your backyard is enough to provide you with a fun and relaxing space. So, try out one or more of these ideas to upgrade your backyard and make it more enjoyable.