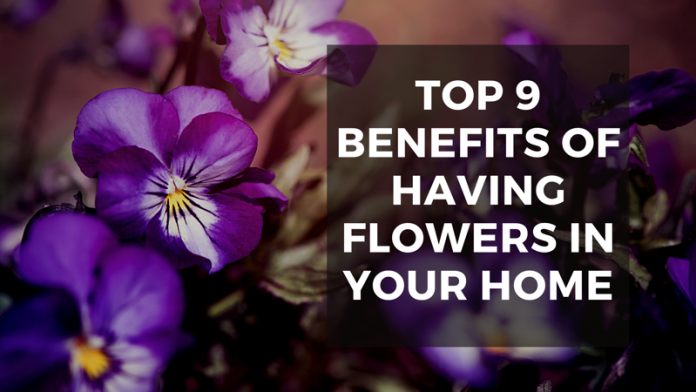 Flowers are not only meant to improvise the aesthetics of your house, but they can do a lot more than what they really are. Hence, it is always good to have flowers in your house, but at times it can become a stressful task. Thus, with the help of flower delivery experts, you can get all the flowers delivered to your place according to your choice. When we talk about flowers, the most liked flowers are lilies, roses, tulips, and many more because they leave a scent that cherishes the nostrils of a person.
It has been found by expert studies that flowers can spruce up the mood of a person. Therefore, if flowers surround your house, then you will lead a happy life. Written below are some of the perks of having flowers in your home. Keep reading for more information!
Flowers Help to Reduce Stress Level
The flower sight can make anyone smile, and the scent of the flowers provides a relaxed feeling making people less anxious. Also, breathing in the mesmerizing sweet fragrance of flowers comes with a stress-reducing and relaxing effect. It has been culminated by a handful of studies that flowers are effective in bringing moments of calmness and tranquility.
Apart from this, there are multiple studies that have linked the reduced stress with flowers, including the one done by the University of North Florida. Also, it has been shown women who received flowers and that have significantly reduced stress levels.
Flowers Can Enhance Learning in Kids
The research has shown that children exposed to fresh and natural plants or flowers have enhanced and better learning capabilities. Also, the effects of always being around nature help them focus and concentrate more on making it easier for little ones to absorb and retain new information. Apart from this, the children who have Attention Deficit Disorder are bound to have improved concentration and focus as they can engage more with the environment while living with flowers all around them.
Flowers Improve Relationships
Expert research has proved that people who spend most of their leisure time around flowers and plants are bound to have increased feelings of empathy and compassion for others. Also, it has been shown that when people spend their time near plants, they are more likely to help other people.
In short, it can be said that you can get flowers delivered with the flower delivery expert to enjoy the green benefits of having the ornamental plants around your house and improve the relationships between the people.
Flowers Enhance the Well-Being of Seniors
One of the best things about placing flowers in your house is that they can help you improve the common age-related concerns by manually decreasing depression and inspiring contact with family and friends. It also slows down the process of memory loss in elderly people. Furthermore, flowers are found to make people happy and assist them to live a longer and happier life.
Flowers Improve Emotional Health
The research culminated at Rutgers has generated the results of happy emotions that can strengthen the feelings of overall life satisfaction of a person that is far from the beliefs that people would have in the initial times.
An article published by Dr. Jonathan S. Kaplan also found that flowers and plants can work greatly in reducing stress because they provide a distraction from life with improved air quality in your house. Another study has proved that the pleasant fragrance of plants and flowers can decrease stress.
Flowers Help You Start Your Day on a High Note
You need to place a flower vase on the bedstand, near the front door, or by the coffee maker where you can see it before leaving the house in the morning. Also, it can provide your benefit of the immediate boosting of happiness and good mood. The flowers available at the flower delivery store experts can jumpstart the positive mood of a person. Also, it can last for many days.
Flowers Promote Productivity
Whether you have been working from your home or have a personal cubicle, it always makes sense to purchase or place a fresh flower vase. Placing the flower pot in your workspace can help you to increase your productivity level.
Also, being in nature or having the natural elements present around you can make you a better worker. The plants and flowers have also proven to be a great way to stimulate creativity and innovation, further leading to increased productivity.
Flowers Improve Memory and Concentration
As per modern studies, it is clearly stated that performing projects and tasks under the relaxing and peaceful influence of nature yields better results. Also, having the plants placed in your workplace or home comes with some positive effects on increasing concentration and memory.
Some studies have even shown that the work completed in an area with fresh greenery is more likely to be higher quality and offer the accurate result of the work performed devoid of a green environment.
Flowers Make People Happy
It is hard to find someone who does not feel happy when receiving a gift such as beautiful flowers from the flower delivery experts. Flowers are well-popular with their amazing capability to keep the smile of a person for longer and more time. Also, the behavioral research studies conducted by Texas A & M, Rutgers, and Harvard have concluded that flowers can promote compassion, improve energy and lift the mood of a person.
Also, this study further went on to describe that the flowers have the power to induce immediate feelings of delight and happiness. It promotes mood-boosting effects in the long turn and reduces feelings of agitation, anxiety, and depression. If you wish to bring some joy and flowers to your dear one's life, then these flower bouquets are the perfect choice for you.
Get Instant and Same Day Flower Delivery At Ease
When you go out to purchase the flowers for your lady love, then finding them in advance is always a substantial thing to do. Well, sometimes the availability of the flowers on the same day is not possible. In that case, you can consider 416 flowers as your trusted partner to get the flowers delivered to your place on the same day of placing the order without any surcharges.