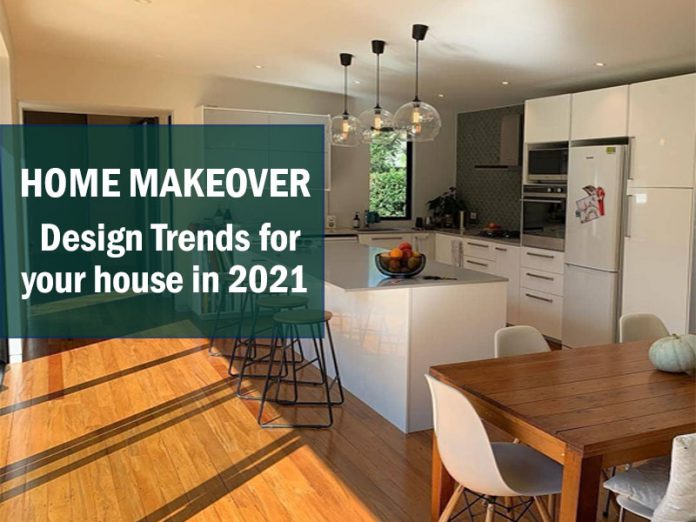 When it comes to home trends, they fall in and out of style frequently. This indicates that something that was out of style a few years ago will be back in style in a year or two. As a result, in 2021, we're likely to see older, more rustic trends take the lead as traditional ones fade away. The minimalist style and the utilization of a variety of colors are two more design trends for the coming year.
The 2021 trend edit will present you with a curated design that will lead you with a smart home setup and amazing style, from the growing importance of sustainable materials to elegant features and a celebration of individuality and originality.
Brace yourself for light-toned woods-
The majority of the furniture will be made of either rustic light oak or Scandinavian blonde wood in 2021. These light hues have a way of brightening up a room, making it look more modern, inviting, and comfortable. Grey-toned hardwoods and bleached wooden floors are two examples of lighter flooring options. This promotes sentiments of serenity, allowing you to feel at ease while in this room.
Nurture nature-
People will want to grow a kitchen garden on their balcony, window sill, or terrace to bring a splash of color and life to their surroundings. The use of indoor plants in corners or on tabletops will become more common. Green plants, recognized for their multiple benefits, will make a great impact on their interior decor, whether it's indoor plants or a vertical garden.
Furthermore, because they improve indoor air quality and bring the purity and tranquility of nature within, individuals see this activity as grounding and life-affirming. Developing a collection of indoor plants is also a plus.
Include Furniture and statement pieces-
People will be required to entertain and host social occasions at home, therefore interior spaces will reflect personal taste. Prioritizing one's home's design is a growing trend.
The post-pandemic client will view interior design, particularly homes, as spaces to express themselves rather than just living spaces. Furthermore, people are preferring accent or statement pieces of furniture set amongst subtle, unobtrusive monotone schemes to elaborate design schemes. Clients prefer to display one statement artwork on a wall rather than filling the wall with artifacts, which is a similar trend seen in artwork and artifacts.
Apart from this, flooring is also an essential part. Since we are taking the example of Auckland, thus it is seen on discussing with a flooring contractor in Auckland that with quick step laminate flooring, you can create a truly extraordinary room and enjoy it fully.
Earthy materials, that are organic, sustainable and recyclable-
Earthy color palettes and materials that are both sustainable and recyclable are not only fashionable but also environmentally responsible. As the new simple and modern style, look for earthy colour tones blended with monochromes. Earthy tones also produce warm and inviting places that can be easily occupied for extended periods, which is necessary owing to the pandemic.
Flooring from nature's products can be put to use as they are eco-friendly and are environmentally beneficial. Aside from that, 2021 will be about liveable luxury and design versatility. Durable materials, soft upholstery, and multifunctional and trendy furniture pieces are all the rage these days.
Lighting up
Aside from natural light, innovative lighting will undoubtedly become increasingly popular in homes. The decor can be brightened using a modular lighting system and home automation setup. Because are all spending more time at home, light home offices, workspaces, and relaxation areas are being given a lot of thought. There will be a growing need for lights that have brightness, color, and transition options. On interviewing an electrician in Auckland, it is seen that lightning controls and fixtures have improved, with energy–efficiency and light-emitting diodes (LEDs) flexible fixtures, portable lamps, and automated controls via mobile applications, allowing greater adjustments for essential lighting and ornamental illumination in houses.
For this purpose, proper electrical wiring should be done with efficient light switch replacement. LED upgrades should be done from time to time as the LED fixtures have an environmental advantage in that they contain no mercury, last longer, and produce less waste. Also, they are made from recyclable materials.
Local Lure
People will look at indigenous products that combine old and contemporary components to give modern homes a distinct feel. Designs that are based on Indian Culture but have a modern look be popular. Ethnic lampshades, traditional lamps, certain murals, magnificent hand-woven furnishings with embroidered, natural textiles have the lure in a distinctive style. When we talk about electrical upgrades in Auckland, for such electrical as well as natural lamps and LED upgrades, one can get a consultation with residential electrician in Auckland as he would be well aware of the upgrades and the process.
Efficient Cleaning of the Home space-
There should be a thorough cleaning of the flooring as well as the wall space which makes the home decor last longer and in full lustre. Whether you are using bona floor cleaner for this and want some more results, you can switch to many other floor care products. Floor care lets you take care of the laminate flooring from getting any kind of scratches while working.
Home decor is something not just including statement pieces but also taking care of them as well as the home space either by cleaning the flooring with respective floor care products and wall space with concerned products. Also, bring in environmentally-friendly products to use for home décor keeping in mind the aesthetics and beauty as well as the well-being of nature as they are in huge trend in 2021.