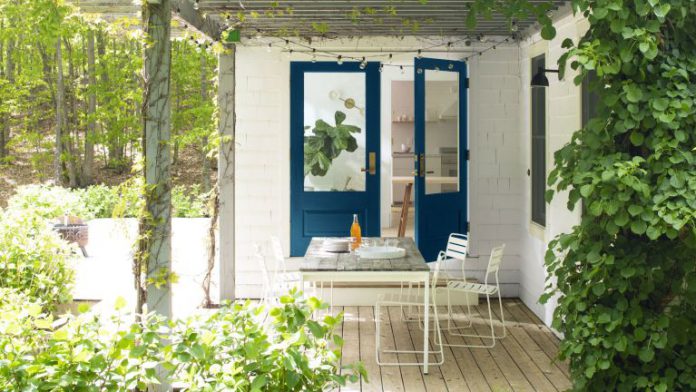 If there's one thing we've all learned about outdoor spaces, it's that even a small amount of open space can provide a welcome respite from life's stresses.
But, as humans, we all want our space to appear larger than it is, and there's no harm in wanting to make it feel less claustrophobic and more open.
To do so, you'll need a variety of strategies as well as tips and tricks up your sleeve. We understand that not everyone is creative, which is why we have some clever ideas for making your small back deck, patio, appear larger than it is.
Let's go
Curtains Should Be Your Go-to
Adding curtains in a room is a great way to open the space and to add a decorative flair, so if you have a porch or deck in your home, you might want to consider adding curtains because they'll help pull the look together.
It creates an optical illusion that makes the area seem bigger and gives off an air of intimacy. It's vital to carefully consider which fabrics are ideal for your curtain design and the outdoor decorating theme. Perhaps you want to create a cool outdoor space where people can sit back and relax?
You may consider selecting drapes made with weather-resistant outdoor fabric. If you decide to install an outdoor curtain rod, you must use the drapes to designate an entertaining or conversation zone on your porch.
You can get some sewing supplies to customize some designs on your drapes for that extra flair!
Use Tall Planters
Like the above point, your goal for any outdoor space you have should be to draw the eye above, so get two tall planters filled with succulents of flowering plants.
You can also consider adding a tropical plant to an ornamental tree if you prefer greenery or blooms.
However, many challenges come with having green thumbs, which is why if you aren't an expert gardener, don't stress you can opt for faux floral and fauna elements.
Invest In Small-scale Furniture
If you use the heavy outdoor furniture, it can make the space feel more cramped.
So instead of furnishing your patio with sofas and armchairs, choose bistro furniture such as bistro-style tables and chairs to create an open plan.
A bistro set provides space for conversation and dining and allows space for traffic going past. You could also opt for a bench that doubles as a sofa.
That way, people can stretch out with a book or a drink while still being able to relax outside in the garden!
Use Ambient Light
If you're outdoors in a dark space, make sure to bring some artificial lighting into the equation. You can't just rely on natural light because it isn't enough to fully illuminate the environment after sundown.
There's no harm in bringing in a little more light by decorating with paper lanterns, battery-operated chandelier fairy lights, or Edison-style string lights.
Mirror Play
Mirrors are great for making any space look bigger. This is just as true for the outdoors as it is for your home or office. You can feature a large mirror which will only add size to your space.
Mirrors are not only just a great way to decorate, but they're helpful too! They can be used to reflect sunlight into your space, giving you even more light.
Conclusion
We hope that through these quick and easy tips, you'll be able to decorate your outdoor space and make it look as spacious as possible! Good luck with setting up your area!